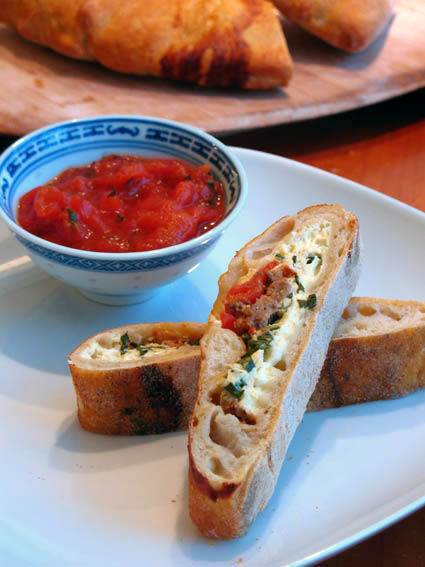 These days it is a struggle to find something my boys want to bring for school lunch. It has to be easy to eat in the 15 minutes they are given, taste good, not produce a huge mess and make them the envy of their peers! Well, I served a calzone (page 142) for dinner one night and my son announced that this was the perfect food for his lunches. The beauty of it is how versatile it can be. I basically fill it with whatever I have in the refrigerator (once it has been approved by the 3rd grader!) Because it is all wrapped up in the pizza dough I can get away with stuffing it full of things that a sandwich just won't tolerate. Such as spinach, fresh whole-milk ricotta cheese and homemade meatballs.
After you select your fillings, roll out a piece of dough from your bucket into a thin circle. I've used everything from the Master recipe (page 26) and peasant dough (page 46) to the spinach feta (page 110) to make this recipe. Place the dough on a cornmeal covered peel or a piece of parchment paper. The amount of dough will depend on how large a calzone you want. Place the fillings on one side of the dough. Paint the edge with egg wash and fold the dough over onto itself.
Lightly crimp the edge to seal.
Cut slashes in the top to allow some of the steam to escape while baking.
Bake the calzone as directed on page 142.
My kids like it hot from the oven dipped in pasta sauce at home, or just at room temperature for their school lunch!
---
---