Smoked salmon on pumpernickel on the lawn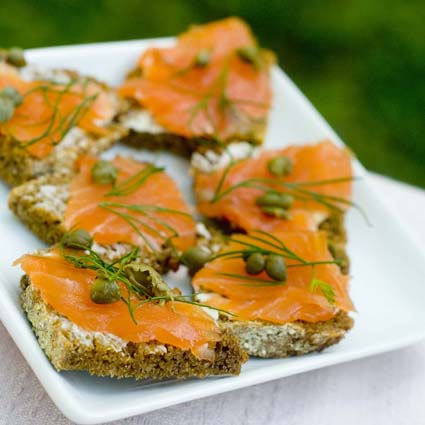 I admit it, I'm becoming obsessed with outdoor dining.  We're at the perfect summer moment up here Minnesota– not too buggy, and perfect temperature for dining al fresco.  So I've been doing everything on the grill.  The pizzas and flatbreads are no surprise, but the loaf breads are more challenging.  I did a pumpernickel on the gas grill and topped thin slices with butter, smoked salmon, fresh dill, and capers.  But you need to know the new twist for trapping steam to crisp the crust, which usually doesn't work well on the well-ventilated gas grill.
OK, here's the recipe, which is just a variation on the basic Master Recipe, just form a wet dough by dumping all the liquid and dry ingredients into a 5-quart bucket or bowl and mixing with a spoon until dry ingredients are incorporated; you don't have to knead it:
3 cups lukewarm water
1 1/2 T granulated yeast (2 packets)
1 1/2 T coarse salt
2 T molasses
1 1/2 T unsweetened cocoa powder
2 t instant espresso powder (or swap brewed coffee for 2 cups of the water, keeping total volume at 3 cups)
1 1/2 T caramel color
1 cup rye or pumpernickel flour
5 1/2 cups unbleached all-purpose flour
Cornmeal or parchment to line pizza peel
After mixing, allow to rise, loosely covered, at room temperature for 2 to 5 hours, then store in the refrigerator for up to 8 days, cutting off loaves to bake every day as you need them.  The main difference from the Master Recipe is that you bake this loaf at about 400 degrees F. or a little higher, not 450 (use an oven thermometer to check).  In the book (this recipe's on page 67), we have you throw water into a pre-heated broiler tray (in the oven).  That doesn't fly on the gas grill, where I baked the pumpernickel.  Here's what you do.
On my Weber Genesis A, there's no place to put a broiler tray, and if there was, the steam would all quickly leak out through gaps in the cover (trust me, I've tried this).  It's the same on the more deluxe grills; here's a Weber Genesis E-310 on Amazon.  The solution is very, very simple.  First, pre-heat a baking stone on the grill for at least 20 minutes, with the grill lid closed.  On my grill, when both burners on my grill are set to medium, the temperature stabilizes at about 400 to 425 degrees F., which works fine for this loaf.  Don't make big loaves; my lawn hors d'oeuvres were cut from 1-pound loaves, about a grapefruit-sized piece of dough.   After a 40-minute room-temperature rest on a pizza peel lined with cornmeal or parchment paper, slide the loaf onto the pre-heated stone on the grill.  Here's the new part:
Simply cover the baking loaf with an aluminum baking pan that's roomy enough for the rising loaf.  Bake for about 30-40 minutes, with the grill lid CLOSED.  You'll find that the baking pan cover traps steam from the loaf itself and carmelizes the crust quite nicely.
Allow to cool COMPLETELY or you won't be able to get nice thin slices.  Sweet butter was the preferred topping (spread it thickly!), then the fish, dill, and capers.
I can't remember what else we ate that night.  It didn't involve bread.
---
---