Rustic Whole Wheat Bread for Pappa al Pomodoro (and some Holiday gift ideas)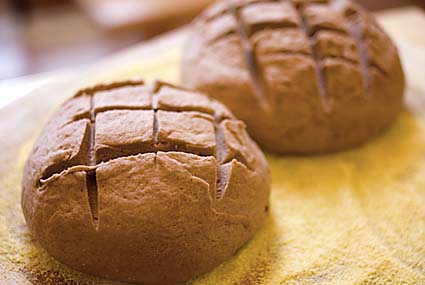 Once again, my gracious friends Jim and Theresa invited my family to their gorgeous cabin, where we needed a warm-up.  Jim made fantastic Italian Tomato Soup (Pappa al Pomodoro), which is actually a bread soup usually made from stale Peasant Bread (see page 46).  But we decided to use the dough from the Whole Wheat Sandwich Bread on page 78 instead, forming it into rustic round loaves.  That's them just after being slashed, above.  Because they're free form loaves rather than loaf pan breads as in the recipe, you can bake at 425 degrees F, right on the baking stone for about 35 minutes (use steam from a broiler pan to get a great crust). 
Northern Minnesota is JUST like northern Italy in winter, isn't it?  Though I guess tomatoes in the soup would make this southern Italian.  Want to make it?
It's basically tomatoes, onion, garlic, olive oil, and stale bread–we crisped our cubed bread (1-inch cubes) in a 325 degree oven for about 20 minutes, because it was fresh-baked (a 1-pound loaf):
Then, saute a medium onion (chopped) in olive oil until browned.  Add a couple of chopped garlic cloves (more to taste) and continue to saute until fragrant.  Then, prepare the tomatoes.  Jim had fresh Roma tomatoes, and we used about 25 of them.  Blanch for 30 seconds in boiling water and then dump into ice water so you can peel them easily:
Then peel and dice with a sharp knife:
Put the tomatoes, sauted onion and garlic, and the toasted bread cubes into a roomy soup pot and simmer for about 40 minutes, until the bread is soft but not completely falling apart (a matter of taste, really):
Season with salt and freshly-ground pepper to taste.
Stay warm, and follow us on Twitter at https://twitter.com/ArtisanBreadIn5
People have been asking us about more last minute gift ideas for the Holidays.  In our last post Zoe dropped in a few bread-making essentials, but I've added quite a few additional Amazon links here:
Books:
Artisan Bread in Five Minutes a Day
A Passion for Baking, by Marcy Goldman:  Marcy's newest book is a winner, covering the gamut of traditional baking.  Everything in this book will work; my family's been using her books for years!  If you celebrate Hannukah, make Marcy's rugelach in Treasury of Jewish Holiday Baking.  You will not be sorry (actually, make these even if you don't celebrate Hannukah, just call them Christmas Rolls). 
Bread equipment:
A Baking Stone, we like the ones that are a half-inch thick
A Pizza Peel, to slide free-form loves into the oven
An Oven Thermometer, to check if temperature is correct in your oven
Silicone mats:  These are completely non-stick and reusable about 1,000 times.  It's a great alternative to corn meal on a pizza peel.  You rest your loaves on them and then pick up the mat and put it on the stone.  Peel loaf off the mat about 2/3's of the way through baking to crisp up the bottom crust.  I've had good experience with this Silpat brand.
Parchment paper:  Another alternative to corn meal or a silicone mat.  Just line the pizza peel with a sheet of parchment and it will slide off perfectly every time (it's single-use but works beautifully). 
Dough scraper:  Also known as a "bench scraper," these are pretty much essential when you're rolling out dough for pizza or pita.  Periodically scrape the dough off the work surface when it sticks. 
Immersion blender:  I've been using one of these to mix "old" dough with my water to jump-start sourdough flavor in new batches. 
Salter 5-pound scale, or the Escali 11-pound scale:  Both are terrific for weighing ingredients rather than using cup-measures, but the extra capacity of the Escali is nice for large batches.  Our Master Recipe (page 26) flour and water weights are:  1 1/2 pounds of water, and 2 pounds of flour.
Henckel's Bread Knife:  Very affordable model; you can't cut good bread without a good bread knife.
Microplane Grater/Zester:  This is the best way to get orange, or lemon zest for recipes like limpa (page 65)
Pizza wheel:  Best way to cut pizza, by far.  Also great for cutting strips of dough for breadsticks. 
Chicago Metallic 1-pound loaf pan:  This is a great, smallish, non-stick loaf pan (grease lightly anyway).  We get great results more easily in this size than the big ones. 
Fox Run Marble Rolling Pin:  The weight of this pin makes it very, very easy to get uniform rolled-out rounds for pizza and pita. 
Photography:
I use a Nikon D200, which seems to be on sale everywhere because I think they're discontinuing it; other Nikon digital SLRs which give terrific results are the D40, D60, D80, and D90.  I also like Nikon's point and shoot cameras, like the Coolpix L18.   Zoe uses a Canon Digital Rebel XSi, and you can see the fantastic results she's getting. 
Happy Holidays!
---
---