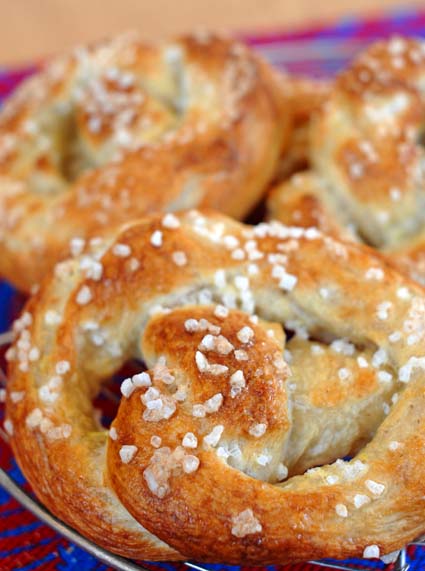 Food writing can be very, very memorable.  In 1978, I read a marvelous essay in the New York Times by Mimi Sheraton.  They say that tastes and smells are the most memorable senses, which explains why when we re-create food we ate as children the smells bring us back in the blink of an eye.  The same's true of great food writing, at least for me.
Mimi's article on homemade pretzels she ate in Stuttgart, Germany is one of those great food articles that stayed with me.  I clipped the article and forgot all about it.
Until Zoe and I started writing Artisan Bread in Five Minutes a Day (click here to purchase). I'd never made Mimi's recipe, adapted from her Stuttgart hosts, so I adapted it for Artisan Bread (page 127 in the book).You can make soft pretzels like these from the Master Recipe in the book on page 26 (click here to see our web version), but they're much better with a high protein (bread) flour — just decrease the flour to 6 1/4 cups, and add 1 1/2 tablespoons of sugar (like our bagel dough, on page 122).  When the dough's ready to use (see Master Recipe, starting on page 26), take it from the fridge and start a boiling pot going, filled with 8 quarts water, 1 teaspoon baking soda, and 1 tablespoon of cream of tartar.  While you're at it, pre-heat a baking stone in the oven to 450 degrees F.  As those heat up, shape and rest the pretzels.
Take a 3-ounce piece of dough (about the size of a small peach), and form a rope a little less than 1/2-inch in diameter and 12 inches long.  Use your fingers and roll it back and forth with flour on a work surface.  Don't be impatient, it's got to be skinny:
Cross the ends over each other:
Fold them back in and loop them around each other: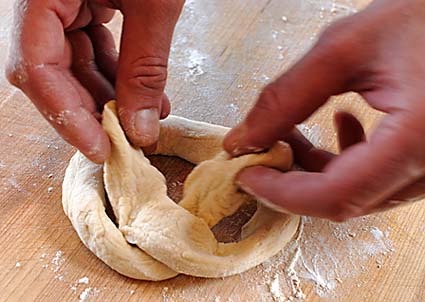 Then, twist to the opposite side…
… and press firmly onto the loop to attach: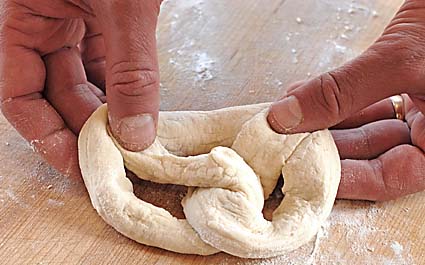 Use your fingers to stretch out the holes so they don't close up during boiling and baking, then rest for 20 minutes loosely covered under plastic wrap.   Bring your pot of water to a boil, and drop the pretzels in, taking care that they're not crowded (you can boil in shifts if they are touching, otherwise they'll be mis-shapen).   It's two minutes on the first side, flip with a slotted spoon, and then one minute on the second side: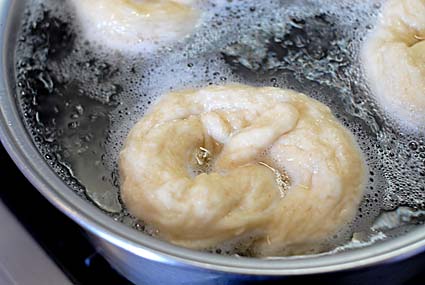 Remove with a slotted spoon and drain on a lightly floured towel or in a strainer.  Place on parchment paper, use a pastry brush to paint with egg wash (1 egg plus 1 tablespoon water), and sprinkle with very coarse salt, pretzel salt if available.  I used "rock" salt intended for salt grinders (not for making ice cream) — a terrific and more available substitute.  Bake in the pre-heated oven with the parchment right on the stone (with steam– see page 30, step 9).  In the book we suggest 15 to 25 minutes depending on how soft you like your "soft" pretzels, but today I went about 30 minutes before I was happy.  Look for a nice brown deep color.   Consider peeling off the parchment when they're 2/3's through the baking.
Eat with coarse-ground prepared mustard and it will take you back (well to Philadelphia, anyway, where they sell these on the street).
Follow us on Twitter at https://twitter.com/ArtisanBreadIn5
---
---