The Easiest and Tastiest Homemade English Muffins!
In case some of you have missed the memo, it is BYOB year! Bake Your Own Bread!! There are several food bloggers whose New Year's Resolution is to bake all the bread they need and never buy a single loaf (see below for info!). This includes artisan boules, sandwich breads, sticky buns and even English muffins! These most popular breakfast muffins are a favorite in my house and yet I never make them. There are some things I perceive to be too much trouble to bake at home and shamefully never tried. The English muffin was among them. Oooops, I discovered today that they are so simple and really fast! I owe my family a big apology for not having tried this earlier. I have several of you to thank for this lovely discovery. The English muffin has been a most requested item lately and so here it is in all its simple glory:
I started the experiment with our Master Recipe on page 25 of ABin5.  You can use just about any of the doughs in the book to come up with your own flavored English muffins. If you do this with a different dough you will need to alter the rest time (more time for whole grain breads) and baking temperature (follow the temperature for the dough you pick).
I bought a set of English muffin molds; I recommend that you buy two sets so you have eight of them.   We ate all of them in a matter of minutes and the boys wanted more! They will make great sandwiches, pizzas (like the ones I ate as a kid!) and are a fun alternative to the Bacon and Eggs in Toast I showed you a couple of weeks ago.
Grease the molds with oil or butter and set them on a cookie sheet lined with a silpat. Sprinkle the inside of the mold with a light layer of cornmeal.
If you have a kitchen scale weigh out 3 1/2-ounce balls of dough (about the size of a small plum) flatten them and place them in the mold.
Loosely cover with wrap if your kitchen is very dry or drafty.
Preheat oven to 425° with or without baking stone. (adjust the temperature if you are using a different dough, follow the temperature in the book for that dough.)
You can also do this on a stove top griddle, as is more traditional, but I find baking them goes much faster and is a lot less effort!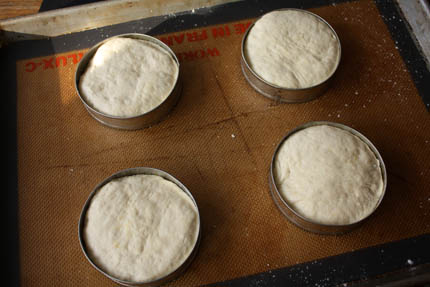 Allow to rest until the dough reaches the top of the mold, about 30 minutes.  (More time if you are using whole wheat dough.)
Bake for about 20 minutes. Do not use steam or you'll end up with a crisp crust, which is not traditional for English muffins.
Unmold the muffins and serve warm! As you can see when you bake them only one side is deeply browned and lightly coated with cornmeal. They will also be slightly rounded. If htis offends your sense of tradition then by all means do them on the stove top. Personally I didn't miss any of that and the lack of extra work was perfect for a lazy Sunday morning! 😉
Split the muffins with a fork to get that craggy crumb that is so perfect for holding lots of butter. They are wonderful with Laura's Orange Marmalade from page 96 or the Kumquat Champagne Confit page 236!
Check out the BYOB bloggers started by Sandy at At the Baker's Bench and consider joining them!
---
---