German-Style Rolls: Brotchen (the crusty secret is an egg white glaze)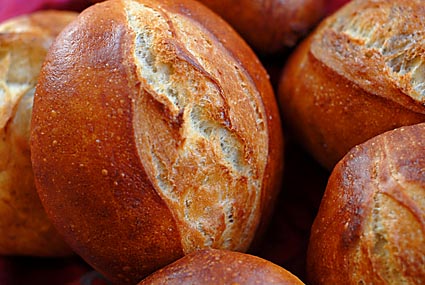 Many people have been writing to ask for German-style hard rolls.  The most common are Brotchen (little breads). They're made from egg white-enriched white dough, and brushed with more egg white before baking at high temperature with steam. In the book, Zoe and I concentrated on French-style crust techniques, which tend not to use egg white for high-temperature crisp crusts on lean breads. Turns out that the egg white creates an incredible crust and crumb. 
Brotchen
First off, mix up a batch of our plain white-flour Master Recipe but make one variation: Put three egg whites into the bottom of the measuring cup before you measure out your three cups of water– so it's three cups of liquid, including the three egg whites. Everything else is the same.
On baking day, preheat the oven with a baking stone near the middle of the oven to 450 degrees F for at least 20 to 30 minutes (place a broiler tray in the oven on any other shelf that won't interfere with rising bread). Cut off 3-ounce balls of dough (like a small peach) and briefly shape them (as in our videos), finishing by squeezing to form an oval. Refrigerate the rest for up to five days before freezing in one-pound packages (there's raw egg in here).  You can also form a perfect little oval by using the letter-fold method, though I didn't do it here (too lazy!).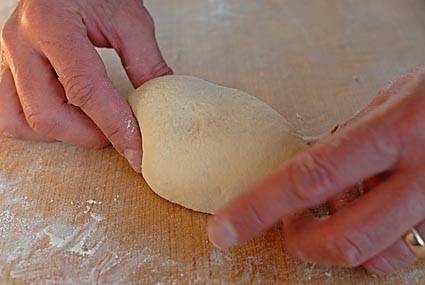 Allow to rest/rise for at least 20 minutes or as long as 60 minutes. Then use a pastry brush to cover with egg white. If you want seeds or salt, now's your chance: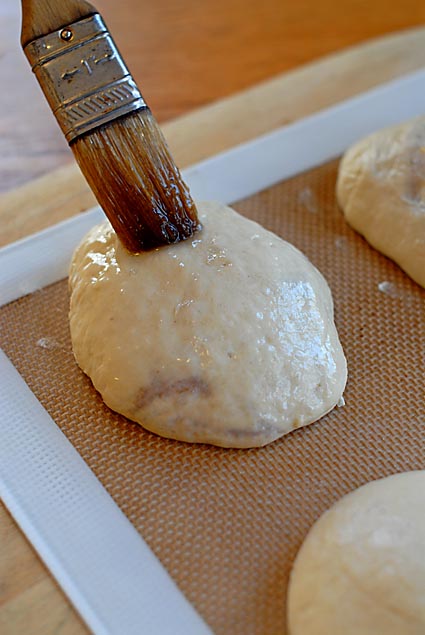 Now slash with a single cut the long way, using a serrated bread knife.  Slide quickly so the knife doesn't catch: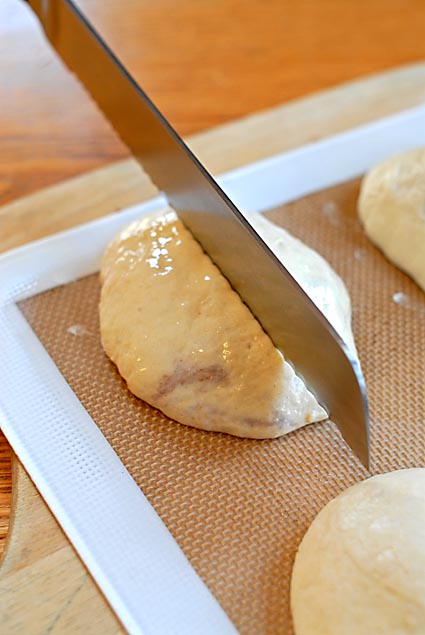 I spaced my brotchen on a silicone mat, but you could also do them on a greased cookie sheet, or a piece of parchment paper. It's best not to do these on a cornmeal covered pizza peel; that's just not the effect you're going for.
Put the cookie sheet, silicone mat, or parchment paper on the preheated baking stone and pour a cup of hot water into the broiler tray just before closing the oven door. Bake for about 25 minutes. The result is incredibly crisp, shiny, and richly browned.  I'm guessing that home bakers with problem ovens will find this method to be a miracle charm for getting a great crust on small breads.
I haven't tested it on large loaves but I'm guessing that there might be trouble with over-browning if a loaf need more than about 35 minutes.  More on that later.
Follow Artisan Bread on Twitter!
Note: BreadIn5.com is reader supported–when you buy through links on the site, BreadIn5 LLC earns commissions.
---
---