Baking Bread in a Closed Clay Pot ("Cloche")– the best crust yet!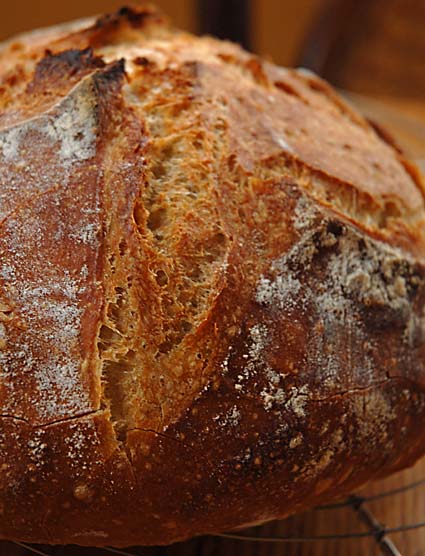 So many people have asked about baking dough inside a closed cast-iron pan (see a post on that). The cast-iron pan method is based on a much older method, where bread is baked inside a closed clay pot (or "cloche," meaning "bell" in French).  Both methods depend on trapped steam from the dough to create a perfect crust, but the clay pot has the added benefit of being porous, so moisture is trapped, but also conducted away from the surface as the bread bakes.  I tested the Sassafras brand "La Cloche" product, and I'm very impressed with the crust I'm getting –take a look at the picture above; this crust is thin and shatters when broken (the burned bits are perfect in artisan loaves; that's how you know you've baked long enough).  Keep in mind that these crust results are hard to re-create with loaves very high in whole wheat (because of oils in the wheat's germ).  The bread above is about 15% whole grains– it's a light version of the Peasant Loaf on page 46 of the book.  Whole grain breads perform beautifully in "La Cloche," but the crust tends to be softer and thicker.
For crust aficionados, I think the "La Cloche" results are a little better than what I get inside closed cast-iron.  I didn't put these two methods in our first book, because we wanted to keep things as simple as possible.  But with results like these, they're going into he second one (publication date is 10/13/09)!
Sassafras claims that James Beard once said that the "La Cloche" product gave him bread that was "nothing short of phenomenal."  "Beard on Bread" was the first bread cookbook I ever used–my wife brought it to our marriage, and then taught me to use it (click here and scroll down to meet Laura).
If James liked a product, I have to give it a try, though I should also say that readers have written me on Twitter (click to follow ArtisanBreadin5 there) to say that the Romertopf clay vessel works just as well, though I haven't tried it myself.
Before using "La Cloche," rinse it in hot water to get rid of any ceramic powder left over from manufacturing, and let it dry overnight.  The first time you use it, apply a light coating of vegetable oil to the inside of the bottom piece (the bell-shaped top part doesn't need it).  The ceramic is very fine-grained and won't absorb a lot of oil so it didn't smoke when I pre-heated this thing to 450 F.  You don't need to cure the oil coating before you bake your first loaf.  You're ready to bake.
There are two ways to use La Cloche:  the way that Sassafras officially endorses (putting a cool cloche into a preheated oven bearing raw dough that has rested/risen on cornmeal inside), or what I've found works better:  preheating the top and bottom pieces of La Cloche to full baking temperature for 30 minutes, and then transferring fully-rested loaves into it (carefully, as in Zoe's post).  The crust result is fantastic; you can rest/rise in a banneton, then drop the dough into the hot bottom tray of the cloche, then cover (click here for my post on how to use a banneton).  Baking time is the usual as written in our recipes.  The other easy method is to rest/rise the loaf on parchment paper and just drop the loaf, with the paper, into the hot cloche.  Cover and bake.
You don't need a baking stone, you don't need to introduce water into the oven for steam, and you don't need to dampen the cloche; all the moisture you need comes from the dough and is trapped inside.  One important point:  Open the lid for the last third of baking, or the bread will not brown.
This is a very romantic baking dish (is that possible?); using it makes you think you're in a different century.  It's heavy, and very tactile– here it is with an unbaked boule sitting in it (cool-cloche method):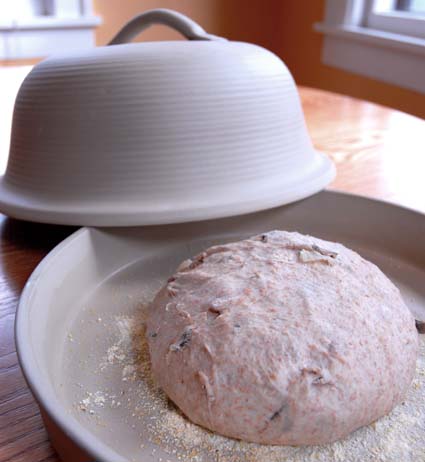 Here's the banneton-risen bread after the lid was removed to finish baking open to oven air: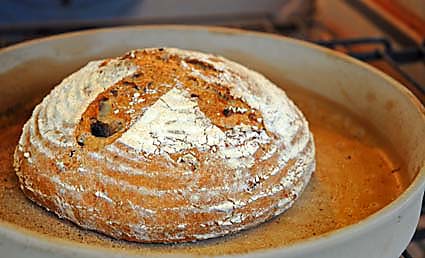 There are two problems with the Sassafras-approved cool-cloche method:  first, baking time is longer than written in our recipes, because the clay vessel has a lot of heat to absorb before the interior is up to baking temperature.  Second, the crust just isn't a crisp.  So, even though the Sassafras instructions say to use a cool cloche, I'm going with a hot one.  Keep in mind that this product doesn't appear to be warranted against cracking, whether you follow their instructions or not.   One important care instruction:  never use soap on pottery baking vessels, just hot water and a clean scrub brush.
Ten years ago, Daniel Wing and Alan Scott wrote "The Bread Builders," which was mainly about building your own wood-fired masonry and brick bread oven in your backyard (gotta do that someday).  But they also had lots to say about the "La Cloche" product, which they thought was almost as good as their wood-fired masonry ovens.  They interviewed the product's inventor at Sassafras who told them that the fully-preheated method for using this product "…is fine."
Good enough for me.  Look at this bread!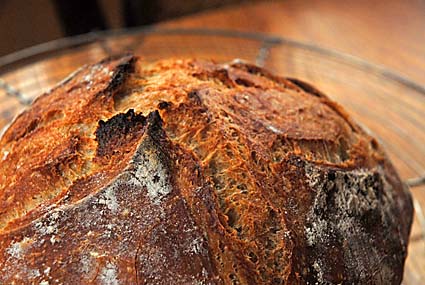 ---
---