Instant Gratification- the Indian flatbread Naan!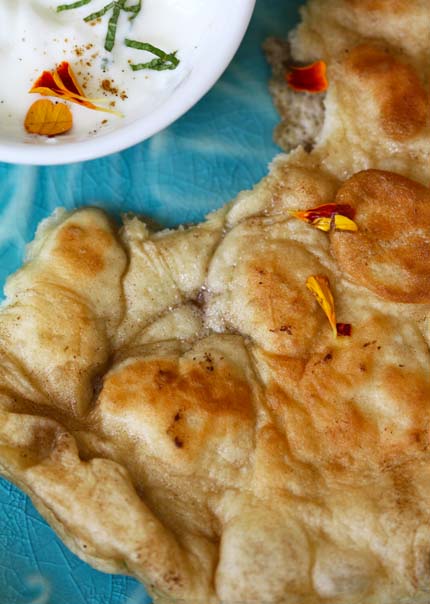 Also, see a video of this method for naan. The video shows an outdoor camping stove, but it works the same way inside on your gas, electric, or induction range…
This is the fastest bread in the book and naan is absolutely delicious and it takes no forethought. The traditional Indian flatbread is made in a blazing hot tandoor oven and then brushed with melted ghee (clarified butter). We assumed that most of our readers would not have a tandoor oven so we decided to make this in a cast iron pan on the stove top. We cook the dough in ghee or butter so that it has the same flavor as the traditional bread, with so much less work. This bread can be made using just about every dough in the book; spinach feta, whole wheat, master, olive, and herb–even brioche dough, which can be fried in butter, drizzled with a little maple syrup and finished it with powdered sugar. It was just like the fried dough at the State Fair and only took a couple of minutes.
To make Naan:
1/2-pound (orange size) piece dough of your choice. Roll the dough to 1/16th-inch thick circle.
2 tablespoons Ghee, clarified butter or European style butter (You can use regular butter, but you have to be careful of the butter burning. The ghee and clarified butter have a higher burning point and allow you to cook without worry of it burning.) Vegan option: swap high-smoking-point oil instead of ghee or butter (canola, peanut, soybean, etc.)
Salt to taste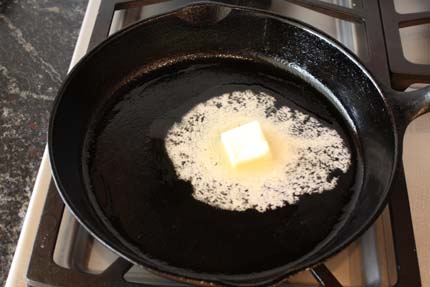 Heat a heavy bottom Cast Iron Skillet
to medium temperature. Add the butter and melt, swirl it to coat the bottom of the pan.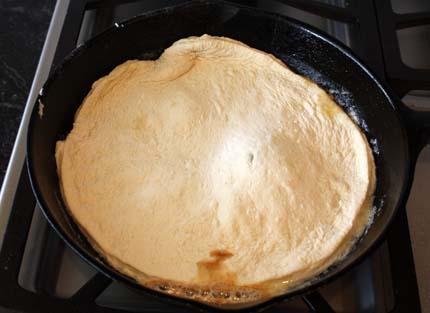 Lay the dough into the pan.
Cover the pan to trap the heat in order to "bake" the bread.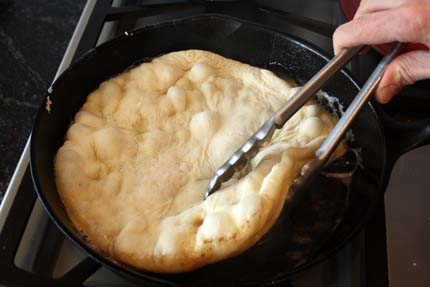 After about 2 1/2 minutes flip the dough with a pair of Tongs. Sprinkle with salt and cook, covered for another 2 1/2 minutes.
Also, see a video of this method…
---
---