Roasted Red Pepper Fougasse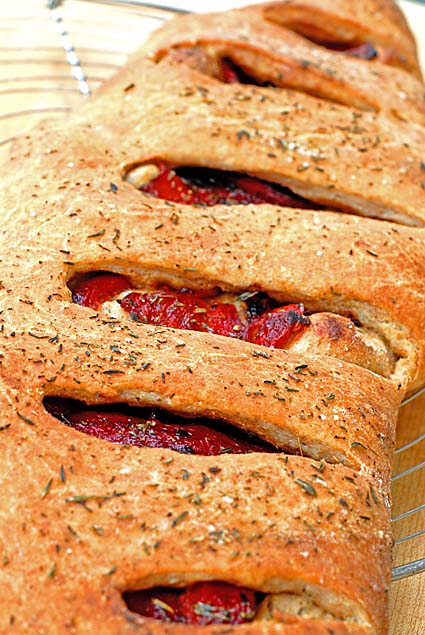 When interviewers ask me for my favorite bread from the book, I always give the same answer–it's this gorgeous roasted red pepper fougasse (foo-gass)– a stuffed flatbread originating in the south of France.  It may be because of where I first ate it (perfect fall day, after a bike ride with my wife).  The rustic colors and flavors of Southern France burst out of this flatbread– carmelization of peppers highlighted by thyme, olive oil, and salt.  It's festive, but so easy to bake from stored dough. 
Preheat the oven to 450F for at least 20 to 30 minutes, with a baking stone and a broiler tray in place to catch water for steam later.  Let's start with a beautiful red pepper:
Now, quarter the pepper, discarding the seeds…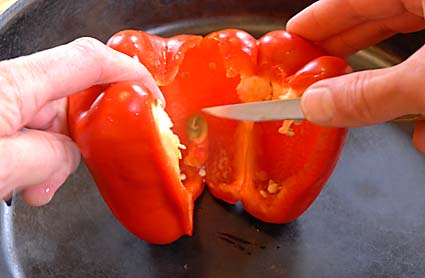 … and flatten the pieces.  I used a cast-iron pan here, but you can use whatever you want, so long as it can withstand broiler heat. 
Slide under the broiler (or put on the grill, or right on a gas burner)…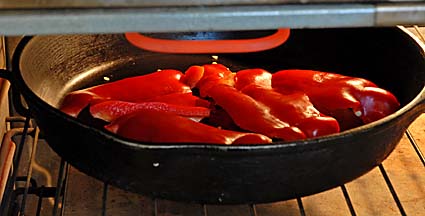 … and char them– if you have a little more red remaining than this, that's fine too.
Now dump them into a saucepan and cover them so that they steam their own skins loose— about ten minutes covered (off any heat).  Traditionalists do this in a paper bag but the pan is easier.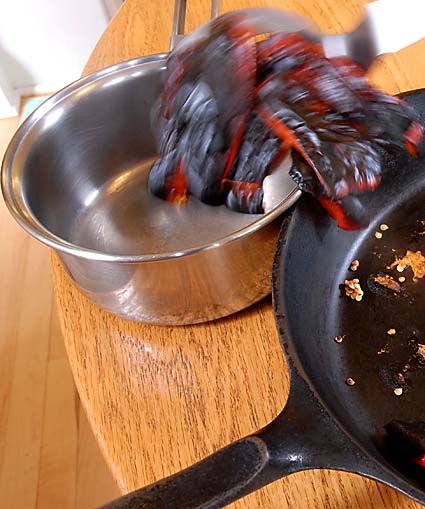 Peel them with your fingers.  A little charred material will remain, and areas of the red flesh will be darkened.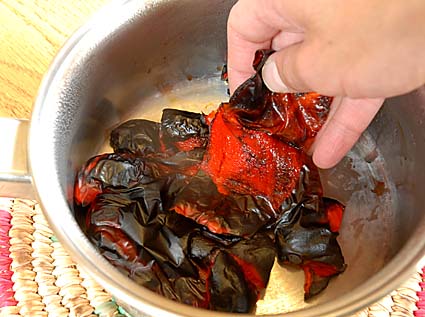 Now, roll out one pound of any dough you like, to 1/8-inch (I used the basic Master Recipe from the book).   I'd generally use a non-enriched dough here (no eggs or fat in the dough mix).  Try to form an oval or rectangle.  I assembled mine right on a liberally flour-dusted pizza peel, but you can assemble on parchment paper for an easier slide into the oven. 
Slit one side (as in Mark Luinenburg's gorgeous photo below), and lay out the peppers on the other side (with their outer, peeled surface facing up).  Sprinkle with thyme and coarse salt to taste.  The salt is crucial to bring out the flavor of the roasted peppers.  Use a pastry brush to paint a little water around the edges to help make a good seal:
OK, here's the tricky part.  Fold the slitted half over the peppers and crimp it to the dampened side.  If the edges don't meet nicely, just trim off the extra with kitchen shears.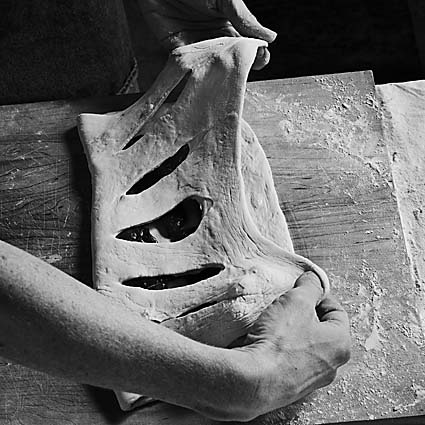 Brush with olive oil and sprinkle with more thyme.  If you're not using parchment paper, make sure that the fougasse is moving well on the pizza peel; if not, nudge some additional flour underneath using a spatula.  
Slide the fougasse onto the hot stone.  Quickly add 1 cup of hot water to the broiler tray and close the oven door.   Bake at 450 F for about 25 minutes, or until golden brown.  If you rolled the dough thicker than 1/8-inch, it will need more baking to develop nice color and prevent an over-moist interior crumb next to the peppers.  Bon appetit!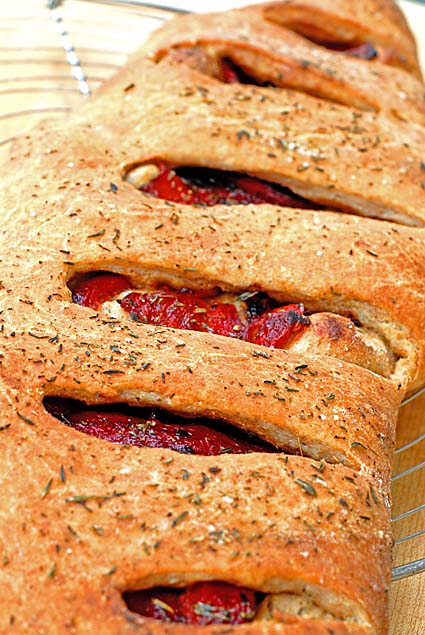 ---
---