Pizza Pinwheels (Pizza on a Stick!)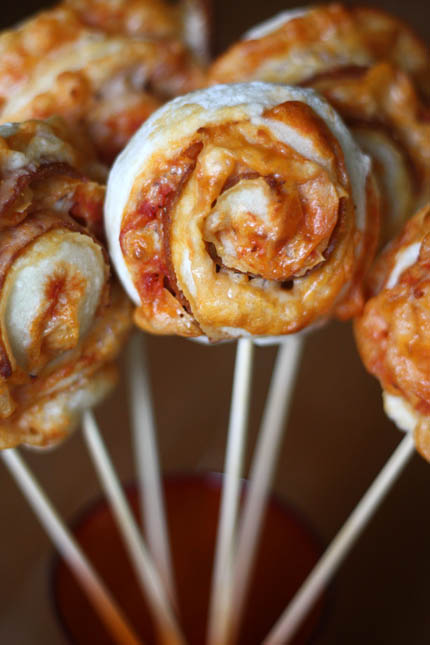 Today is the first day of school for my two boys. It is always bittersweet. They are excited to see their friends, but the prospect of all that structure and homework has them just a touch apprehensive. I'll miss them running around the house and yet I look forward to the quiet. I also have another year of coming up with lunches that they will be excited about. The first day of school deserves something particularly special, like something on a stick. This week is also the MN State Fair, where all things edible are on a stick. For some reason everything tastes better balanced on the end of a pointy skewer?
Last year Jeff and I did a baking demo at the FAIR and put cinnamon buns on a stick. One might think pizza is the perfect food as it is, but I think I may have found an improvement, at least for those under the age of 20. Pizza pinwheels on a stick!
Pizza Pinwheels
Makes about 24
1 pound (grapefruit size) piece of dough (I used the Master recipe (page 25), but Olive Oil dough (page 134), Whole Wheat (page 74-9) or even Brioche (page 189) would be great!)
1/2 cup pizza sauce or crushed tomatoes
1 1/2 cups grated mozzarella cheese
pepperoni or other favorite toppings
preheat the oven to 400 degrees
Set up 2 0r 3 baking sheet pans with parchment or Silpats, set aside.
Roll the dough out to a 1/4-inch thick rectangle, using enough flour so the dough doesn't stick.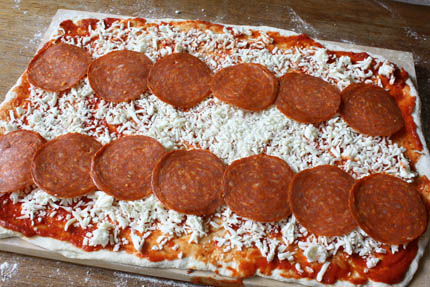 layer on the sauce, cheese and pepperoni. Leave some of the cheese exposed so that it can melt and act as a glue, to hold the pizza rolls together.
Roll the dough into a log, starting at the long end.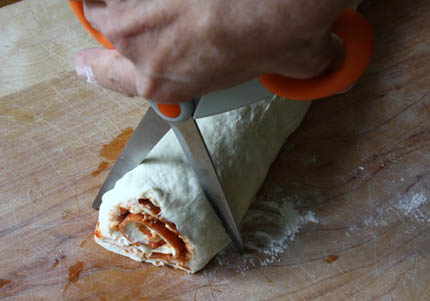 Using kitchen shears, cut the dough into 1/2-inch thick buns. (I only baked 16 and then wrapped the rest of the log, refrigerated it and will bake it later this week. You can also cut and freeze the individual pizza rounds to thaw and bake within the next 2 weeks.)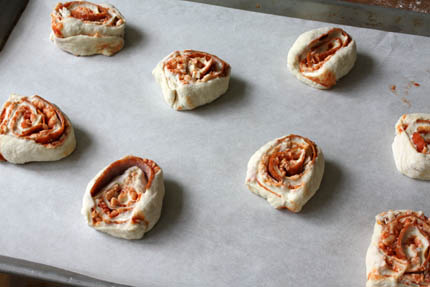 Place them on the prepared sheet, leaving plenty of space for them to expand when they bake. Allow them to rest on the counter for about 15-20 minutes.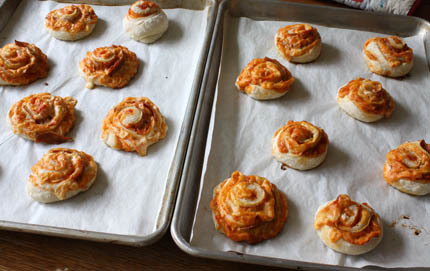 Bake for 15-18 minutes, or until golden brown and the cheese has melted and caramelized a bit.
Put them on a stick or let them cool and pack them in a lunch box!
They are tasty and fun. Enjoy!
---
---