Using Fresh-Ground Whole Wheat Flour (and some highlights from book tour)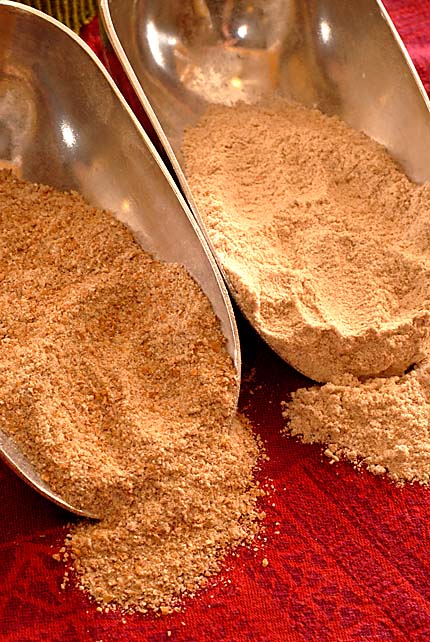 The flour on the left (the browner, coarser one) is an organic fresh-ground whole wheat.  On the right, the commercial whole wheat flour is obviously finer-ground and lighter in color (it's the Dakota Maid brand, a very consistent and tasty product).  So many of you have asked about grinding your own wheat to make whole grain breads, that I decided to try it myself.
OK, I didn't really grind it myself, I sourced fresh-ground wheat from a local miller. The flavor's terrific.
It's not an absolute requirement for whole wheat bread, but here's a little on my first experiments with this great flour.  Considering how different the fresh-ground product looked compared with commercial whole wheat, I was surprised at how easily this stuff was able to be used in one of my whole-grain Master Recipes— with no changes.  After some whole wheat talk, a little about the West Coast leg of book tour (Seattle, Portland, and San Francisco).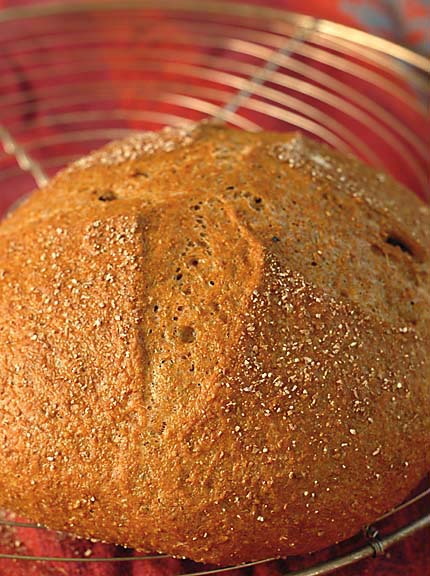 I loved the gorgeous whole wheat loaf that the fresh-ground flour made.  It developed a very firm and crisp crust (oftentimes, oils in the wheat germ make it difficult to get a crisp result on a whole wheat loaf).  The flavor was terrific– the difference from commercial flour was subtle, but very nice.  It had a certain brightness and sweetness, which was a neat trick since there were no added sweeteners.  I used our plain Whole Grain Master Recipe from Healthy Bread in Five Minutes a Day.
The big surprise was that this coarse, fresh-ground flour had almost exactly the same density (ounces per cup) as the commercial whole wheat in the top picture– it weighed in at 4 3/4 ounces per cup, while the Dakota Maid weighed 4 1/2 ounces per cup.  So I was comfortable just swapping it in exactly for commercial whole wheat flour. The resulting dough was a touch wetter than my usual, but I just ignored it (in the first book we said "… if you worry about the bread, it won't taste good").
But be careful:  Your own fresh-ground may be of a different density, moisture content, or bran content, and you may need to adjust the liquid up or down, to achieve a result like you see in our videos for the whole grain breads.  If you want to use these great flours, be prepared to experiment.
Why the wetter result, even though this flour's a little denser? Makes sense to me–it's more coarsely ground despite being denser, and those larger particles present less surface area for water to bind onto and absorb.  Or something like that.  Next book we should write "… if you turn this into chemistry, you may not have any fun."  And even though this dough was a little wetter, it held its shape nicely through a 90-minute counter-rest under plastic wrap, and slashed well with a bread knife (see our videos for more details on forming and slashing):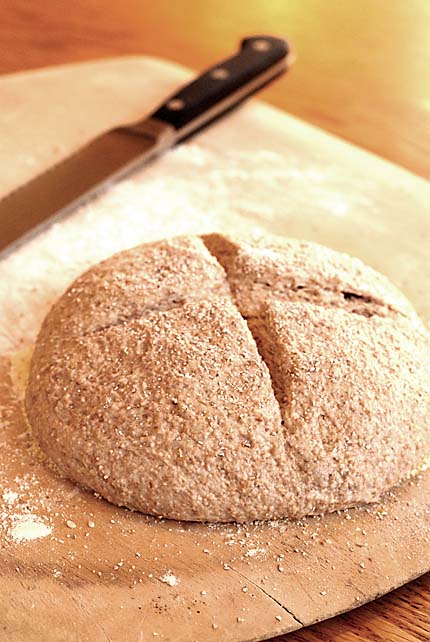 The result was great:  a superior whole grain crust and a terrific flavor: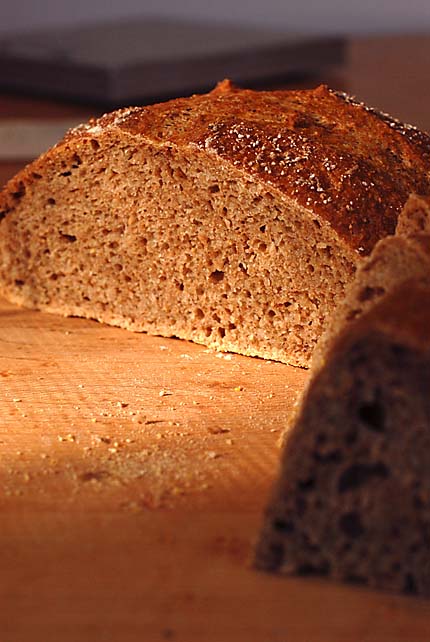 I'm going to post more about the dough that this flour made in the next 10 days, to see how well it stores compared to commercial whole wheat flour (click here to view).
OK, on to the book tour. After Chicago and Milwaukee (WGN-TV, a podcast with ABC-TV's Steve Dolinsky, and two TV segments in Milwaukee–WITI-TV Fox and TMJ-TV NBC), there were a couple of days home before heading off to Seattle, Portland, and San Francisco–many book signings along the way.

In Seattle, an appearance on Channel 13's morning show, in a great segment with budding home baker and news anchor Mark Wright (on left) and co-anchor Lily Jang (right):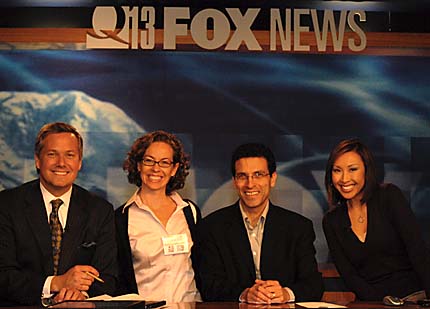 In San Francisco, there was a live studio-audience broadcast of KGO-TV (ABC-7)'s "The View From the Bay," with hosts Spencer Christian and Janelle Wang, who helped us mix the Whole Grain Master Recipe.
When not working (which was almost never), there was eating.  A sample platter:
At Tom Douglas's Serious Pie in Seattle, we tried the beet salad with anchovy, pistachios, and fresh mint: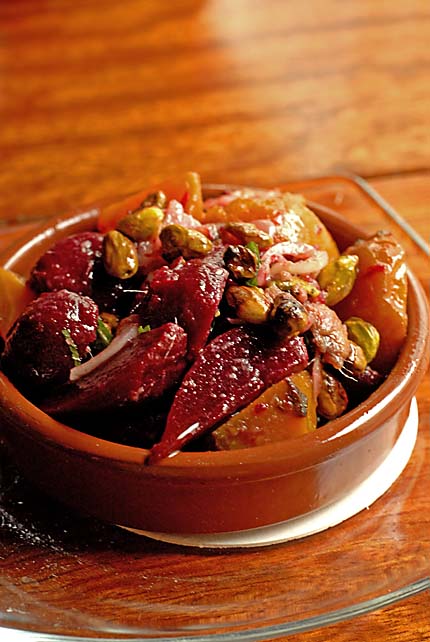 … and then the guanciale and arugula pizza. Though you can't see it, there's an egg cracked onto the top of the pie before baking, and it was sublime.  This may look like salad sitting on top of a pizza crust, but it was perfect: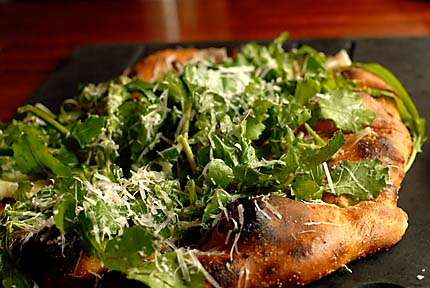 I met Tom at an event in Seattle and asked him if we could try to recreate this topping  for our next book (on pizza and flatbread, in 2011).  Answer was something along the lines of yes, but we're not giving you our crust recipe!  Fair enough.  Now where do we find that guanciale (a very fatty and crazily delicious pork product)?
Onward to Boston and Orlando…
Follow us on Twitter at https://twitter.com/artisanbreadin5
Note: BreadIn5.com is reader supported. When you buy through links on the site, BreadIn5 LLC earns commissions.
---
---