Thanksgiving Stuffing from Homemade Bread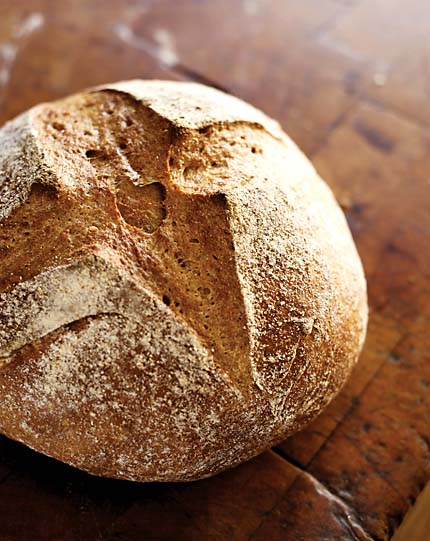 (photo by Mark Luinenburg)
We're spending Thanksgiving with friends this year, and our family is doing the stuffing and bread for a table for 25.  Sounds like a job for a household where they bake bread twice a day anyway…
I'm making the stuffing from basic boules, ball-shaped breads as above.  You can use any lean dough you like, including whole-grain dough from the new book.  Tomorrow I'll be using the Peasant Bread from our first book, which is basically the white-flour Master Recipe, swapping out 1 cup of whole-grain rye for 1 cup of all-purpose flour.
Breads for the table are going to be a mix of seeded and unseeded rye breads, very rustic, maybe Anadama bread from the new book.  All we'll need is the belt-buckles on our hats.
Before we talk about the stuffing recipe, if you're one of the winners in the giveaway, please supply your mailing address so that Bob's Red Mill can ship your prize:
Two other Thanksgiving recipes from our "library" are:
Thanksgiving Buns and Other Helpful Holiday Hints
Thanksgiving Cranberry Corn Bread
OK, let's make some stuffing…The great thing about making bread for stuffing:  you don't have to care how it looks, or how the crust sets.  I happened to do my boules with steam in the oven, but you don't have to and I can't much tell the difference in the stuffing when I don't.   One other thing… a lot of recipes tell you to dry the bread by slicing and putting it into the oven for a while.  That's laborious so I don't do it.  Just be sure to bake your breads fully, and the moisture that remains is about right for the liquid proportion in this recipe.  Likewise, the bread can be stale by a day or two, but it doesn't have to.  I've made this with fresh bread; using the stale stuff is a nice convenience though.
I do oven-baked stuffings– we gave up stuffing the bird because I'm convinced that the turkey ends up with overdone breast meat doing it that way (plus USDA is on our case about this for food safety).  If you want to retain the richness of stuffed-bird stuffing, make your own broth and don't skim the fat.
Here's the recipe, kinda based on what my grandmother used to do (but with homemade bread):
1/2 cup olive oil (plus additional for greasing pan and brushing top of baked stuffing)
2 celery stalks, diced
1 large onion, chopped
1/2 teaspoon dried thyme (or 1 teaspoon fresh thyme leaves)
1/2 teaspoon dried rosemary (or 1 teaspoon fresh thyme leaves)
1/2 cup minced fresh parsley leaves
1 pound mushrooms, sliced
1/2 teaspoon ground black pepper
1 teaspoon salt
1-pound loaf of homemade peasant bread, white or whole-grain, cubed with crust left on
1 3/4 cups chicken or turkey stock, canned (low-sodium) or homemade without added salt
4 eggs, lightly beaten
Preheat the oven to 400 degrees F (200 degrees C).
Heat the olive oil in a large skillet and saute the onions until browned.  Add the remaining vegetables, salt, pepper, and herbs, continuing to saute until the mushrooms give up their liquid.  Allow to cool slightly so the hot vegetables don't cook the eggs when they're mixed.
Drop all the bread cubes into a large bowl and mix with the broth, eggs, stock, and the entire contents of your skillet.
Grease a 13 by 9-inch baking dish (or equivalent), and spoon the mixture into it.  Cover with aluminum foil and bake for 25 minutes.  Remove foil and brush with olive oil, then bake until golden brown, about 15 to 20 minutes longer.
Years ago, I started tripling this recipe for larger groups. We recently gave some of this stuff to a stuffed-in-the-bird true believer, and she is a convert.  Just don't skim that broth.
Happy Thanksgiving, everyone!
Follow us on Twitter at https://twitter.com/ArtisanBreadIn5
---
---