Gluten-Free Naan and an update on freezing the dough
This past week I got together with 3 enthusiastic bread bakers.  I'd brought two buckets of dough to work with; the master recipe from ABin5 and the gluten-free brioche from HBin5. From those two buckets we baked everything from an epi and sticky buns to flatbreads like pita, pizza and naan. Out of a request for quick breakfast ideas to feed their kids (some of whom are on gluten-free diets) we experimented with making the gluten-free brioche into a naan. Rolled out in sugar and fried up in butter it was fantastic. The brioche cooked in this way had a crisp caramel coating with an almost pudding like interior. It was so good and easy that it got me thinking about making a more traditional version of naan with the gluten-free crusty boule dough I had left over. It was every bit as delicious as the naan made with our wheat doughs and still as quick.
I also experimented with freezing the gluten-free doughs. Several of you had wondered if this was a possibility since we only recommend refrigerating it for 5-7 days. At the bottom of this post you will see how that experiment turned out.
Gluten-Free Naan:
8-ounce piece of gluten-free crusty boule dough
1 tablespoon Ghee
, clarified butter or European style butter (You can use regular butter, but you have to be careful of the butter burning. The ghee and clarified butter have a higher burning point and allow you to cook without worry of it burning.)
Brown Rice Flour for dusting the surface of the silpat and pizza peel
For the g-f dough you will need to roll the naan out on a Silicone Baking Mat
that is sprinkled with brown rice flour. This method is also used for rolling out the pizza in the book.
I used a piece of dough that was about the size of my fist. This turned out to be the perfect size when fried in my 10 1/2 inch Skillet
.
sprinkle the dough with a bit more rice flour and cover with a sheet of plastic wrap.
Gently pat the dough into a disk…
you may have to pat the sides to round them off.
Peel back the plastic and sprinkle with a bit more flour so that the plastic won't stick as your roll it thinner.
Replace the plastic and roll the disk to scant 1/8-inch thick.
peel off the plastic.
Carefully transfer the dough to a Pizza Peel that is lightly coated with rice flour.
You may need to use a Dough Scraper
to ease it off the silpat.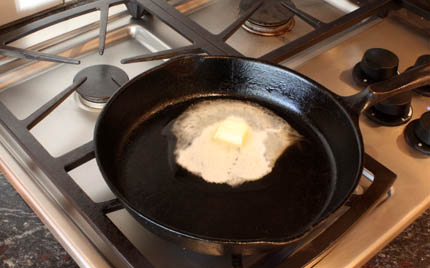 Preheat a cast iron skillet to medium heat. Melt 1 tablespoon butter and swirl it around.
Slide the dough into the hot pan.
Cover with a tightly fitting lid to trap the heat.
After about 2-3 minutes the side of the dough will be golden and the top with be bubbly, flip it over with a spatula. Cook for another 2 minutes on the other side.
Serve the naan with Indian-style dips and chutneys…
It was pure comfort food and no one knew that the naan was g-f but me.
The following is a 1-pound piece of gluten-free crusty boule dough that I froze for one week, defrosted overnight in the refrigerator and then set off to bake.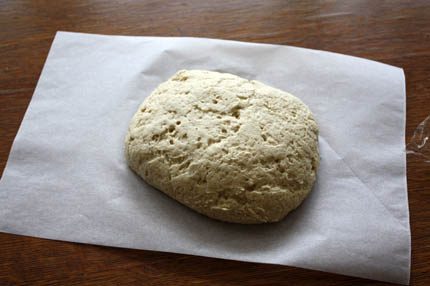 I unwrapped the defrosted dough and set it on a piece of parchment. Because it was wrapped and frozen in the right shape, I didn't fuss with it at all before I loosely draped it with plastic and allowed it to rest on the counter for 90 minutes.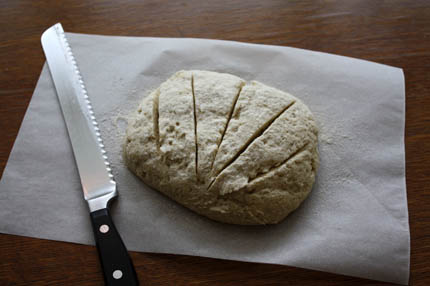 I slashed it with a serrated knife and baked it exactly how I had the original loaf.
The bread was fantastic. Great crust and amazing flavor.
The crumb was a tiny bit denser than the original loaf, and the g-f dough freezes wonderfully.
Note: BreadIn5.com is reader supported. When you buy through links on the site, BreadIn5 LLC earns commissions.
---
---