Cinnamon Swirl French Toast
It is Sunday morning, the sun is shining, the snow is finally melting and I'm as happy as could be! Seems the perfect time to have a lavish, albeit easy, breakfast. Last night I took out my bucket of brioche dough, rolled in some cinnamon sugar and baked a gorgeous swirly bread. This morning I sliced it, soaked it in custard and made it into sublime French toast. Nothing better than that and with a bucket of dough on hand it is quick and easy.
Here are some other great breakfast ideas from our books/website:
Cinnamon Swirl Bread:
2 pounds of Brioche dough
1/2 cup sugar
2 teaspoons cinnamon
egg wash (one egg mixed with 1 tablespoon water)
For French Toast:
6 eggs
1 cup 1/2 & 1/2
1 tablespoon pure vanilla extract
1/4 cup brown sugar
1 teaspoon cinnamon
pinch salt
To make the Cinnamon Swirl Bread: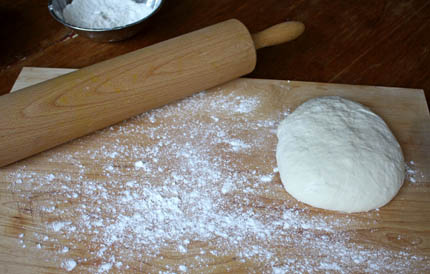 Start with 2 pounds of brioche dough (page 189) or any other dough that you love. Form it into a ball to create a smooth surface.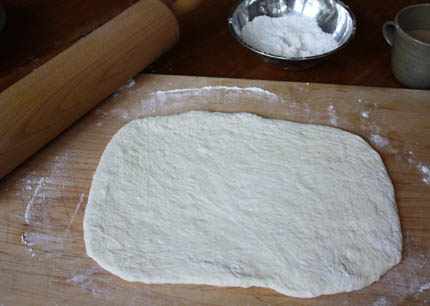 Roll the dough with a rolling pin till it's about 1/8″ thick.
Combine the sugar and cinnamon in a small bowl. Spread 1/3 of the cinnamon sugar over the surface of the dough. If you want more cinnamon or sugar, go for it, but save some for sprinkling on top of the cooking French Toast! If you want to add raisins here is a post on fabulous Raisin Bread.
Starting at the long end of the rectangle roll the dough,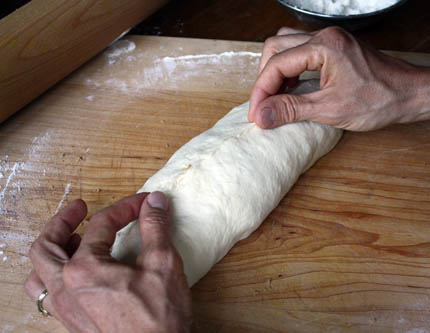 pinch the seam shut.
Place in a well greased non-stick 8 1/2 x 4 1/2 Loaf Pan
. Allow to rest for about 1 hour and 45 minutes, or until the dough no longer feels chilled.
Preheat oven to 350 degrees.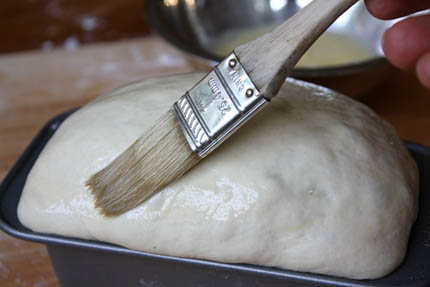 Paint the risen dough with egg wash using a Pastry Brush and dust with sugar before baking.
Bake for about 45-50 minutes or until golden brown. Allow to cool for about 5 minutes in the pan and then remove the bread to finish cooling.
Cut the loaf into six 1/2 inch slices and place into a shallow, flat dish. The dish needs to allow the bread to sit flat so it can soak up the custard.
Whisk the custard together in a bowl and then pour over the sliced bread.
Flip the bread over a few times to make sure that it is soaking up all the custard. You may have to soak the bread in batches if your dish is not large enough to hold it all at once.
I like to cook mine at 275 degrees on my new 22-Inch Jumbo Electric Griddle
, so I can do many slices at once. Right before you flip the toast over to cook the other side, sprinkle it with more of the cinnamon sugar and it will caramelize as it cooks. Depending on how thick your slices are and how much custard they absorbed they will take between 8-12 minutes to cook. Be sure to cut a small hole in the center and press the toast to see if any wet custard comes out. If it is still wet then cook for a few more minutes.
Slather in butter and maple syrup or what ever you fancy, Enjoy!
Note: BreadIn5.com is reader supported. When you buy through links on the site, BreadIn5 LLC earns commissions.
---
---