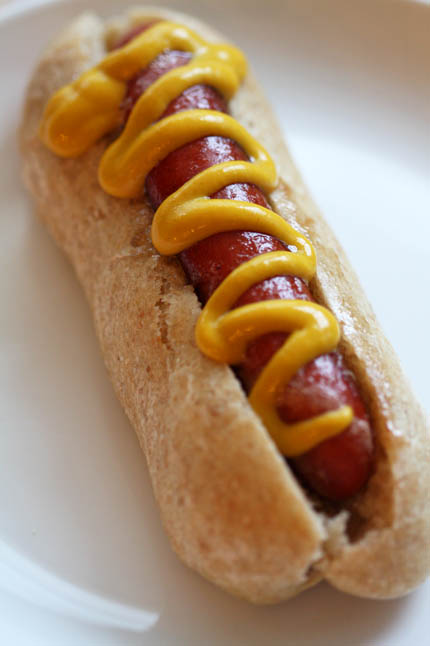 Once Little League starts its season I consider it the official Hot Dog opener. I don't eat many of them, but that is shear will power, because I absolutely love a good dog. My husband and I once stood in like at Hot Doug's in Chicago for 2 hours just to see what all the hype was about. You know what, I'd do it again, they were fantastic! I'm not a purist either, I like them loaded up with all kinds of business. One of my all time favorites is the really-bad-for-you chili dog we get at the Lake Harriet Band Shell in the summer, complete with fake cheese sauce and salty canned chili. It is just one of my weaknesses!
When I make hot dog or hamburger buns I like to use the Brioche dough from ABin5 or some other enriched white dough that make up a lighter bun. I made these with the whole wheat version and I found them a tad on the dense side, but as you can tell from my confession above, I love a junk food hot dog experience. 😉 Use any dough that you like and form it just as I have below.
Take a small (3-ounce) piece (about the size of a small plum) from your bucket of dough. Form them into smooth balls, as you would a larger boule.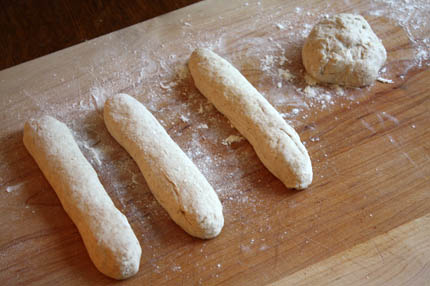 Elongate them into 6-inch long ropes.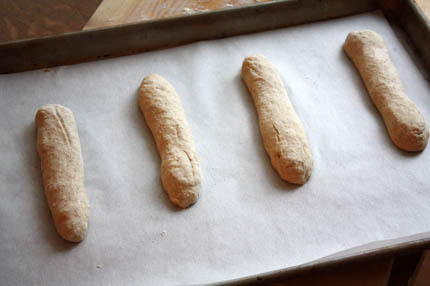 Place them on a baking sheet
lined with parchment or a Silpat. Cover loosely with plastic wrap and allow to rest for about 25-30 minutes (10 minutes longer for whole grain doughs).
Preheat your oven to 350 degrees.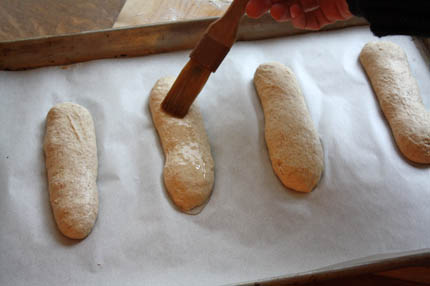 Paint the top of the buns with water or butter with a Pastry Brush
.
Bake for 18-20 minutes or until golden. They will not develop a crust.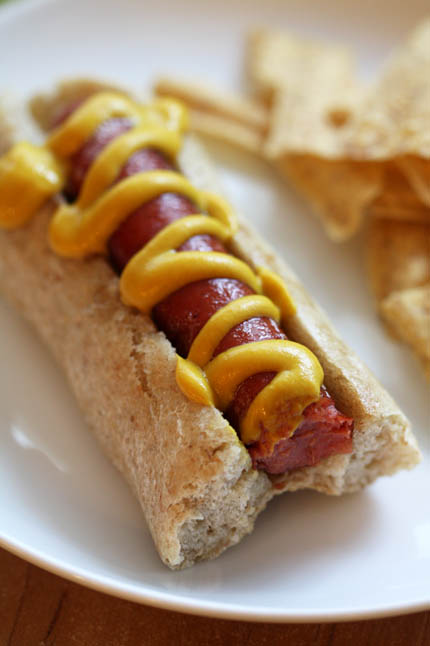 Slice when cooled, fill with the hot dog of your choice and go crazy with the toppings. (I took the picture prior to dumping a bunch of relish and other goodies on top.)
---
---