Gluten-Free Baguettes (Egg-Free!)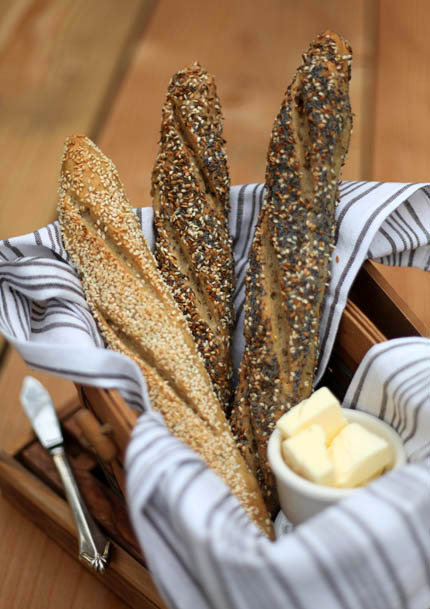 Many of you who are baking the gluten-free breads from the books have asked about making the dough without eggs– here's a decent swap:
Gluten-Free Baguettes:
Add the following to our Gluten-Free Crusty Boule recipe in place of the eggs:
2 tablespoons whole flax seeds (makes enough to replace 2 large eggs)
1/3 cup water to mix with flax
To make the egg substitute: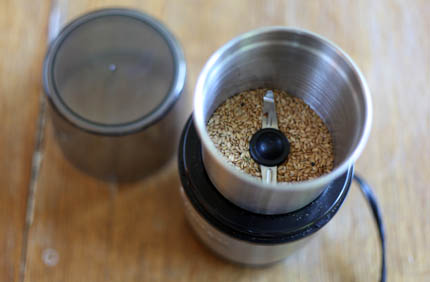 Grind the flax seeds in a Spice Grinder
until it is a fine powder.
Stir together the powered flax with 1/3 cup of water.
After the mixture has sat for about 3-5 minutes will get gelatinous and quite egg like.
For more details on how to mix and use the dough see chapter 9, page 297 in The New Healthy Bread in Five Minutes a Day. You can also find more details here.
Once the dough is well chilled reach into the bucket with wet hands and pull out 1/4 of the dough.
Dip your hands in more water to prevent the dough from sticking to your hands as you work.
You want to press, squeeze and gently pull the dough into the shape of a baguette. This dough has no stretch to it, so you can't pull it too hard or it will rip apart. The good news is that you can always just press it back together.
If the dough is too soft to form in your hands then just place it on a thin sheet of parchment and form the loaf with wet hands right on the paper. Try to handle it gently so as not to compress all of the air bubbles out of the dough.
brush with water and then loosely drape with plastic wrap. Let the dough rest for 40 minutes.
Preheat your oven to 475°F for 30 minutes with a Baking Stone on the center rack and a Broiler Pan on the bottom rack.
Sprinkle with seeds (I used the mixture from HBin5 on page 54).
Place the baguettes, on the parchment, into a Baguette Pan. This way the bread keeps its lovely shape and you can get more into your oven at one time.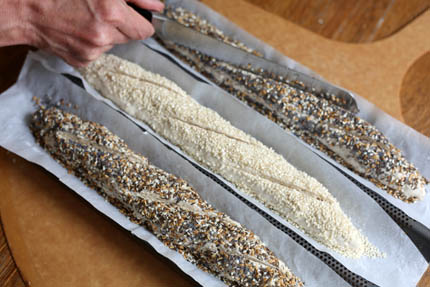 Using a sharp Serrated Bread Knife slash the baguettes at a diagonal three times 1/4-inch deep down the loaf.
Place the baguette pan onto the preheated stone, add 1 cup of hot water to the broiler pan and bake for 30 minutes.
Allow the bread to cool on a wire rack and then enjoy!
Related Posts:
Gluten-Free Crusty Boule recipe
Note: BreadIn5.com is reader supported. When you buy through links on the site, BreadIn5 LLC earns commissions.
---
---