Baking Stones – which creates the best crust?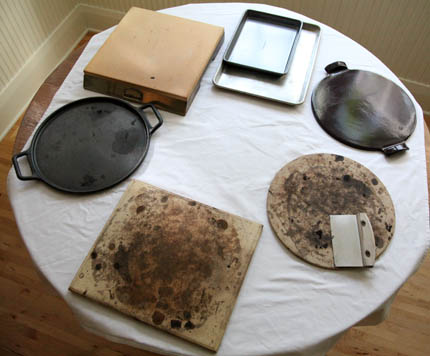 I've been collecting pizza stones in order to recommend the best ones to you and because I have never met a piece of kitchen equipment I could resist. I have been surprised by some and disappointed by others. Here is my review…the stones are in random order.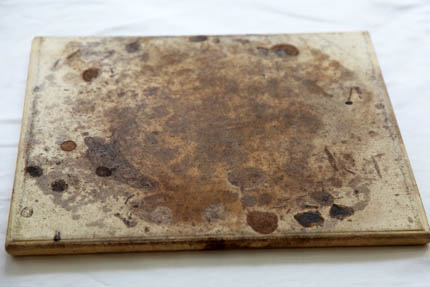 1. Here is the workhorse of the group, 14-Inch by 16-Inch Baking Stone
. I've owned it for well over 8 years and it always produces a great crust, as long as it is properly preheated. Because this stone is thicker than any of the rest it requires a 30-40 minute preheat to get a nice crisp crust on my breads and pizzas. (If I let it preheat for just 20 minutes it produces a pale and lackluster crust.) It is heavy weight so it is not prone to cracking and retains heat well and holds-up to temperatures of 550 degrees.
I also love the size since I tend to bake lots of loaves at once. I can fit about 3 boules or baguettes on here at the same time.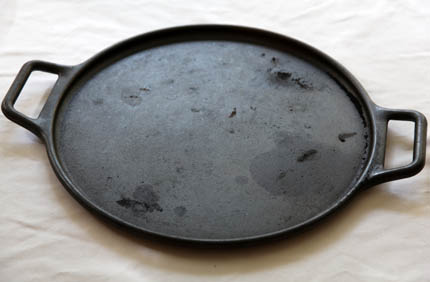 2. This is not a stone at all, but a disk of iron, Lodge Cast-Iron 14-Inch Pizza Pan
. I was introduced to this pan by my mother, who bought it after her thin round stone cracked. She decided to try the Lodge because it was indestructible. She loved it and now that I have one I love it too.
It is thinner than my heavy duty stone (above) so it preheats in 20 minutes and still creates a very crispy, caramel colored bottom crust. Because iron conducts heat well, but doesn't retain heat for long, it cools off quicker. You can also stick this into a super hot oven, which is a NO NO for stone and ceramic pizza pans.
The only thing I don't like about this pan is that it has a lip on it, which makes it more challenging to clean. With all my other stones I use a bench scraper to clean off any extra cornmeal or flour (see bottom of post for more info.) With the Lodge I have to carefully take it out of the oven and use a brush
to clean it, which is a pain in the butt when I want to bake multiple breads or pizzas. But, this doesn't stop me from using it often.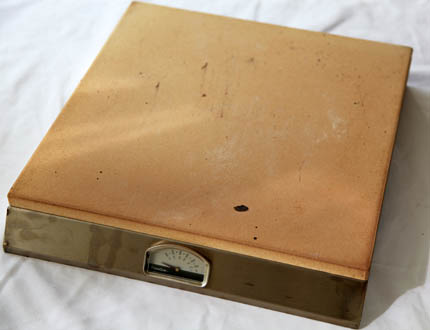 3. The PizzaQue is a stone made specifically for the grill, as long as your grill is large enough to handle the stone and base. I thought it was clever to have the stone sit up above the grates so that the flames wouldn't hit it and the toppings would have a chance to cook before the bottom crust burned. It also has a built in thermometer, which I figured would be more accurate than the one on the outside of my grill. My assumptions were mostly wrong.
The stone, which sits on a thin metal frame, is so thick that it takes 30+ minutes to preheat in my grill. The built in thermometer is attached to the thin metal frame so it reads 700 degrees after just 10 minutes, which is not long enough for the actual stone to reach that temperature. I highly doubt this stone ever got to 700 degrees or the pizza would have been baked in less than 10 minutes.
This stone is wonderful when used in my home oven, but the frame is useless since it won't fit in my oven. Wanted to love this, but don't!
Update: I just read the glowing reviews on Amazon and decided to give it another shot. After a 35 minute preheat…I baked a pizza and it came out much better than I remembered from the first attempt. The bottom crust was crispy and the toppings were just caramelizing after 10 minutes, this is the benefit of having it sit up higher on the metal frame. Still not in love, since my Lodge (see above) does a nicer job and takes less time to preheat.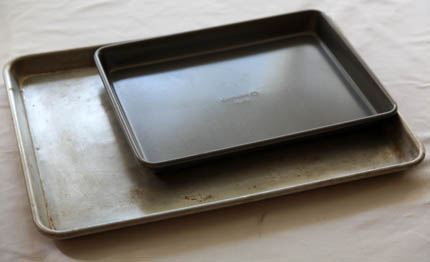 4. For those of you who are just getting started and want to try the bread/pizzas without investing in a pizza stone, I suggest using a heavy gauge baking pan. I like the industrial strength version, 18-by-13-by-1-Inch Jelly-Roll Pan
or this non-stick dark sheet 12-by-17-Inch Rectangular Nonstick Jelly Roll Pan
. You will not get as crisp a crust, but it is a great way to start out. Just preheat the pan and put the bread or pizza directly on the pan, no parchment or silpat to get the crispest crust. If you want to use parchment or Silpat (11-5/8-by-16-1/2-Inch Nonstick Silicone Baking Mat)
be sure to remove it for the last few minutes of baking to crisp up the bottom crust. You can even remove the pan from the oven and crisp up the crust directly on the oven rack.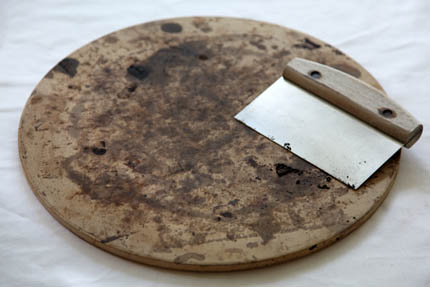 5. Here is a traveling Pizza Stone
. It was about $10 (a few years ago) and I bought it to take with me when I taught classes where there was no stone. I also used it on the grill, just in case the intense flames would crack my more expensive stone. I've had this stone for a few years and so far it is holding up well to all temperatures.
To clean the flat stones: I use a Bench Scraper
and just scrape off any excess flour, cornmeal or cheese that escapes the pizza. I don't wash them with anything, but if you have to AVOID SOAP or your stone will taste of soap, just hot water and let it dry slowly in a very cool oven to avoid cracking.
7. I didn't review Unglazed Terra Cotta Garden Tiles because I don't own any, but I have baked on them successfully. They are very inexpensive, but thin and small. You will want to push several together in your oven. You tend to get much more flour or cornmeal on the bottom of your oven as a result, which can mean smoke when baking pizzas. You can find these at most Garden or Hardware stores.
8. I just have to mention that the only stone we have had numerous complaints about it cracking is the one made by Pampered Chef. I have never personally tried this stone, but it seems it is fragile from what I hear–given that, we don't recommend this company's products.
Which stone do you use and do you love it?
---
---