The Ultimate Jelly Doughnuts!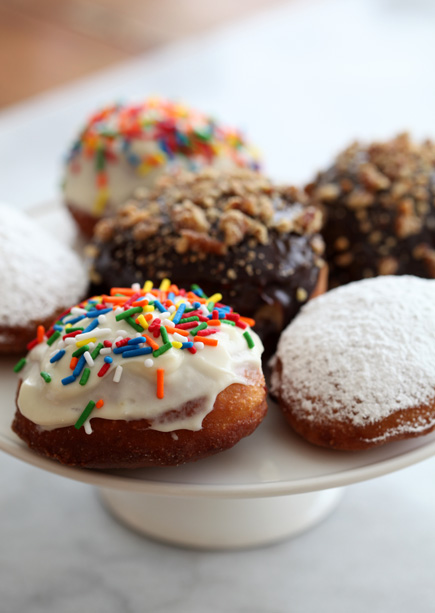 This week is Chanukah and my family revels in the amount of doughnuts (sufganiyot) we can eat. It is tradition during the holiday to eat fried food, lots of it, which is something I easily embrace. We start with lacy potato latkes and end the meal with jelly doughnuts. This year I filled the doughnuts with many types of jam, jelly and preserves, each had a different topping to go with it. Each one became my new favorite. With a bucket of brioche dough from ABin5 and some oil you are ready to make doughnuts that are better than the bakery down the street.
We want to thank Willie Geist for featuring Artisan Bread in Five Minutes a Day on this weekends broadcast of the TODAY SHOW. What a thrill!
1 pound brioche dough from page 189 of Artisan Bread in Five Minutes a Day
Vegetable oil for frying
1 jar of your favorite jam, jelly or preserves
powdered sugar for dusting on top (ganache or cream cheese icing)
Roll the dough out to about 1/4 inch thick and use a Round Cutter to for the circles. Put any scraps back in the bucket. Cover them loosely with plastic and let them rest for about 30-45 minutes. You can fry them right away, but the doughnuts will be lighter if you allow them to rest. You can get everything else ready to go while you wait.
Heat about 3 inches of oil in a large pot, you want to make sure there is plenty of room above the oil. Set up a Candy Thermometer
on the rim.
Once the oil reaches 360 F degrees you can fry the doughnuts. Depending on the size of your pot you will want to fry 2 or 3 at a time. Make sure they have plenty of room to expand without crowding each other. Cook for 1 1/2 minutes on one side and then flip, you may have to do this a couple of times until they are golden brown.
Remove the doughnuts and allow them to cool on a plate covered in paper towel.
The doughnut on the LEFT was cooked without resting first. You can see that it didn't rise as well in the oil. The one on the RIGHT is a nicer shape and the interior is light and fluffy.
Once the doughnuts are completely cool, poke the tip of a pairing knife into one end to create a hole.
Fill a Decorating Bag with jelly.
Cut a small hole in the pastry bag and fill the doughnut with the jelly. You want enough jelly so that every bite will have some, but not so much that it will be a huge mouth full of it.
For a simple finish just use a Sugar Shaker
or sieve filled with powdered sugar and dust the tops. I also used ganache with toasted pecans and cream cheese icing with sprinkles.
Jelly doughnuts are a tradition for the Jewish holiday, but I also love to fill the doughnuts with pastry cream, chocolate and other fillings and eat them all year long. What is your favorite doughnut filling?
---
---