Panettone – The Sweet, Fruit Studded Christmas Bread!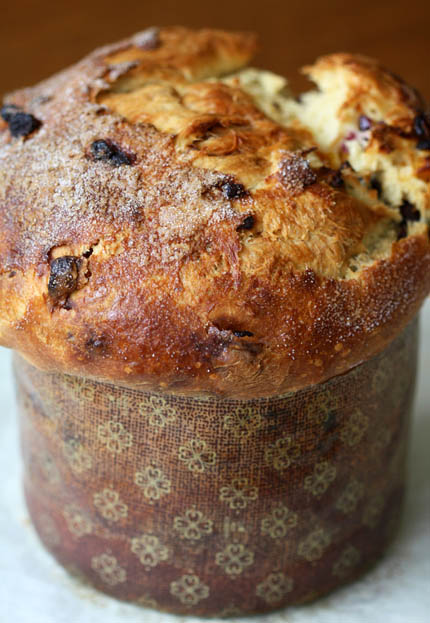 Panettone was traditionally a Christmas bread sold all over Italy during the holidays. It finds its origins in Milan around the 15th century, and has been the subject of much romantic lore. The most often told story of how this bejeweled bread came to be goes something like this… A young nobleman by the name of Ughetto Atellani fell in love with the daughter of a poor baker named Toni.  In order to impress her, Ughetto disguised himself as a pastry chef's apprentice in her father's bakery. He creates a tall fruit studded bread to present to her father, calling it "Pan de Toni."  The bread, rich with eggs and butter, sweet with honey, scented with vanilla and lemon zest, with the finishing touch of dried and candied fruits was a success in the bakery and wins the admiration of the lady and the father's respect. The baker blesses the marriage and Ughetto marries the daughter.
The story is rich and fanciful, just like the bread.  Today this sweet loaf is no longer saved just for Christmas, it is eaten at other holidays throughout the year and served sliced and toasted for brunch and as a dessert with a selection of cheeses and sweet wines. The bread, despite its rather lighthearted lore is quite sophisticated. The traditional method for making panettone is done over the course of several days. It included long sessions of kneading and allowed for up to 20 hours of rise time in order to create a flavor that is both sweet, but also has a complexity caused by the fermentation of the dough. Today, we want the same balance of flavor, without having to labor over the process or wait several days to enjoy our bread. Although you can bake the bread after only a few hours of refrigeration we recommend letting it sit for about 24 hours to develop its full flavor and it will be easier to work with.
There are traditional Panettone molds that are very high sided which come either straight or fluted, they give the bread its characteristic cupola shape.  These molds can be found in either metal or Paper Molds varieties at cooking stores or on the web.  Brioche Molds are also great
, and many people bake them in large, empty, parchment lined coffee cans to achieve the high domed loaf.
Panettone from The New Artisan Bread in Five Minutes a Day

Makes three 1½ -pound loaves. The recipe is easily doubled or halved.
1½ cups lukewarm water
1½ tablespoons granulated yeast (1 1/2 packets)
1½ tablespoons kosher salt
½ cup honey
8 eggs, lightly beaten
1 cup (2 sticks) unsalted butter, melted and cooled slightly, plus more for greasing pan
1 teaspoon lemon extract
2 teaspoons vanilla extract
2 teaspoons lemon zest
7½ cups all-purpose flour measured by the scoop-and-sweep method (or weigh in 37.5 ounces/1,065 grams)
2 cups mixed dried and/or candied fruit, chopped (golden raisins, dried pineapple, dried apricots, dried cherries and candied citrus just to name a few we've tried and loved in this bread).
Egg wash (1 egg beaten with 1 tablespoon of water)
Sugar for sprinkling on the top of the loaf
1. Mixing and storing the dough: Mix yeast, salt, honey, eggs, melted butter, extracts and zest with the water in a 5-quart bowl, or lidded (not airtight) food container.
2. Mix in flour and dried fruit without kneading, using a spoon, 14-cup capacity food processor (with dough attachment), or a heavy-duty stand mixer (with paddle attachment). You may need to use wet hands to get the last bit of flour to incorporate if you're not using a machine. The dough will be loose, but will firm up when chilled (don't try to use it without chilling).
3. Cover (not airtight), and allow to rest at room temperature until dough rises and collapses (or flattens on top), approximately 2 hours.
4. Dough can be used as soon as it's chilled after the initial rise. Refrigerate in a non-airtight lidded container and use over the next 5 days. Beyond that, the dough stores well in the freezer for up to 3 weeks in an airtight container. Freeze in one-pound portions. When using frozen dough, thaw in refrigerator for 24 hours before use, then allow usual rest and rise time.
Defrost dough overnight in the refrigerator if frozen.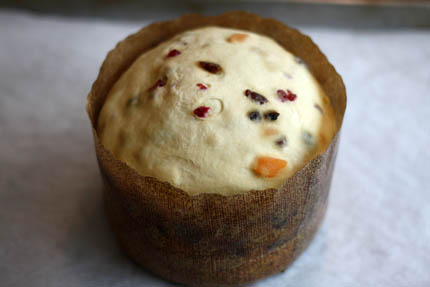 5. On baking day, grease a Panettone or brioche pan with butter; pictured here is a 6 x 4-inch paper mold.
6. Dust the surface of the refrigerated dough with flour and cut off a 1 ½ – pound (grapefruit-size) piece. Dust the piece with more flour and quickly shape it into a ball by stretching the surface of the dough around to the bottom on all four sides, rotating the ball a quarter-turn as you go. Place the ball into the pan, seam side down.
7. Loosely cover the dough with oiled plastic wrap and allow to rest at room temperature for 1 hour and 40 minutes.
8. Twenty minutes before baking time, preheat the oven to 375°F with the rack in the middle.
9. Remove the plastic wrap and brush the Panettone with egg wash and sprinkle with the sugar. Bake in the center of the oven without steam for about 50 to 55 minutes until golden brown and hollow sounding when tapped. The amount of dough and baking times will vary depending on pan size.
10. Allow to cool before slicing or eating.
It is wonderful on its own or served with Laura's Marmalade on page 165 of The New ABin5. For those looking for a whole grain holiday treat try our 100% Whole Wheat Christmas Stollen on page 348 of The New HBin5.
For those of you who want to get someone started with bread baking at the holidays, here are some ideas:
The New Healthy Bread in Five Minutes a Day ~ for those on your list who want to bake with Whole Grains or are Gluten-Free
or
The New Artisan Bread in Five Minutes a Day
~ for those who might prefer to start with the European-style breads
Food Storage Container ~these round cambo containers are the easiest to mix in, but you can use a bowl or other container that is at least 5 quarts.
Danish dough Mixer
– this is our favorite tool. It offers less resistance to the dough, which makes mixing even easier.
Baking Stone
~ The thinner stones tend to crack more easily. (see post on which ones we recommend)
Pizza Peel ~ this is an extra wide peel, which is great for pizza. You can also use a cookie sheet that has no sides.
Oven Thermometer ~an inexpensive oven thermometer is key to understanding the true temperature of your oven.
Vital Wheat Gluten – for those baking from HBin5, this give whole grain breads the strength and structure it needs.
With those few items you can really create wonderful breads! Of course there are many more kitchen toys you may want once you get going with this, but these are what I think are a great start!
Note:  Red Star Yeast sponsored this post, and provided free samples of Red Star and Platinum yeast for testing. BreadIn5.com is readers supported–when you buy through links on the site, BreadIn5 LLC earns commissions.
---
---