Valentine's day is near and we have a fun way to celebrate. No, that is not dough tinted with red food coloring, but our Red Beet dough from Healthy Bread in Five Minutes a Day! It's bright color is perfect to be baked on the holiday all about red hearts. Those who are beet lovers will consider this the best gift ever. If your valentine is not a big fan of this jewel toned root vegetable, you can certainly make the heart-shaped loaf with any of our doughs, especially the chocolate dough.
Thank you all for entering so many wonderful ideas in our pizza contest, we were blown away by your creativity. The winning combination will apear in our upcoming book Artisan Pizza and Flatbreads in Five Minutes a Day. We have also picked 5 random winners who will receive a signed copy of HBin5. Those winners are listed below.
Heart-shaped Bread:
Use a 3/4-pound (large orange sized piece) Red Beet dough page 180 in HBin5, or any other dough from our books
Flour for dusting
Parchment for baking
To bake the heart bread:
Preheat oven to 450 degrees (or follow the oven temperature for the dough you are using), with a baking stone in the middle of the oven and a broiler pan on the bottom shelf for adding steam.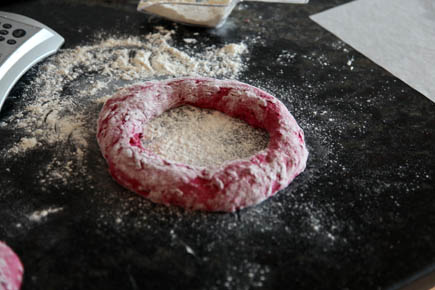 Form the piece of dough into a ball, then poke your thumbs through the ball and create a doughnut shape. If the dough doesn't want to stretch easily just let it sit for about 5 minutes.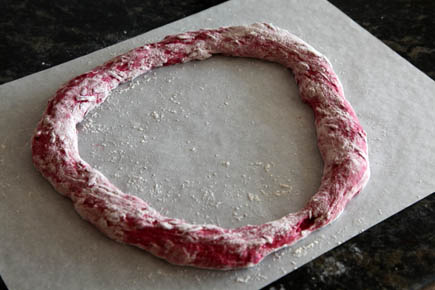 Eventually the dough will relax and allow you to stretch it into a large circle.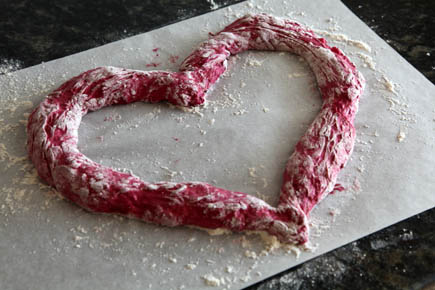 Form the dough into a heart, pinching the points together so it will keep its shape as it bakes. Let the loaf rest, loosely covered with plastic wrap for about 40 minutes.
Dust the loaf with flour and slash the dough every 3 inches around the heart.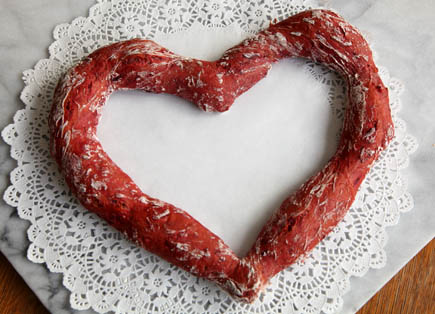 Place the loaf on the baking stone, add water to the broiler pan and bake the loaf for about 25 minutes.
The winners of the books are: Sheena, Teresa, Maureen, Lisa and Grace.
We had a very difficult time picking just one pizza from all of the fabulous entries. With the help from our team at St Martin's Press we picked the Chicken Pot Pie concept from Joelein. Now we have to come up with a delicious pizza that will do her idea justice and it will appear in Artisan Pizza and Flatbread in Five Minutes a Day.
Congratulations and Happy Valentine's Day!
---
---