A Sneak Peek at the Red Star Yeast Test Kitchen!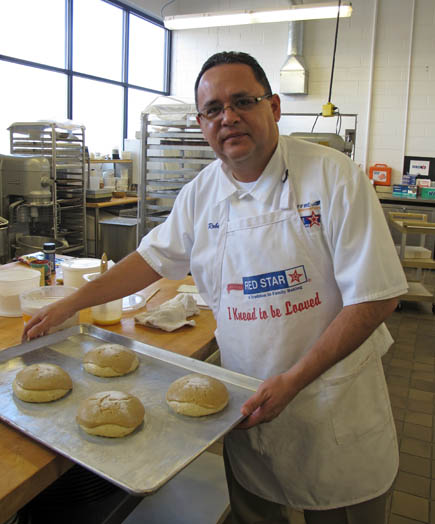 This is Roberto, one of the luckiest people I have ever met. He and Mark, who run the test kitchen at Red Star Yeast, have what I consider a dream job. They work in this amazing kitchen to come up with all kinds of yeasty treats. The equipment is top notch, the ingredients limitless and the space is massive. I have kitchen envy in a big way. No wonder they are such fantastically nice guys. They were kind enough to invite Jeff and me into their kitchen to play with them. We baked all kinds of breads from our books and did presentations to the rest of the Red Star team.
Now this is what I call a wall oven. Look at all those oven racks. Image how much bread we could all bake if Bongard only made a home version.
The largest pizza peel on planet earth.
Mark resting our brioche buns in his proof box, which creates a warm, humid environment. We civilians can recreate such a box by placing a pan of warm water in a turned off oven. This can be used to slightly speed up the resting time. Mini Brioche Recipe Here!
The brioche was very happy…
after a time in the proof box.
Here is Jeff prepping for our presentations.
more prep and a little yeast advice from Bill, who was our gracious host.
One of the presentations we did with the Red Star Yeast team. I do believe Jeff just flung a pizza crust over his head?
Here is a Danish Braid I made for them to snack on. Danish Braid Recipe here!
Here we are after a happy day of baking. Thank you to John, Kelly, Roberto, Mark and Bill for such a tremendous trip to Milwaukee to bake in the Red Star Yeast kitchens.
---
---