Brioche Berry Pudding – something gorgeous for Mother's Day!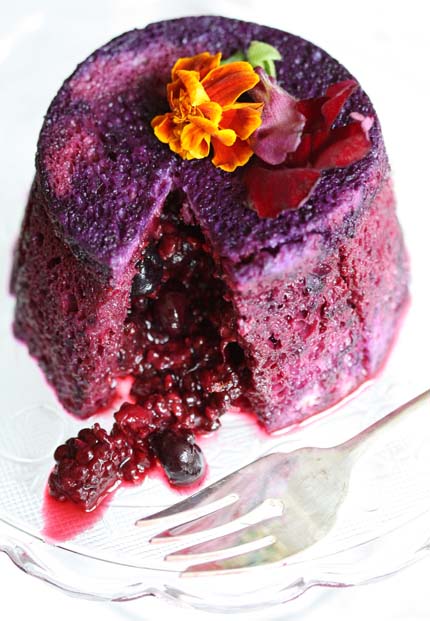 This is a post I did a couple of years ago on Mother's Day. It is bright, cheery and gorgeous, just the thing to make for mom,especially after such a long winter. We MN mom's need a bit of sunshine!
Some things are worth a little more effort, right! Like a dessert for your mom on Mother's Day.  This berry pudding is really very simple to make, but I admit it will take just a bit longer than 5 minutes to put together. Berry puddings are a slightly retro English sweet and I think they deserve a come back. Their drop dead gorgeous color comes from the dark berry juice soaked brioche, hiding a treasure of sweet, slightly drunken berries within.
You just can't resist something this wonderful and if you have a bucket of brioche on hand it will go together really very easily. Happy Spring to you all!
Berry Pudding:
makes 8 small Ramekins (6 oz.)
2-pound loaf of Brioche, baked in a loaf pan
8 cups fresh or frozen berries
2/3 cups sugar
1/4 cup port
1 teaspoon lemon zest
2 teaspoons lemon juice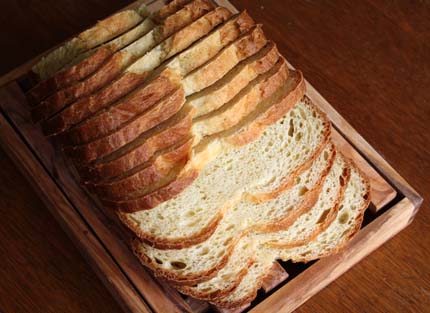 I baked a 2-pound loaf of brioche in a Loaf Pan
. I let it rise for about 2 hours and it baked for almost 50 minutes. traditionally you would use stale bread for this pudding so you can bake the bread a day or two ahead. Cut the loaf into 1/4-inch thick slices.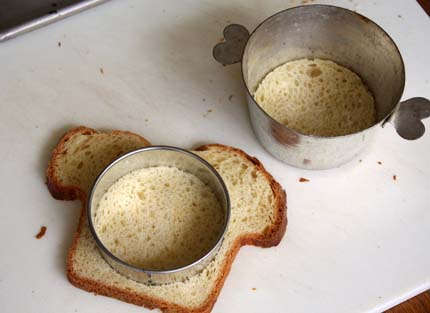 Using a Round Cookie Cutter cut a piece of the bread to fit the bottom of your ramekin. I used my individual Charlotte molds, but you can use any size ramekin. It is very dramatic to present this as one large pudding as well as individuals.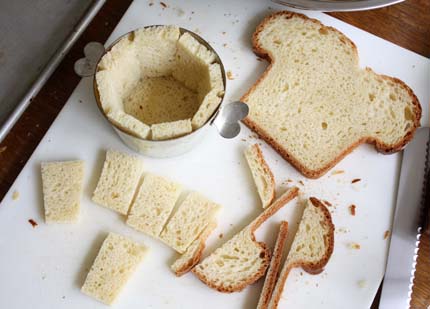 Then you will want to cut off the crusts and cut strips to line the sides of the ramekins.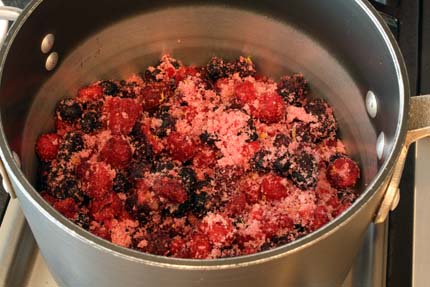 In a pot mix together the berries, sugar, port, lemon juice and zest.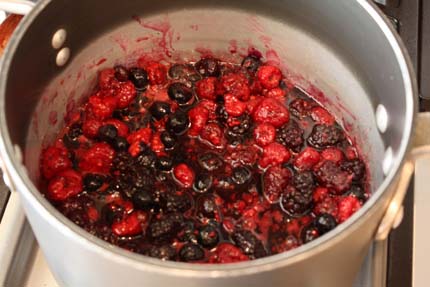 Cook just for a few minutes until the berries start to release some of their juices.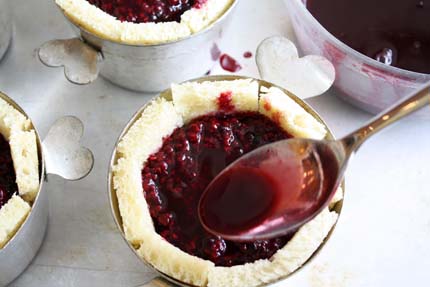 Using a Slotted Spoon
fill the brioche lined molds to the top of the bread slices. You may need to strain the last of the berries to make sure you don't miss any. Reserve the juice and once the ramekins are all evenly filled, spoon some of the juices over the top. Don't use it all just yet.
Using the cookie/biscuit cutter cut another circle to fit over the top of the berries.
Spoon some more of the juice over the top of the puddings.
Cover the ramekins with plastic wrap and then weigh them down with cans or something else heavy. Place the puddings in the refrigerate to set for about 24 hours. You will want to check them after several hours to make sure that they have enough juice to soak the bread. If they do not, add more of the reserved juices and return to the refrigerator.
When you are ready to serve them, invert onto a serving plate. I like mine with a bit of Creme Anglaise or ice cream and an edible flour to garnish.
---
---