Monkey Bread – Brioche dipped in cinnamon sugar and caramel!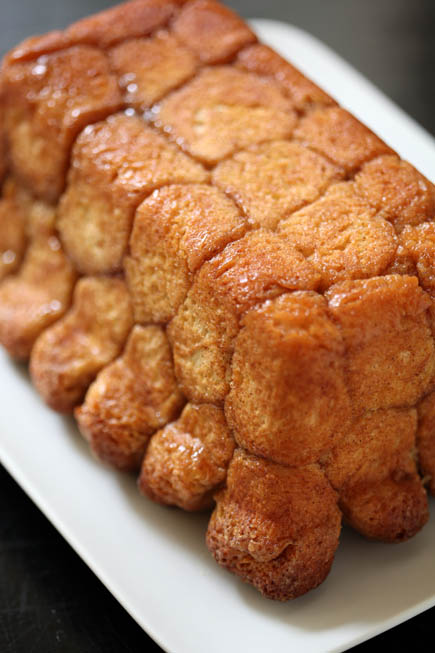 I have to admit that I have never made Monkey Bread before. My brother's used to make it when they were younger, but I'd already left the house for college. My husband has even made it for my boys, but always when I am out of town, a father/son tradition. In both cases it was made with a dough or biscuits that come in a pop-open-tube from the grocery store. You know just what I am talking about. This is perhaps why my husband only made them when I wasn't around. Trust me, I love anything made with cinnamon sugar and caramel, so the concept appeals to me. When I found myself with a bucket of brioche and wanting to make the boys a treat, I thought Monkey Bread. Now I wonder how come it took me so long to figure this out? It is simple, fun and absolutely delicious. Only make them when you have people to share them with, or you will find yourself nibbling at them all day like I did. Luckily, my boys and their friends came home and saved me from eating the entire pan.
Brioche Monkey Bread:
1 1/2 pounds Brioche dough (New Artisan Bread in Five
)
1 cup sugar
1 tablespoon cinnamon
1 stick (4 ounces) unsalted butter, plus more for the pan
1/2 cup brown sugar, well packed
1/4 teaspoon salt
To make the Monkey Bread:
Butter a 9×5 Loaf Pan
Sprinkle the surface of your dough with flour and take out a 1 1/2 pound (large grapefruit size) piece.
Roll the dough into a log, about 2-inches in diameter.  Cut the log into about 8 slices and then cut the slices into quarters.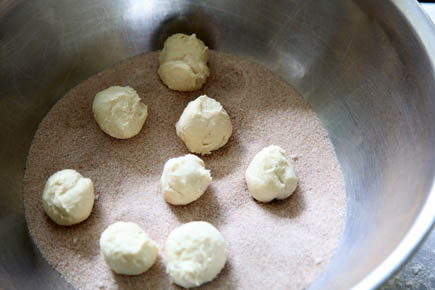 Roll the dough into small balls. If the dough is sticking to your hands, coat your palms with a small amount of soft butter.
Combine the sugar and cinnamon in a large bowl. Drop the dough balls into the bowl and coat them with the cinnamon sugar.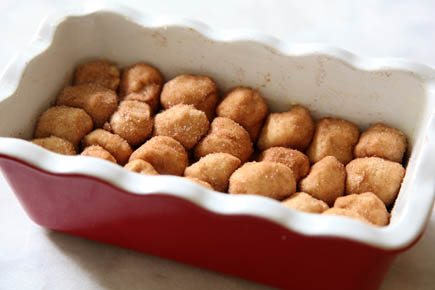 Place the balls in the prepared loaf pan.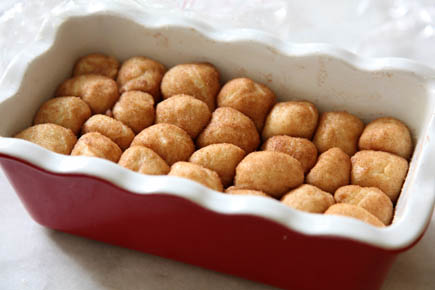 Allow the dough to rise for about 1 hour.
Preheat the oven to 350°F.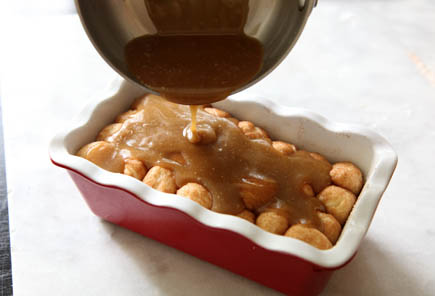 Just before putting the loaf pan in the oven melt the butter, brown sugar and salt in a small saucepot, stirring until completely smooth. Pour over the dough balls.
Place the loaf pan in the oven on top of a sheet pan, just in case the caramel bubbles over the top. Bake for about 40 minutes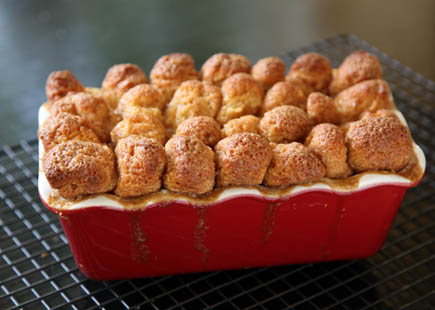 Allow the bread to cool slightly.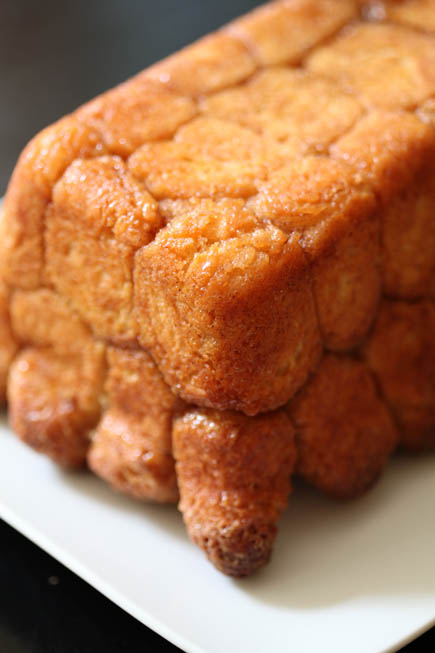 Turn the loaf our onto a serving tray. I thought of making the leftovers into bread pudding, but there were no left overs. I suggest you make two and use one in our bread pudding recipe. Enjoy!
---
---