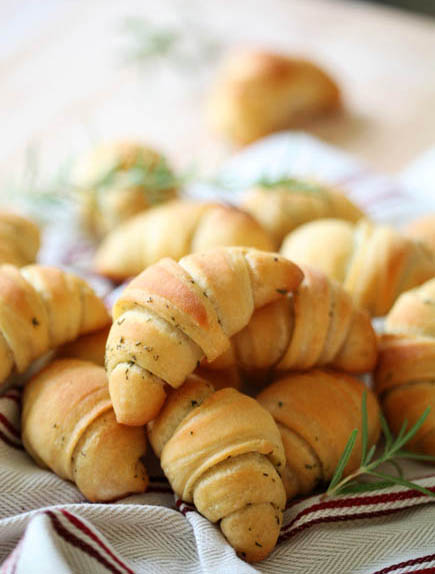 If you start with a bucket of the Master recipe you can quickly and easily created these tasty, crusty, rosemary crescent rolls. This technique is an easy way to incorporate flavors into the dough without fuss. Shape matters; everything seems to taste better when it looks great and these crescent rolls are adorable. My boys claim to have a certain disdain for the strong flavor of rosemary and yet they ate the entire batch of these rolls when they got home from school, never realizing they were stuffed with the dreaded herb. Oh, the tricks we parents play to get our kids to be more adventuresome eaters. At least this one is fast and easy, as well as delicious! Next time I try it with spinach. 😉
Rosemary Crescent Rolls:
1 pound Master Recipe (ABin5
or HBin5
) or Olive Oil Dough, actually any dough will work, but you'll need to change the baking temperature to match the dough.
2 tablespoons finely chopped rosemary or other herbs
3 tablespoons olive oil
Salt for sprinkling on the dough
To make the crescent rolls:
prepare two baking sheets with oil or parchment.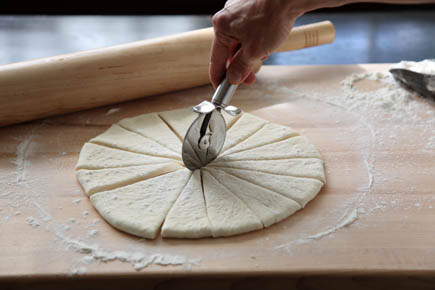 Roll the dough out to a 1/4-inch thick round. Divide the round into 16 equal pieced using a Pizza Cutter
.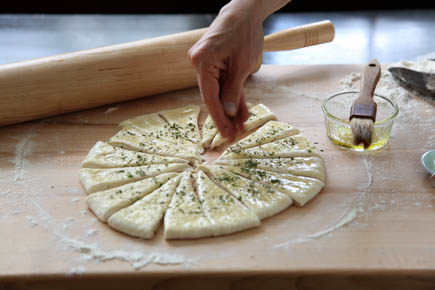 Using a Pastry Brush
, paint the dough with olive oil and then sprinkle with the rosemary and salt.
Gently stretch the dough to elongate the piece.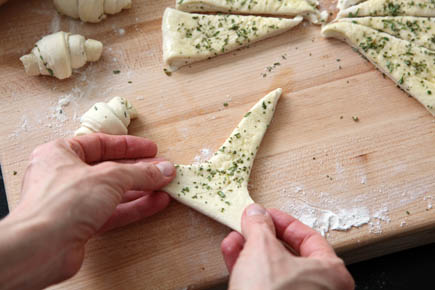 Lay the piece back down and stretch out the wide end of the dough.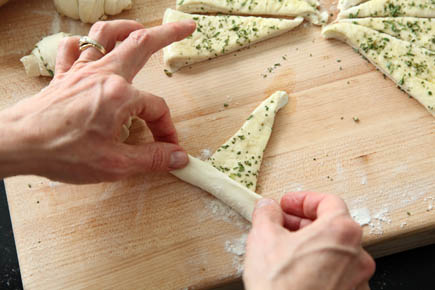 Start rolling the dough from that wide end,
tightly, until you reach the point.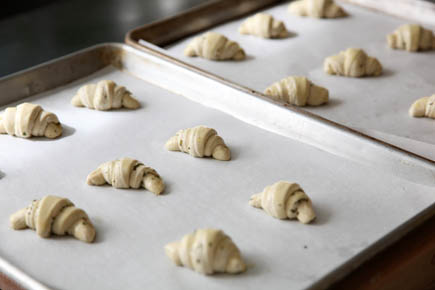 Lay the crescent rolls out onto the prepared pans, with the point tucked under the rolls. Allow to rest for about 45 minutes to 1 hour.
Preheat the oven to 475°F. This is slightly higher than you would bake the same dough as a big boule, so that we will get nice color on the rolls quickly. No steam or stone is necessary.
The rolls will not have risen much, but will be slightly puffy looking. Paint with more olive oil and bake for about 25 minutes, switching the pans from top to bottom and back to front about half way through the baking.
---
---