Finally received our Chinese copies of Artisan Bread in Five Minutes a Day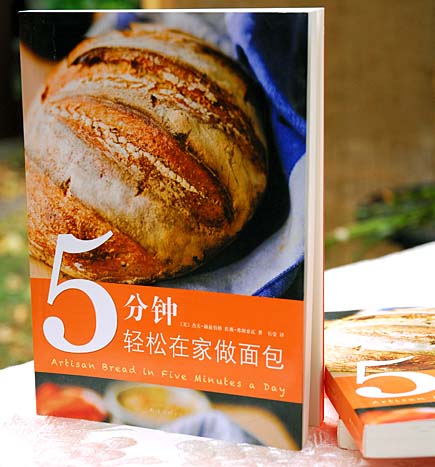 We have been waiting for what seems like a year to get this book in our hands!  We're so pleased that readers in mainland China can now buy this version, in simplified Chinese characters.  We know that many of you have been coming to this website with questions about the English version, and of course, we support all versions of our books here on the site.  This new edition, published by Thinkdom Media Group in China, joins the British version published last year as the second international printing of our books, and the first translation.  A Japanese version is in the works and will be published in the next year or so…
But the constant preoccupation these days is our upcoming Book Tour to promote Artisan Pizza and Flatbread in Five Minutes a Day, which will be released on October 25, 2011.  We're hitting as many as 12 cities, and some of that schedule is already posted on our Events page.  But more about the Chinese translation of Artisan Bread…
     If anyone feels like telling us whether they translated our biographies on the jacket flap accurately, we're all ears…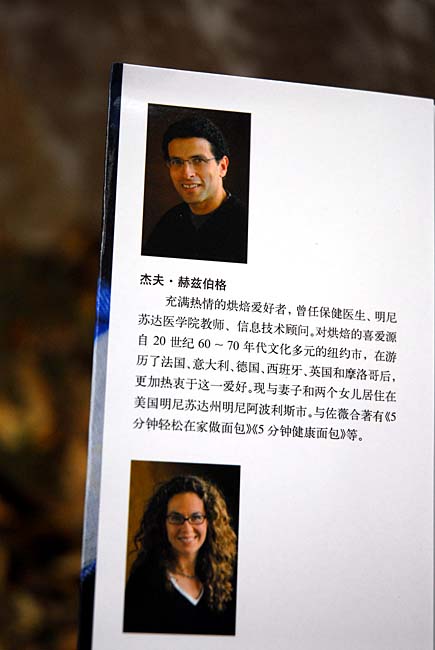 And then, I am quite certain that my grandfather, a man who probably never set foot in a Chinese restaurant, let alone China, is chuckling at this reference to the "John Barrymore Pletzel," a Jewish-Eastern European bread.  It's one of the only words in the book written in Roman characters:
For folks in China who'd like to buy this version online, please click on this image to access the DangDang.com website:
In any language, please come back and meet us here, on Twitter, or on Facebook (though alas, we will only answer in English!), and check out our YouTube channel as well.  And look for a Chinese scallion and sesame oil flatbread (Bing) in our upcoming Artisan Pizza and Flatbread in Five Minutes a Day, available on October 25, 2011 on Amazon and in bookstores all over North America.
---
---