Secrets of Sicilian Style Pizza Crust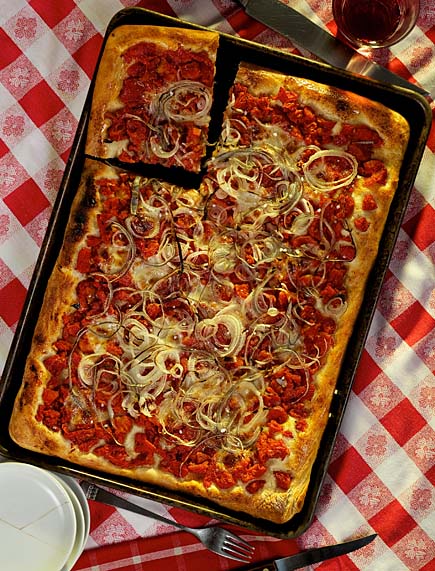 (photo Mark Luinenburg)  Growing up in New York in the 1960s and 70s, there were two options when you walked into a pizza place:  "regular" (thin-crust) baked right on the hearth, or "Sicilian" (thick-crusted), baked in a pan.  I'm fairly certain I didn't know where Sicily actually was, and my parents were partial to "regular," so that's what we got.  Eventually I started going by myself and tried the chewier, thicker stuff.  It's a hit with kids, and for many of our readers, a pan-built pizza is an easier trick than the traditional free-form pizza slid off a peel (see Zoe's post on that). 
But first, we have a winner… of the pizza baking giveaway package from October 25.  The winner, picked randomly from among nearly 800 entrants is:  Dave W, who favors a soppressata, peppadew, and onion creation.  Dave, just answer my e-mail and we'll ship out the package…
OK, here's how to make the perfect Sicilian crust. 

Preheat your oven to 500 degrees F (250 degrees C), about 30 minutes before you're ready to bake— this assumes you leave a baking stone in your oven as I do (they take a long time to heat up).  But the pan we're going to use makes the stone optional– you don't absolutely need it with pan-pizza.  If you don't use it, a shorter pre-heat is fine.  If you do use it, drop the pan right onto the hot stone.
Weigh two pounds (910 grams) of dough, or estimate (a small cantaloupe or a very large grapefruit).  Digital scales are very nice for the task.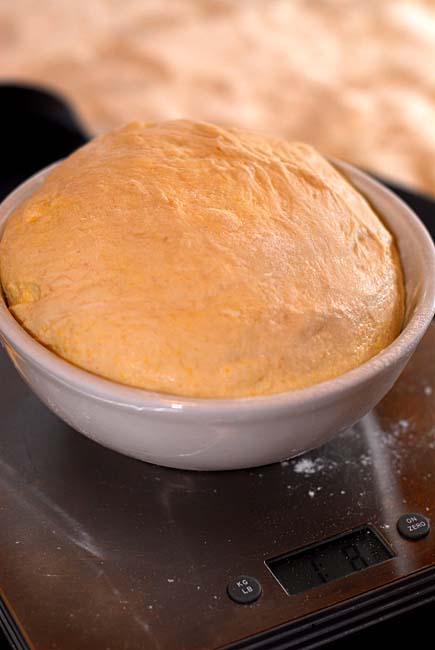 Start the stretching process by dimpling with your fingers and spreading the dough out, being mindful of the need to eventually create a rectangle, not a circle.
It's OK to use a rolling pin (I love the no-handle French milled style).  We joke in the book that it's against the law in Italy to use a rolling pin… at least for Pizza Napoletana (Neapolitan-style thin-crust).  But maybe we'd be OK here since this ISN'T Neapolitan thin-crust?
Eventually, you need a 13 by 18-inch rectangle that's about 1/4 to 1/2-inch thick: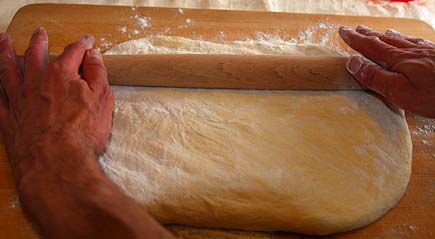 Generously grease an 13 by 18-inch heavy gauge rimmed baking sheet with olive oil (the Chicago-metallic plain un-coated aluminum is my favorite).  Thinner pans burn the bottom crust, and non-rimmed pans will leave you with an oily mess in your oven.
Drop the rectangle into the pan and take a little time to press it all the way to the edges and to the corners.  It'll tend to spring back on the oiled surface but just be patient, walk away for 5 minutes and it'll relax.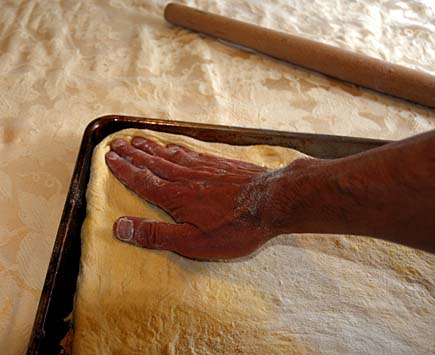 Sauce it up– it's a big pizza, so we call for 3/4 cup of the tomato topping of your choice (see the book for options).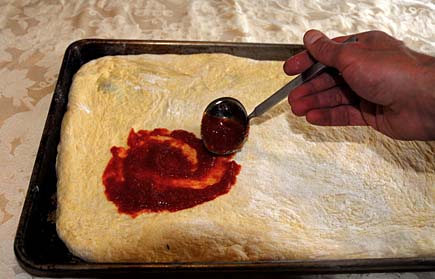 I tend to use my fingers for this part of the job…
Ready for the cheese and toppings– in the book, we built a traditional Sicilian Sfinciuni onion pizza like in the picture at the top of this web post, with 6 ounces of mozzarella, 3 ounces of grated pecorino Romano cheese, 2 large sweet onions thinly sliced (you can decrease to taste), and a couple of tablespoons more of olive oil for drizzling.
It bakes up in about 20 to 25 minutes.  You may need to turn the pan around while it's baking.  When the crust and the cheese are browned, cool slightly, cut into squares and serve.
Another terrific variation is a thick-crusted Roman Eggplant Pizza; skip the onions and Pecorino and cover with grilled eggplant slices (photo Mark Luinenburg):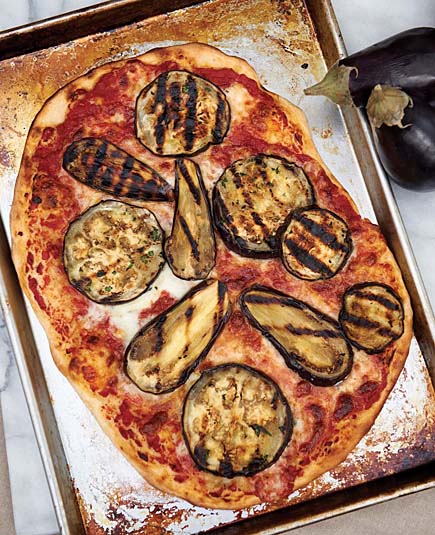 Is anyone ready for grilled eggplant from the backyard yet?  Winter's just started here in Minnesota and running my oven's the way I keep warm 🙂
---
---