This week is Chanukah and it is all about frying our food, which brings me great joy. I am constantly trying to come up with something new to add to our menu of latkes, jelly doughnuts and all the other traditional fare. These savory doughnuts were inspired by the fried pizzas I had in Naples. We ate them as snacks during the day, to tide us over to the next pizza. Most of the pizzarias sold them outside their front doors to people waiting in long lines or folks on the run. Pizza dough stuffed with ricotta and deep friend; simple, but perfect. My boys love them stuffed with a variety of fillings, so use your imagination and create your own savory doughnuts.
1 pound of dough (I used the Lighter Whole Wheat Dough on page 83 of Artisan Pizza and Flatbread in Five Minutes a Day)
2 cups ricotta
1/4 teaspoon nutmeg
1/2 teaspoon oregano
Salt and pepper to taste
Oil for frying
Tomato sauce for serving
To make the savory doughnuts:
Bring a pot of oil to 370°F on a Candy Thermometer. The oil should be about 3 inches deep and not come up more than halfway up the side of the pot.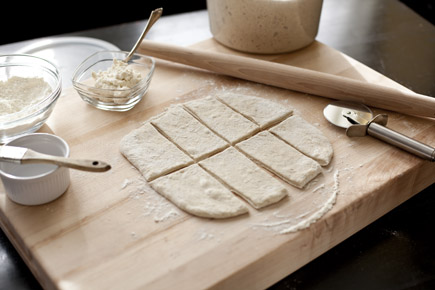 Roll out the dough to about 1/4-inch thick rectangle. Cut the rectangle into 16 equal portions. (I used 1/2-pound piece for these photos, so your rectangle will be larger.)
Mix together the ricotta, nutmeg, oregano, salt and pepper. Put about a tablespoon of the filling onto the dough, placing it so that you can easily close the dough around it. Brush the edge of the dough with water.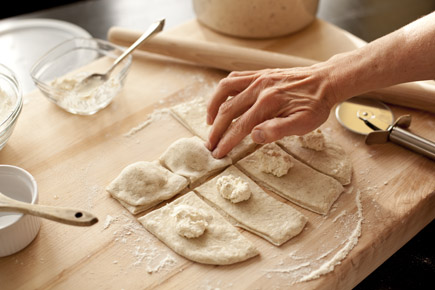 Press the dough closed around the filling. Making sure that the dough is sealed well, so the filling won't come out while it is frying.
Place the doughnuts in the hot oil for about 2 minutes, or until they are golden brown. Put only a few doughnuts in the oil at a time, they should not be crowded or they will not fry evenly.
Flip the doughnuts over and fry the second side for another 2 minutes. Make sure your oil is staying around 370°F.
When the doughnuts are done frying, use a basket skimmer to remove them from the oil and place them on paper towels to drain the excess oil.
Serve with the tomato sauce or pesto.
---
---