Turkish Spiced Lamb Pita – (Lahmacun)
In addition to making pizza on superbowl sunday, I propose that you shake things up a bit with these Spiced Lamb Pitas. This is one of my favorite recipes in our new book. I love it for many reasons, but the story behind my first bite of Lahmacun is as rich as the bread itself.
I arrived in Istanbul with my husband and two sons (9 & 11 at the time), after a long trip from Minneapolis. As we entered into the city, with the sweetest cabby in the world, and the fastest driver I have ever seen, we realized we were not in the Midwest anymore. It was a feast of the senses. To say we were overwhelmed by the beauty, smells, sounds and traffic, would have been a gross understatement. No sooner had we put our bags down in the hotel, then the concierge called the room to say I had a "friend" waiting for me in the lobby. He whispered into the phone and said "Please, be careful of people who claim to be your friend in a new city." His way of warning me about something. I didn't know anyone in the city, and hadn't made plans to meet up with anyone, so I heeded his warning and sent my husband to the lobby to find out who this mysterious "friend" might be. It was indeed a friend, a dear sweet woman named Serap, who I'd met in the States. She owns a delightful Turkish restaurant called Depot 62 in Manchester, Vermont. I had told her I'd be in Istanbul, asked her for tips on where to eat, but that was all I ever expected to hear. Here she was, the loveliest surprise in the world. She was visiting her sister in istanbul, and they took the day to give us a tour of the city. They fed us the most glorious foods and she introduced me to her favorite Turkish food; Lahmacun. I will never forget that day and this flatbread is forever linked with one of my most precious memories. I hope you enjoy it as much as I do.
This thin pita is topped with Spiced lamb, quickly baked, so it is still soft, topped with chopped onions, parsley and a squeeze of lemon, then it is rolled up like a crepe. 
Lahmacun:
Makes 1 pita, but enough toppings for 4.
1/4 pound dough (master recipe dough, whole wheat dough, gluten-free pizza dough or naan dough are some of my favorites from Artisan Pizza and Flatbread in Five Minutes a Day to make this with)
For the Lamb topping:
2 tablespoons olive oil
1/2 white onion, finely chopped
1 1/2 teaspoons ground cumin (add a bit more if you want a more intense flavor)
1 1/2 teaspoons ground coriander (add a bit more if you want a more intense flavor)
1 teaspoon paprika
1 pound ground lamb
1 tablespoon tomato paste
1 teaspoon salt
2 tablespoons finely chopped flat-leaf parsley
Garnishes:
1/4 cup flat-leaf parsley
1/4 cup chopped white onions
1/4 cup chopped tomatoes (they are delicious, but I didn't find any ripe ones to use this time of year.)
1 lemon, cut into quarters
To prepare the lamb:
Heat the olive oil in a large skillet, add the onions and cook until they are soft. Add the spices and ground lamb, cook until the meat is evenly browned, breaking it up as it cooks. Stir in the tomato paste, salt and parsley, cook for another minute. Set aside to cool. Can be made ahead.
To make the pita: Preheat oven to 500°F with a Pizza Stone on the bottom rack for at least 30 minutes.
Roll the dough out to 1/16-inch (see this post if you are having trouble getting the dough thin enough) round. Dust a Pizza Peel with flour and place the dough on it. Top with the lamb mixture. Bake for about 5 minutes. The crust should just be set, but still soft enough to roll.
Put 1/4 of the parsley, onions and tomatoes on the pita.
Squeeze a lemon wedge over the top.
Roll the pita up like a crepe.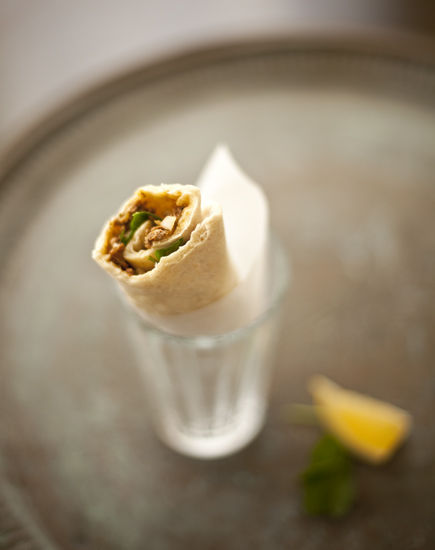 I wrapped it in parchment to make it easier to eat and served it with Tzatziki (p. 209 Artisan Pizza and Flatbread in Five Minutes a Day)
---
---