Turkish Spiced Lamb Pita – (Lahmacun)
In addition to making pizza on superbowl sunday, I propose that you shake things up a bit with these Spiced Lamb Pitas. This thin pita is topped with Spiced lamb, quickly baked, so it is still soft, topped with chopped onions, parsley and a squeeze of lemon, then it is rolled up like a crepe.
Lahmacun:
Makes 1 pita, but enough toppings for 4.
1/4 pound dough (master recipe dough, whole wheat dough, gluten-free pizza dough or naan dough are some of my favorites from Artisan Pizza and Flatbread in Five Minutes a Day to make this with)
For the Lamb topping:
2 tablespoons olive oil
1/2 white onion, finely chopped
1 1/2 teaspoons ground cumin (add a bit more if you want a more intense flavor)
1 1/2 teaspoons ground coriander (add a bit more if you want a more intense flavor)
1 teaspoon paprika
1 pound ground lamb
1 tablespoon tomato paste
1 teaspoon salt
2 tablespoons finely chopped flat-leaf parsley
Garnishes:
1/4 cup flat-leaf parsley
1/4 cup chopped white onions
1/4 cup chopped tomatoes (they are delicious, but I didn't find any ripe ones to use this time of year.)
1 lemon, cut into quarters
To prepare the lamb:
Heat the olive oil in a large skillet, add the onions and cook until they are soft. Add the spices and ground lamb, cook until the meat is evenly browned, breaking it up as it cooks. Stir in the tomato paste, salt and parsley, cook for another minute. Set aside to cool. Can be made ahead.
To make the pita: Preheat oven to 500°F with a Pizza Stone on the bottom rack for at least 30 minutes.
Roll the dough out to 1/16-inch (see this post if you are having trouble getting the dough thin enough) round. Dust a Pizza Peel with flour and place the dough on it. Top with the lamb mixture. Bake for about 5 minutes. The crust should just be set, but still soft enough to roll.
Put 1/4 of the parsley, onions and tomatoes on the pita.
Squeeze a lemon wedge over the top.
Roll the pita up like a crepe.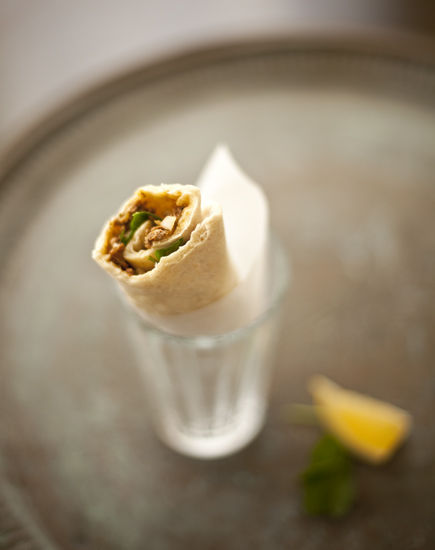 I wrapped it in parchment to make it easier to eat and served it with Tzatziki (p. 209 Artisan Pizza and Flatbread in Five Minutes a Day)
---
---