Caramelized Onion and Goat Cheese Pizzette
The concept for these little pizza/tarts came from a family recipe. My cousin, Riad Nasr, is a world class chef and quite often the source of inspiration in my kitchen. He practices his craft in New York City at a line-up of crazy-popular restaurants including Pastis, Minetta Tavern and Balthazar. Several years ago he wrote the Balthazar cookbook and included a savory tart with herby caramelized onions and goat cheese. I made it and fell in love. When Jeff and I decided to write our Pizza book I knew this flavor combo would be fantastic as a pizza. I've made it in several classes that we've taught to rave reviews, so I thought I would make it with you here.
The key to this pizza is caramelizing the onions. You can speed up the process by using a slightly higher heat and adding a touch of sugar, but for this recipe we're going the old fashion route and doing it slow. I admit this may take a few more than 5 minutes, but I think it's worth it. For those of you looking for a speedier version you can find one on page 108 of Artisan Bread in Five Minutes a Day.
Balthazar Goat Cheese and Onion Pizzette (page 156 Artisan Pizza and Flatbread in Five Minutes a Day)
1 pound dough ( I've used the olive oil dough p. 61, cornmeal dough on p. 86 and gluten-free dough p. 96, but any non-sweet dough in the book will work.)
2 tablespoons olive oil
2 medium yellow onions, peeled and cut into 1/8-inch-thick slices
1 bay leaf
2 teaspoons fresh thyme (or 1 teaspoon dried)
Salt and pepper to taste
4 ounces chevre (soft goat cheese), room temperature
4 ounces cream cheese, room temperature
1 egg yolk
In a skillet over medium-low heat, add the olive oil, onions, bay leaf, thyme, salt and pepper.
Cook slowly, stirring every few minutes.
As the onions cook they will lose their moisture and stick to the pan. If so, add a few tablespoons of water and continue to cook.
Repeat this as often as necessary and cook until the onions are golden, this may take about 30 minutes. Remove from heat and cool. The onions can be made a few days in advance. (They store well, so I suggest you make a large batch and have them on hand to eat with everything from this pizza to a topping for your burgers.)
To make the cheese topping:
In a medium bowl, mix together the chevre, cream cheese and egg yolk until it is very smooth.
To bake the pizzettes:
You can either bake them on two cookie sheets, which have been lightly greased with olive oil or directly on a preheated Baking Stone.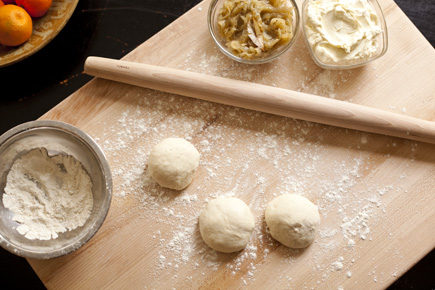 Divide the 1-pound piece of dough into 6 equal pieces and form them into balls.
Roll the dough balls out into 1/8-inch-thick circles. (If you are baking on the stone, only roll out as many dough balls as will fit on the stone at one time.) Top each with about 2 tablespoons of the cheese mixture and 2 tablespoons of the onions. Sprinkle with a dash of salt.
Bake for about 10 minutes, check for doneness and turn the pizzas around in the oven if some of the pizzettes are baking faster than others. If you are baking on the cookie sheets rotate them front to back and top shelf to bottom. They may need up to 5 more minutes.
---
---