English Granary-Style Bread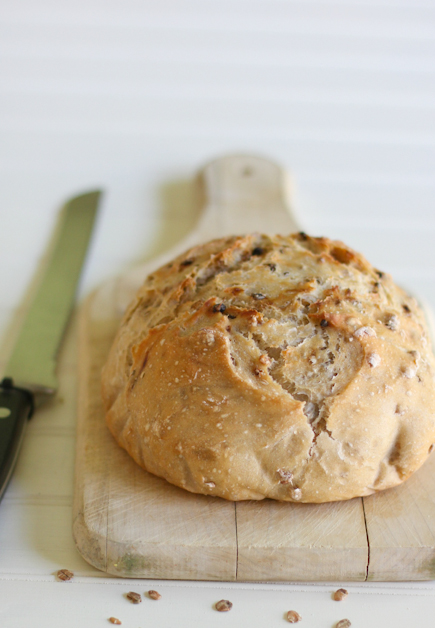 Following a 1983 (!!) bicycle trip through southern England, I had to re-create this loaf, which is a standard in country bakeries there. This recipe's in The New Artisan Bread in Five Minutes a Day. Two kinds of malted grain provide a slightly sweet flavor, even beery flavor …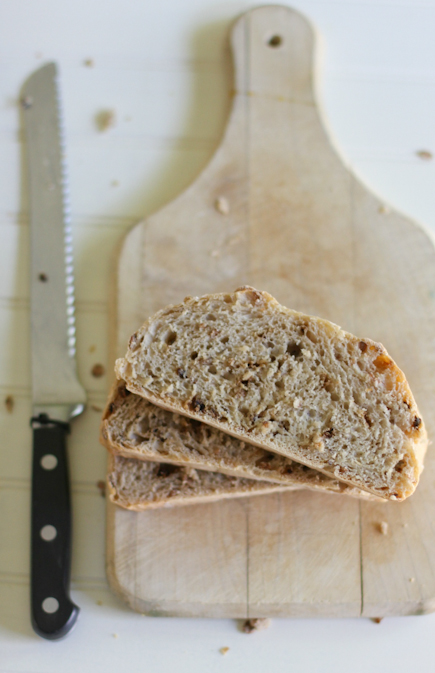 Granary-Style Bread is a classic English brown bread made with a mixture of whole wheat and white flours, with cracked grains of malted barley and wheat. Since malted barley grains are nearly impossible to find in the US, I use barley malt powder and malted wheat flakes.
This bread was once considered to be a very rustic English specialty– little did elite society know that country folk were eating the most flavorful bread. It is hearty and delicious, full of flavor and with a slight crunch.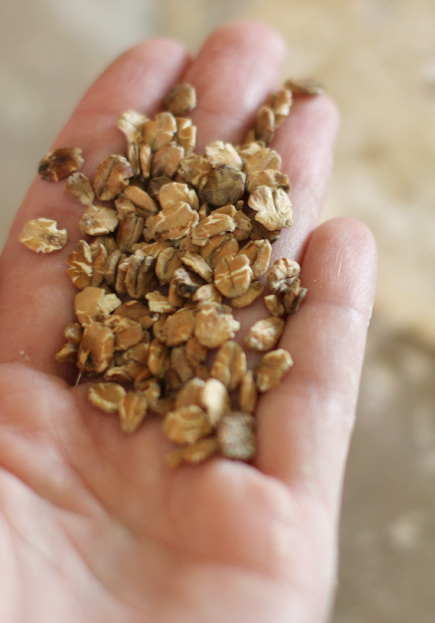 It's a perfect dinner bread, but I also enjoy a slice in the afternoon, dunked in some olive oil or eaten with a nice, sharp cheddar. Or maybe toasted with some marmalade (see Laura's Three-Citrus Marmalade on page 165 of ABin5 for an easy recipe). It also goes perfectly well with a little Jane Austen, and whether you are a fan of her books or the movie adaptations, I can imagine Elizabeth Bennett insisting that Mr. Darcy serve this at his table, despite his wealth.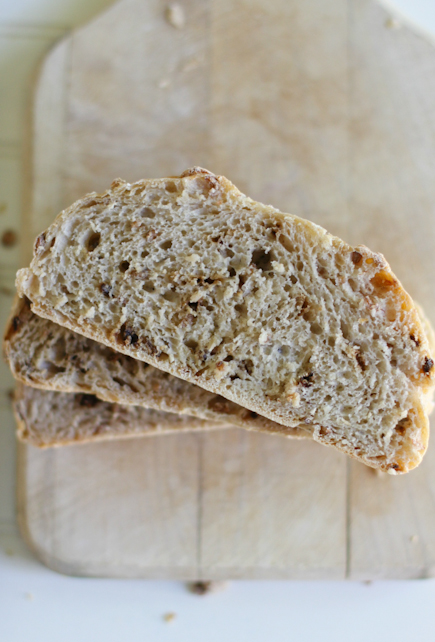 English Granary Bread
Makes 4 loaves, slightly less than one pound pound each. Can easily be doubled or halved (store and use extra dough in the fridge for up to 10 days)
3 1/4 cups lukewarm water
1 tablespoon granulated yeast (or one packet)
1 tablespoon coarse salt (recipes tested with Morton's Kosher)
1/4 cup malt powder
1 cup malted wheat flakes
1 cup whole wheat flour
5 cups unbleached all-purpose flour
cornmeal or parchment for the pizza peel
Cornstarch wash (blend 1/2 teaspoon cornstarch with a small amount of water using a fork; add 1/2 cup water and microwave or simmer till mixture appears glassy)
1 tablespoon cracked wheat, for sprinkling [optional]
Mix, store, and shape the dough according to the Master Recipe Instructions, but include the malt powder with the water, yeast and salt, then add all the flours and malted wheat flakes. If you want a more open hole structure, consider the longer rest after shaping.
Place a metal broiler tray (no glass) near the bottom of the oven, and a baking stone near the center– and preheat to 400 degrees (about 20 to 30 minutes). Just before the loaf goes into the oven, brush with cornstarch wash and sprinkle with the cracked wheat if you're using it. Slash a cross or tic-tac-toe pattern into the top. Slide the dough onto the pizza stone, pour 1 cup hot tap water into the broiler tray, and bake for about 35 minutes. Smaller or larger loaves will require adjustments in baking times (see this post on making a 2 pound loaf here).
Note: BreadIn5.com is reader supported–when you buy through links on the site, BreadIn5 LLC earns commissions.
---
---