Crock Pot Bread Baking (Fast Bread in a Slow Cooker)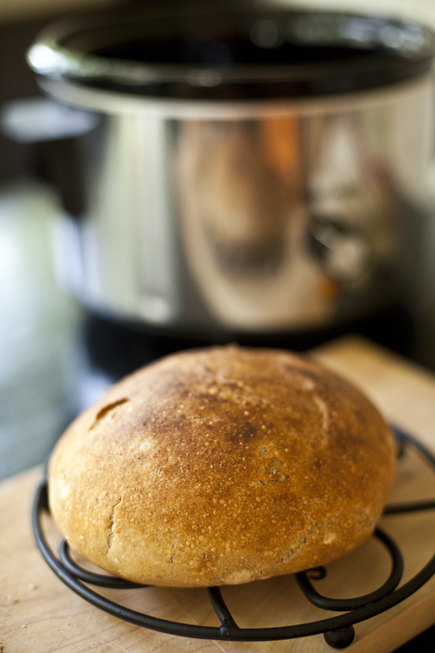 Bread in a crock pot? Over the years there've been reader requests to develop a method of baking dough in a crock pot. The crock pot does indeed get hot enough, and it takes less time than using your oven, because the rising time is included in the baking. The crust, however, is very soft and quite pale when it comes out of the slow cooker, but just a few minutes under a broiler and you get a gorgeous loaf. It is just perfect for summer baking when you don't want to heat up your oven. You could even amaze your friends at work by baking a loaf under your desk!  *
1 pound dough (Click here for our No-Knead 5-Minute Bread Recipe. Pictured here is the Peasant Bread from The New Artisan Bread in Five Minutes a Day, but the recipes from Healthy Bread in Five Minutes a Day would also work.)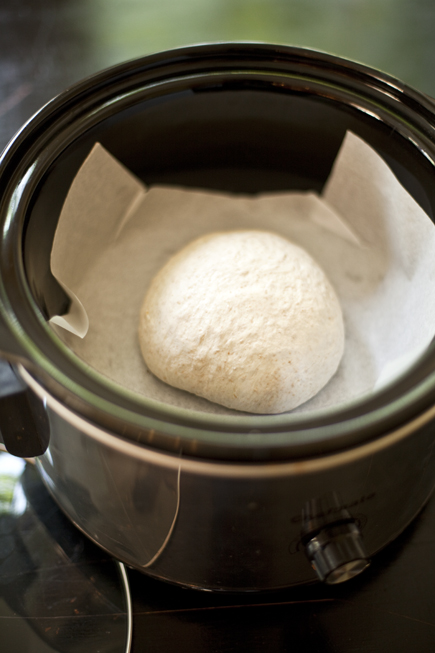 Form the dough into a ball and place it on a sheet of parchment paper. Lower the dough into the Crock-Pot (Slow Cooker), this one is a 4-quart, but any size works. Fresh or refrigerated dough both work well.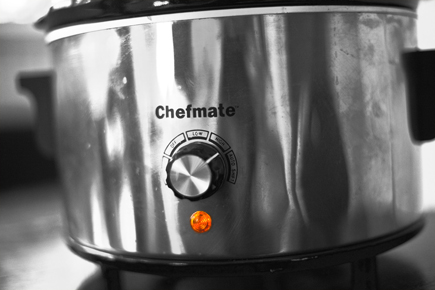 Turn the temperature to high and put on the cover. (Not all crock pots behave the same, so you should keep an eye on the loaf after about 45 minutes to make sure it is not over browning on the bottom or not browning at all. You may need to adjust the time according to your machine.)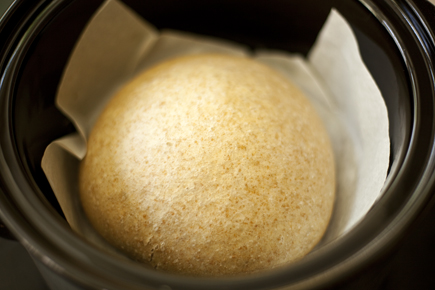 Bake for 1 hour (this will depend on your crock pot, you may need to increase or decrease the time. If you are using a 100% whole grain dough, you may want to go for a bit longer as well). You will have a fully baked loaf of bread, but the crust is very soft, almost like a steamed bun. To check for doneness poke the top of the loaf; it should feel firm when done. Before it is fully baked it felt soft and almost mushy. You won't get much browning.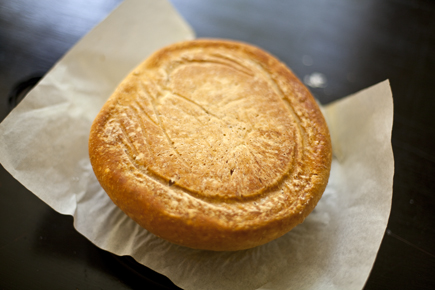 The bottom crust should be nice and crisp, but the top of the loaf will be quite soft. Some folks desire a softer crust, so you will love this loaf. If you want a darker or crisper crust…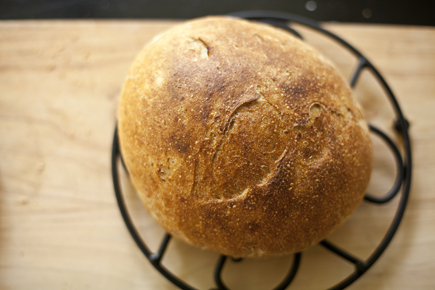 Stick the bread under the broiler for 5 minutes or until it is the color you like, with the rack positioned in the middle of the oven.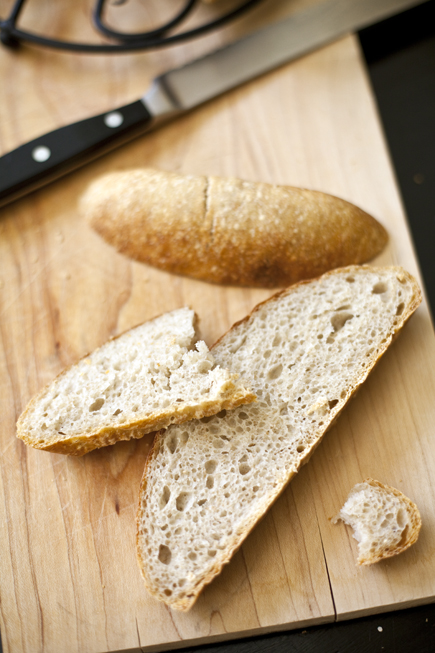 Let the loaf cool completely before slicing. Cutting into a hot loaf is tempting, but it may seem gummy and under-baked.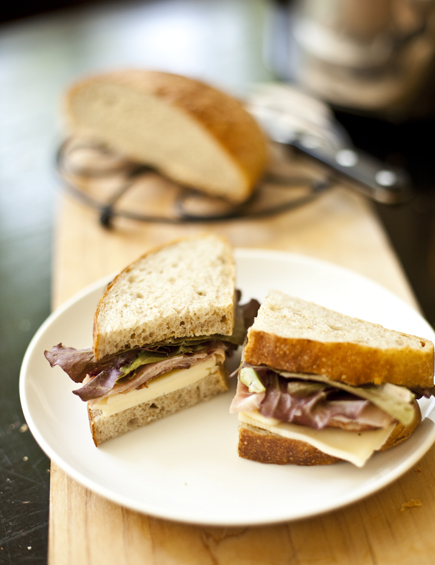 Love this method!
Related Post:
Gluten-Free Crock-Pot Bread – another surprise from my slow cooker
Herb Crock-Pot Dinner Rolls – Making room in your oven at the holidays
Sweet Brioche in a Crock-Pot – in the mood for something sweet
*Check with your crock-pot's manufacturer before trying this, since some model's instructions specify that the pot has to be at least partially filled with liquid to avoid safety or durability problems.  And never bake  in a crock-pot unattended.
Note: BreadIn5.com is reader supported–when you buy through links on the site, BreadIn5 LLC earns commissions.
---
---