Gluten-Free Crock-Pot Bread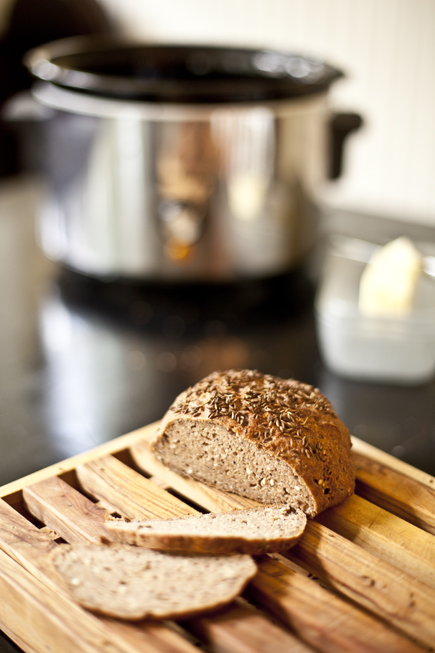 YES, it you can also make gluten-free crock-pot bread! This is the "Not Rye (But So Very Close)" recipe from The New Healthy Bread in Five Minutes a Day. Check with your slow-cooker's manufacturer before trying this, since some model's instructions specify that the pot has to be at least partially filled with liquid to avoid safety or durability problems.  And never bake in a slow-cooker unattended.
Gluten-Free Crock-Pot Bread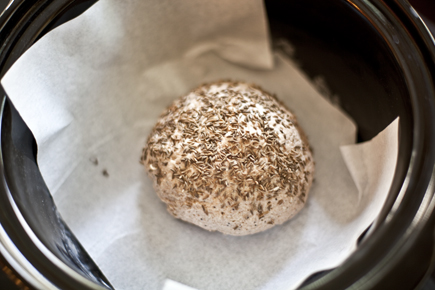 1 pound gluten-free dough (G-F Not Rye p. 249, G-F Crusty Boule p. 236 or the G-F Cheddar and Sesame Bread p. 244) all from The New Healthy Bread in Five Minutes a Day. You can also look on the right side of the website, under "Categories," and click on "Gluten-Free" for more dough formulas. The best place to look is our gluten-free book, Gluten-Free Artisan Bread in Five Minutes a Day.
Form the dough into a ball. If you are new to gluten-free dough, here is a video to show you how to work with it. Place the loaf on a sheet of parchment paper and sprinkle the top with caraway seeds. Place the loaf in your Crock-Pot. Turn the temperature to high and bake for 1 hour 15 minutes. (The timing may change based on your crock pot and the type of GF dough you are baking. Keep an eye on the loaf after 45 minutes to see if it needs additional time. You can gently press the top to feel if the loaf is well set.)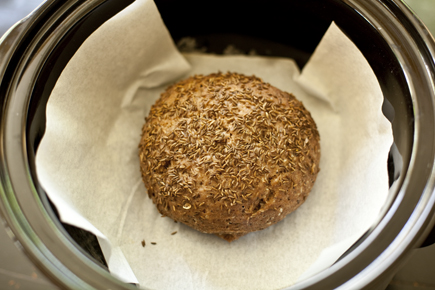 Remove the loaf from the crock pot and take away the parchment, then place it under the broiler if you want a darker, crisper crust.
Allow to cool completely before slicing with a serrated bread knife.
Note: BreadIn5.com is reader supported–when you buy through links on the site, BreadIn5 LLC earns commissions.
---
---