Stevia Herbal Sweetener Works in our Whole Wheat Brioche!
Brioche is one of our favorite breads, and our recipe in Healthy Bread in Five has been a great choice for sneaking some whole wheat into our diet. But some of our readers who really need to limit their sugar and carbs have asked about sugar substitutes.  After some research and tinkering this past week, I was happy to discover that stevia extract can be swapped into our brioche recipe–in place of honey.  So this is a no-sugar way to sweeten this loaf– and I'm guessing that it will work in any of our sweet recipes.  
Stevia is a plant, native to warm regions of the Americas, that has naturally sweet leaves–but not because of plant sugars–what we're tasting are naturally-occurring "glycoside" compounds of hydrogen, oxygen, and carbon.  An extract of the leaves has been approved for years in Japan and other countries, but until recently all Stevia extract in the U.S. had to be labeled as a "nutritional supplement," not as a sweetener, though the non-pure versions are still technically "supplements" here (I'm going to stay out of the politics of this–please don't post about that here).  I'm just pleased that a natural non-sugar sweetener is now available in the U.S.. and one that can produce results like this…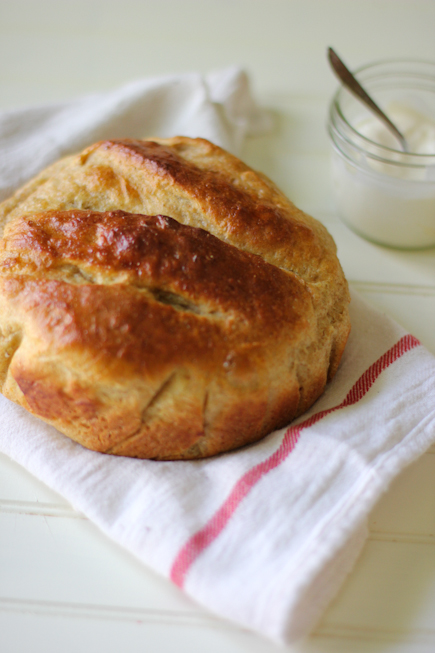 Many companies are now marketing Stevia extracts as powders or liquids. After a lot of back and forth, and changes in the products, I'm preferring the pure liquid extracts of stevia, rather than the ones cut with erythritol or maltodextrin, additives where there's been controversy about whether they raise blood sugar.
It's a pretty easy recipe swap–just start with our Whole Wheat Brioche recipe here on the website or on page 275 of Healthy Bread in Five Minutes a Day (make sure you've corrected for typographical errors in that recipe by checking the link if you're using the book version). About 20 drops (yes, drops) of the pure liquid extract was enough to replace the honey in the whole batch without introducing any odd flavors.
I also tried several methods for baking up the brioche; not everyone has a traditional broiche pan, but this dough works well in several typical shapes: free form, in an 8 1/2 x 4 1/2-inch loaf pan, and in a muffin pan…
You can use some egg wash (one egg beaten with 1 tablespoon water) to give extra shine and browning (use a pastry brush).  The free-form loaf was used with 1 pound of dough (30 to 35 minutes at 350F). It also bakes well in a Dutch oven (but be sure to adjust the temperature).  The loaf pan took 2 pounds of dough (40 to 45 minutes at 350F), and the muffins used 1 pound of dough, separated into 8 small pieces, and placed in the individual pan wells to rise (20 to 25 minutes at 350F). All methods needed an hour and a half rise time (cover loosely with plastic for the resting time).
There are so many ways to eat and serve this brioche. Berries and creme fraiche can make this into a simple summer dessert; butter and jam make for a delicious breakfast. This bread also makes a fantastic french toast, so you can make a few extra loaves when the humidity drops,  tuck them into your freezer, and pull them out for a summer-day brunch.  If you're stocking stuff like this in the summertime, you're always ready to turn the brioche into a treat (note the Nutella in the upper left!).
We're very excited to start sweetening doughs with this product, and others like it.  Please let us know how your experiments go!
---
---