Mini-Doughnuts for the State Fair!
We decided to miniaturize a recipe, just in time for the Minnesota State Fair. Here in Minnesota we are crazy about our Fair, and we celebrate with much eating: mostly fried foods, of course, and anything on a stick. So today we bring you mini-doughnuts, a delicious treat made easy with our dough. This particular version is made with our whole wheat brioche, which takes away a little bit of the guilt. (It could also be made with whole wheat brioche with stevia, easing your conscience even more.) The doughnuts are coated in sugar while they're still warm, and then devoured immediately.
If you've never attempted doughnuts, I'm happy to report they are fairly easy to make. You will need a medium to large heavy bottomed saucepan, and a candy thermometer to keep your oil at the correct temperature. Once you drop the shaped dough into the hot oil they will puff up nicely, creating a perfect bite. Ever since making these brioche doughnuts, it's hard to indulge in my favorite bakery's doughnuts. They are really that good.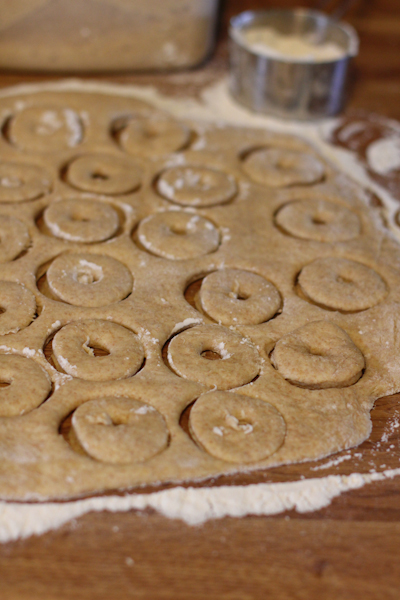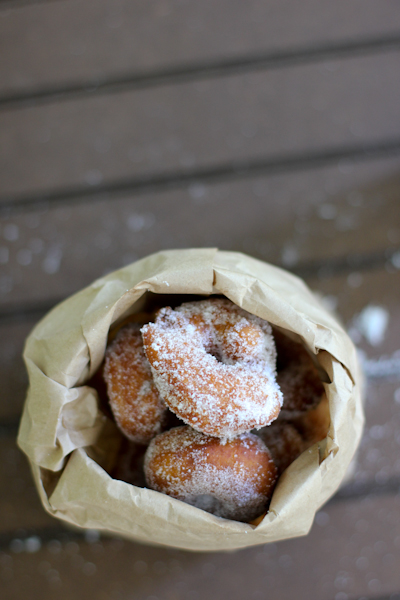 To make the mini doughnuts, you can follow the instructions in Healthy Bread in Five Minutes a Day, or look at this post as a guide for shaping. A small biscuit cutter works well to cut circles, and the spout of a funnel was a good tool for poking small center holes. You can coat doughnuts in plain sugar, but we love adding some flavor to the mix. Ground cardamom is delicious, and cinnamon or lemon zest also tasted great. Mix 1-2 teaspoons of spice for every cup of sugar. These are best eaten right away, warm to slightly warm, although they will taste great up the same day they are made.
So while we hope you go out and enjoy and support your State Fair, here is a tasty way to bring the best of the Fair right to your kitchen; a wonderful, end-of-summer indulgence that is fun and easy to make.
---
---