Grilled Sandwiches Three Ways
Hey all, we want to introduce Sarah Kieffer to you; she'll be doing some photography for the site, including the shots in this beautiful post. Zoë and I met Sarah on the Web (where else), where she covered a class that Zoë had taught. When we ran through Sarah's food blog, Vanilla Bean Blog, what we noticed first were the beautiful photographs, and so we connected and asked her to work with us. We're not the only ones who noticed; the New York Times covered Sarah and her shots that keep popping up on Pinterest. Sarah's the reason that our Pinterest site has become another place where our readers can connect with us. Thanks Sarah, and welcome!
So onto… what to eat. Colder weather means comfort food, and while mashed potatoes, pot pies, and cheesy baked dishes may come to mind first, soup and sandwiches are a great, and possibly lighter alternative. This week we decided to bring you grilled sandwiches three ways, but really, the possibilities are endless.
Our three versions are all made on our whole wheat brioche, making the bread rich, yet still on the healthy side. We jazzed up the classic cheese and tomato by adding bacon and avocado, (trying to recreate a favorite sandwich served at the Wilde Roast Cafe here in Minneapolis), and for the second one got a little fancy with pears, basil, and smoked mozzarella. The third sandwich is kid-friendly; we thought honey, peanut butter, and bananas would be a perfect lunch or after school snack.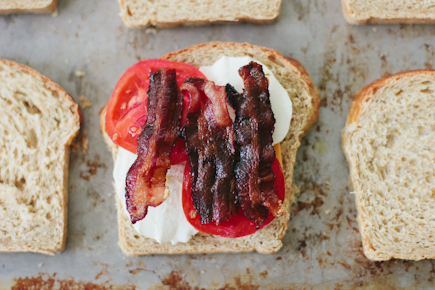 There are a lot of recipes for grilled sandwiches, complete with tips and tricks for the perfect outcome. I find using a cast iron skillet helps brown the sandwich nicely, but a non-stick will work just fine, too. Heat 1 tablespoon butter over medium-low heat, and add the sandwich when the butter begins to sizzle (oil works too). Cook each side until golden brown and the cheese has melted, 2-4 minutes per side.
I like to press down on my sandwich a bit as I cook it, to help compress it a bit and give it a nice golden sear.  Another option is a grill pan and press; see our post on panini sandwiches.  
And there you have it! A delicious, comforting meal. As I mentioned before, the options are endless, and while we loved how they tasted on whole wheat brioche, you can feel free to substitute our other breads as well. Our gluten-free boule would also make a delicious sandwich.
Here is what we used in our sandwiches. You can add as much or as little of each topping as you like it:
'Classic' Grilled Cheese: sharp cheddar, fresh mozzarella, cooked bacon, tomato, and avocado [the avocado was put on after cooking].
Pear-Basil Sandwich: smoked mozzarella, pear slices, basil leaves, drizzle of balsamic vinegar
Kid-friendly Sandwich: peanut butter, honey, sliced bananas [Nutella would be good here, too].
---
---