Thanksgiving Pumpkin Brioche Swirl Buns With Chocolate Ganache and Whole Wheat
Winter is slowly approaching (although here in Minneapolis we hit 70 degrees this past weekend!), and that means the smell of pumpkin is in the air. These swirl buns came together on a whim; we were asked to bring something to a brunch, and there was pumpkin pie brioche dough in the fridge, a favorite recipe from Healthy Bread in Five Minutes a Day. A little chocolate ganache was easily whipped together, and after an overnight rise in the fridge, these buns were baked off in the morning, filling our house with early Holiday cheer.
The original recipe for this dough was made with White Whole Wheat for a lighter effect, but we decided to re-test it with traditional whole wheat…
… because this dough is made from a mixture of whole grain and white flour, using traditional whole wheat didn't really change the effect.  These buns are tasty, but remember: though they look like gooey cinnamon rolls, they definitely are not; the bittersweet chocolate and brioche make for a more sophisticated treat. But, I'm happy to report that my children readily gobbled them up.
Pumpkin Brioche Swirl Buns with Chocolate Ganache
1 pound pumpkin pie brioche (Healthy Bread in Five page 284) or whole wheat brioche
1 egg white, lightly beaten with 1 tablespoon water
Chocolate Ganache
1/4 pound (4 ounces) bittersweet chocolate
2 tablespoons unsalted butter
4 teaspoons unsweetened cocoa powder
1 tablespoon bourbon
5 tablespoons corn syrup
Melt the chocolate over a double boiler or in the microwave until smooth. Remove from heat, add the butter, and stir until smooth. Stir the cocoa powder into the bourbon, add the corn syrup, and mix until smooth. Add to the chocolate, and mix again until smooth.
Starting with 1 pound of pumpkin brioche, shape the dough into a ball, then roll into a 1/4 inch thick rectangle, dusting with flour as needed.
Spread the ganache evenly over the rectangle, leaving a 1-inch border (an off-set spatula works good for this).
Starting with the long end, roll up the dough, pinching it together.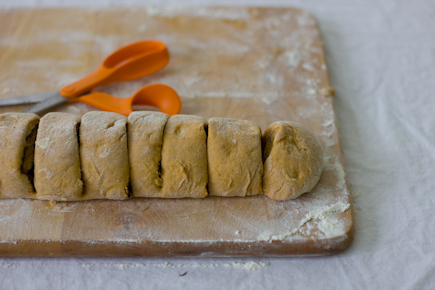 Using a scissors or a sharp serrated knife, cut the dough into 12 even pieces.
Place the cut pieces of dough into a greased muffin tin, and let rise for 30-40 minutes, or until dough is puffed over the top of the tin. (These buns can also rise over night in the fridge; pull them out in the morning and let rise at room temperature for 30-40 minutes.) Preheat the oven to 350 at this point. After the dough has risen, bake for 25-35 minutes, until buns are golden brown. Let cool in the muffin tin for 5 minutes, then remove and finish cooling on a wire rack. Enjoy!
---
---