Thanksgiving Leftovers Torta
No matter how big your Thanksgiving feast is or how many people are gathered around your table, chances are there's more leftovers than you know what to do with. Here is a way to use the extra turkey, stuffing, mashed potatoes, plus anything else that graced your holiday table and make it into something new. There's an Italian Torta recipe in Artisan Pizza in Five, but why not swap out the layers for all those leftovers? It is tasty and gorgeous and goes together in a flash if you are cleaning out the fridge of all those half empty containers.
Thanksgiving Leftovers Torta (your torta will be different, but you can follow the same technique of layering).
1 1/4 pounds of stored dough (This is the Master recipe from Artisan Pizza and Flatbread in Five Minutes a Day, but whole grain dough, brioche or challah will also work.) – this amount fits an 7-inch springform pan
8 ounces of cheese (you can use any kind that will go with your leftovers, but you need it to bind all the other ingredients together)
8 cups of leftovers (this may vary, depending on what you choose)
Egg wash for the top crust
Preheat your oven to 375°F
Grease a Springform Pan, 7 Inch

Gather all your leftovers.
Roll out 1 pound of the dough into an 1/8-inch-thick circle.
Place the circle into the prepared pan.
Start with a thin layer of the cheese. I then added some spinach, which a squeezed all the liquid out of.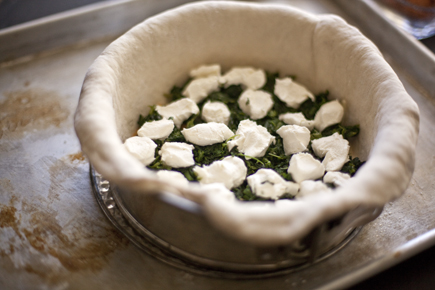 I then added 2 ounces of cream cheese, which added some creaminess and also acts to bind together the layers.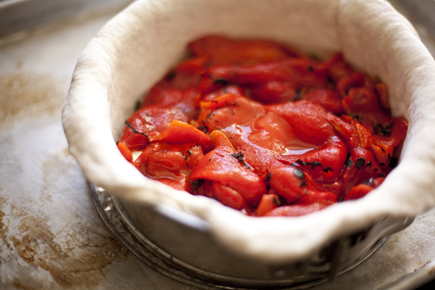 Next came a layer of roasted red peppers, because I always add a layer of roasted red peppers!
A little more cheese and then a layer of turkey or chicken or tofu.
Mashed sweet potatoes are a nice addition for flavor and color.
Roasted Brussels Sprouts, split in half and then the remaining cheese.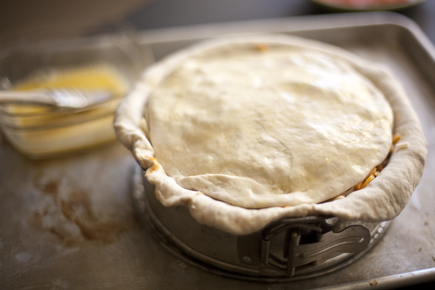 Roll out the remaining 4 ounce piece of dough and drape it over the fillings. Brush the top with egg wash.
Fold the edges over the top and then brush it with egg wash again. Make slits in the top, to allow the steam to escape.
Bake for about an hour, or until the top is golden brown and the cheese is bubbly. Let the torta rest for about 10 minutes.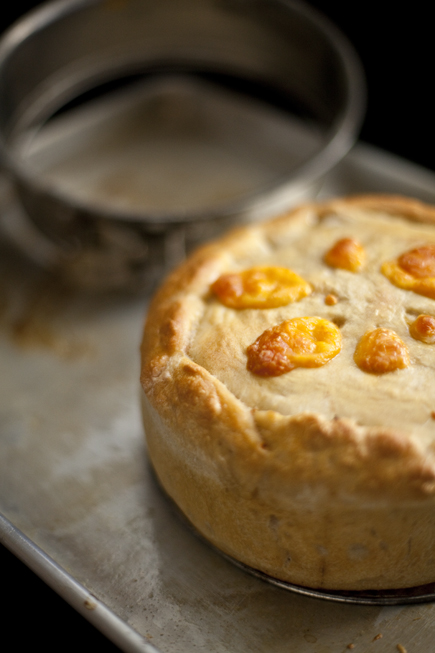 Remove from the springform pan and let cool on a rack for about 20 minutes.
Once the torta has cooled slightly it will hold together when cut. You can eat it warm or at room temperature.
---
---