Chocolate Coffee Cardamom Bread! (CONTEST IS NOW CLOSED)
Thanksgiving has come and gone too quickly yet again. We have finished eating our Thanksgiving Leftovers Torta, but we'll continue to hold on to our reasons to stop and give thanks, especially as the holiday madness begins in earnest. We've come up with a great way to celebrate the season with you–and they don't involve turkey or long lines of shoppers–a decadent chocolate bread, laced with coffee, cardamom, and more chocolate!
Let's start with the bread. The recipe is our Chocolate Espresso Whole Wheat Bread recipe, which comes from Healthy Bread in Five Minutes A Day, but tweaked just a bit, with a swirl of cardamom sugar and chocolate chunks. The combination of chocolate, cardamom, and coffee is quite a treat; the flavors compliment each other beautifully. This bread is rich and dreamy, but the dough is still made with whole wheat flour and honey, adding lots of flavor with less fat than our regular brioche, for example. There is, of course, the coffee icing that covers the top, an added little indulgence for the Holidays.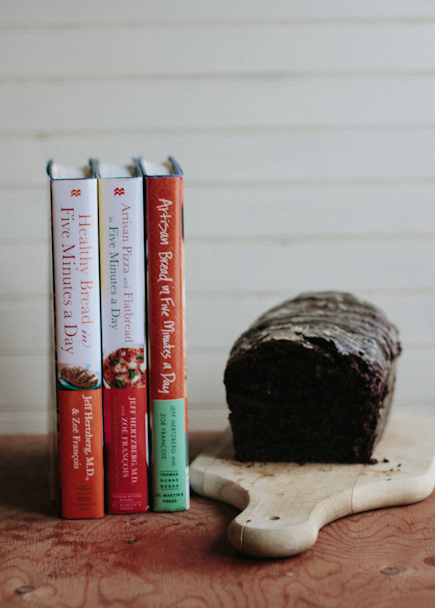 Chocolate Coffee Cardamom Bread
2 cups whole wheat flour
4 cups unbleached all-purpose flour
1 cup cocoa powder
1 1/2 tablespoons granulated yeast (or two packets)
1 tablespoon kosher salt
1/4 cup vital wheat gluten
1 cup strong brewed coffee, lukewarm
1 1/4 cups lukewarm water
4 large eggs
1/2 cup neutral-flavored oil
3/4 cup honey
2 tablespoons butter, melted
1/4 cup sugar mixed with 1 teaspoon ground cardamom
6 ounces bittersweet chocolate, chopped fine
Whisk together the flours, cocoa powder, yeast, salt, and vital wheat gluten in a 5 quart bowl, or other lidded food container. Combine the liquid ingredients and mix with the dry ingredients without kneading.
The dough will be loose, but will firm up when chilled. Don't try to use it without chilling at least 2 hours.
Cover the dough, and allow to rest at room temperature until it rises and collapses, about 2 hours. Refrigerate and use over the next 5 days.
On baking day, grease a 8 1/2 by 4 1/2 inch nonstick loaf pan. Cut off a 2-pound piece of dough and shape into a ball. Generously flour your work surface, and roll the dough into a 1/4 inch rectangle, dusting with flour as needed. Brush the surface of the dough with 2 tablespoons melted butter, and sprinkle the cardamom sugar mixture evenly over the butter. Then sprinkle the chopped chocolate over the sugar mixture. Roll the dough into a cylinder, and pinch the seams shut. Place in the prepared loaf pan, and allow to rest for about an hour and 45 minutes, covered loosely with plastic wrap. (For detailed instructions on rolling out, sprinkling, and rolling up, see Zoe's post here).
Preheat the oven to 350 degrees. Bake bread for 45-50 minutes, until firm. Remove the bread from the pan and drizzle with the coffee icing (recipe follows). Allow to cool before slicing and eating.
Coffee Icing
1 cup powdered sugar
2-3 tablespoons strong coffee
1/2 teaspoon vanilla extract
Pinch of salt
Combine powdered sugar, vanilla, and salt together. Add coffee one tablespoon at a time, until desired consistency is reached.
---
---