Ham and Cheese Pull-Apart Bread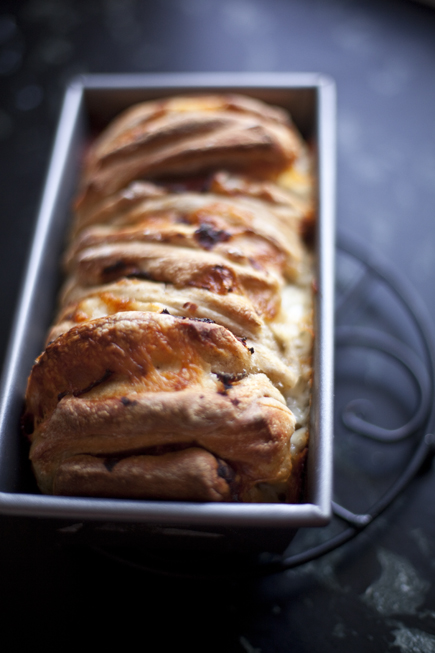 Here is a fun, easy way to pack lunch right into your loaf of bread. No, I don't mean the typical sandwich our kids are sick to death of, I mean ham and cheese (or whatever you are in the mood for) is folded into the dough and baked as a loaf: pull-apart bread! Each slice is a sandwich. In order to get the layers to keep their shape, I made the dough with bread flour, which boosts the amount of gluten and gives the loaf a little more structure. To make it a touch healthier (I'm constantly sneaking whole grains where kids will never see them) I also used whole wheat flour. This technique would work equally well with many other doughs from our books.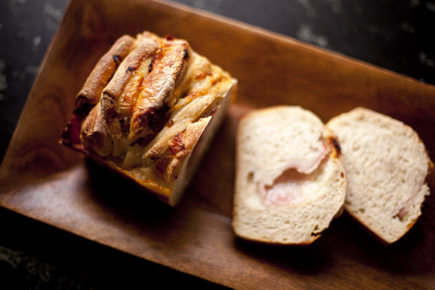 As the name suggests you can just pull sections of the loaf apart, but I sliced into this one to show you how the ham and cheese ends up woven through the bread.
Ham and Cheese Pull-Apart Bread
The dough I used is the European Peasant Bread recipe (page 46) Artisan Bread in Five Minutes a Day, but I substituted the bread flour for the all-purpose in equal parts. (see Jeff's post on using bread flour in other recipes).
8 to 12 slices ham
8 to 12 slices of your favorite cheese
After the dough has been chilled, pull out a 1 1/2 pound piece. If you want a bigger loaf you can increase this to 2 pounds of dough.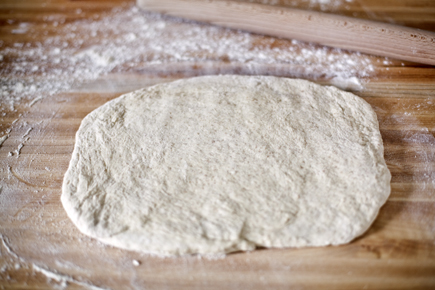 Roll the dough out to a 1/4-inch-thick rectangle and cut it with a Pizza Wheel into eight equal pieces (If you used 2 pounds of dough, then cut 12 pieces).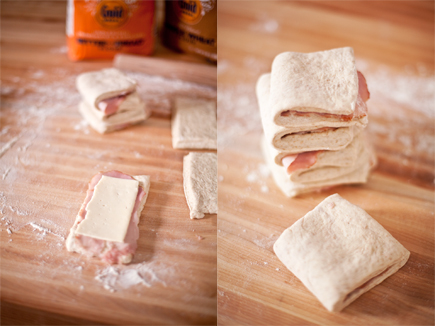 Stretch each piece to about 1/8-inch-thick rectangle and cover with ham and cheese. I used one slice of each. Fold the dough in half over the filling. Stack the pieces together.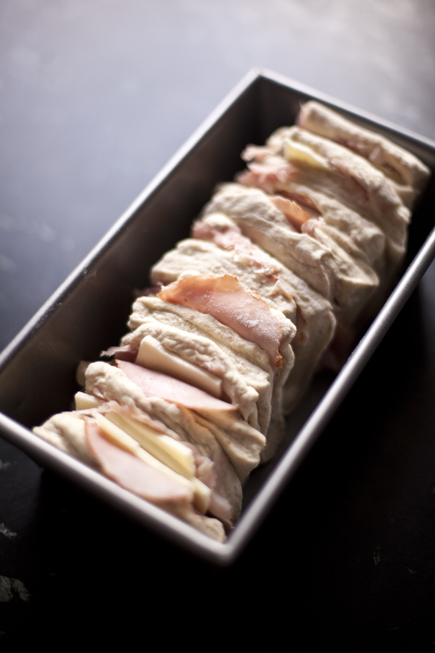 Place the stack of dough, with the open side of the fold facing up, in a greased 8.5 x 4.5 Inch Loaf Pan.
Allow it to rise for 1 1/2 hours (two hours if you used 2 pounds of dough). You will notice from my photos that the dough doesn't rise much before baking, this is normal for our recipes.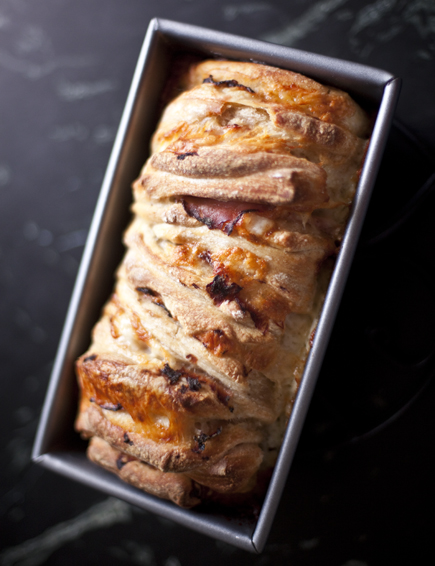 Bake the bread at 400°F for about 40 to 50 minutes, or until golden brown and the cheese has caramelized. No need for a baking stone or steam with this loaf.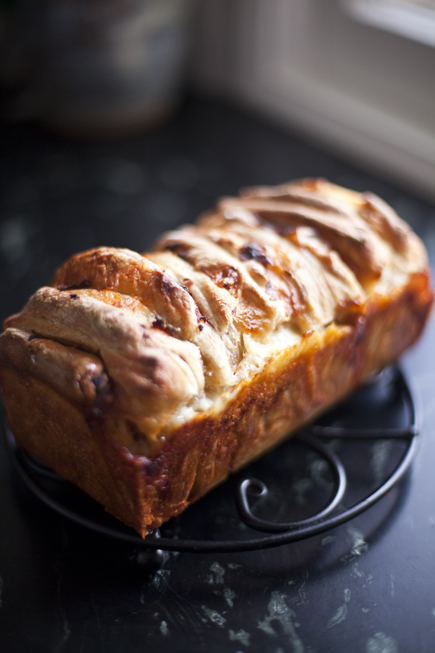 Allow to cool.
Pull the loaf apart and enjoy or…
for a less savage approach, you can cut neat slices.
---
---