Brioche Danish With Goat Cheese and Pistachios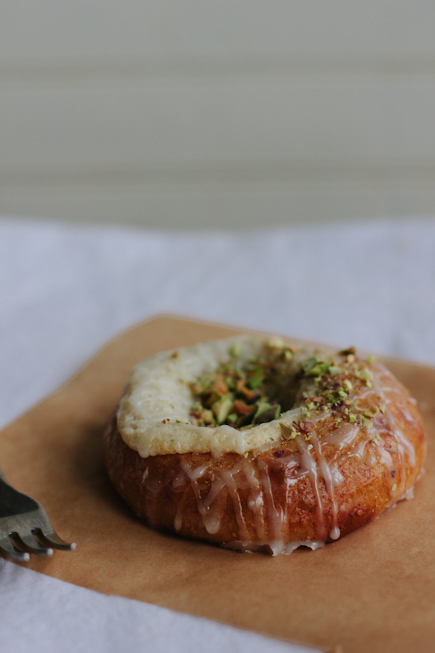 Well, I'm just going to come right out and say it: these little brioche danish are so very tasty. They came about after a lazy Sunday morning; I had some whole wheat brioche dough in the fridge, and wanted something sweet that didn't involve a lot of work. I also happened to have a tube of almond paste, goat cheese, and pistachios, and so the great experiment began. It was delicious from the start, but after a few tries and a little tweaking, a perfect weekend treat was born.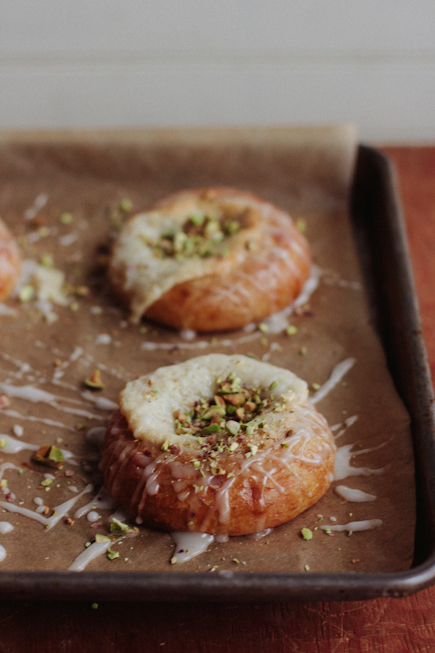 They are a little bit of effort, but the filling and icing are easily mixed, and well worth the time. The goat cheese gives them a little tang, making them sweet, but not overly so, and the pistachios add a nice crunch and salty flavor. Of course, the brioche is the subtle star, giving a perfect breaded base. And, if goat cheese doesn't sound appealing, it can easily be switched for cream cheese. Lemon or orange curd would also be delicious here, as well as so many other things. The possibilities are endless.
Brioche Danish with Goat Cheese and Pistachios
1 pound whole wheat brioche from Healthy Bread in Five Minutes A Day –our Challah recipe from Artisan Bread in Five (page 180), Healthy Bread in Five (page 258), or Artisan Pizza and Flatbread in Five (page 251) can also be used.  So can our white brioche.  
Preheat the oven to 350. Divide the dough into 8 equal pieces. Shape each piece into a small ball, and place on lined baking sheets (4 to 6 on each sheet, any more and they will bake too close together). Let rise, loosely covered, for 40 minutes. Use the back of a measuring cup or a small drinking glass to press a small circle into each ball. Fill each circle with the almond-goat cheese filling (recipe follows) and then brush each danish with egg wash (recipe follows) avoiding the filling. Bake until light golden brown, 22-26 minutes. Remove from the oven and allow to cool slightly. Drizzle each danish with icing (recipe follows) and then sprinkle with chopped pistachios.
A note: the filling does spill out a bit, but ends up covering a lot of the bread, and makes a lovely pocket for the pistachios to fit in. You could cut back on the filling if you want your danish to look a little 'neater', but I didn't mind the leaking.
Almond-Goat Cheese Filling
7 ounces almond paste
1/2 cup powdered sugar
5 ounces goat cheese, soft [cream cheese can replace all or some of the goat cheese, if desired]
1/2 teaspoon vanilla
pinch of salt
In a stand mixer, mix the almond paste, goat cheese, powdered sugar and vanilla until smooth.
Egg Wash
Whisk 1 egg, 1 tablespoon water, and a  pinch of salt together.
Icing
1 cup powdered sugar
1/2 teaspoon vanilla
3-4 tablespoons whole milk
1/2 cup pistachios, chopped
Put powdered sugar in a bowl. Starting with 1 tablespoon at a time, mix in milk until icing is desired consistency. Add vanilla and combine.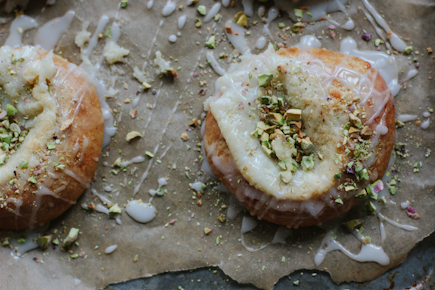 ---
---