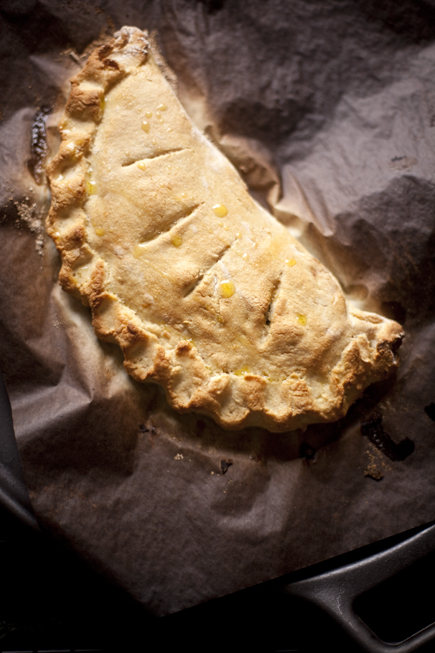 Stuff a calzone with any fillings you like and you have a simple and delicious lunch. And if you make them small, individual-serving-size, you can pack calzones for a great school lunch. There is no end to the flavor combinations. This recipe can be made with any of the doughs in our Artisan Pizza and Flatbread in Five Minutes a Day book, but today I made a gluten-free calzone, which is super tasty and the dough is easy to work with. Because the dough doesn't have the same gluten-full stretch, we have to handle it slightly differently, but it is just as simple as traditional dough with the right technique.
Gluten-Free Calzone
8 ounces pizza dough (about the size of an orange) from Artisan Pizza and Flatbread in Five Minutes a Day – you can divide the dough in half for individual-size portions.
1/4 cup tomato sauce (or any sauce of your choice)
3 to 4 ounces mozzarella (or other cheese, meat or veggies)
Basil (Spinach or arugula would be tasty too)
Olive oil for drizzling
Salt
Egg wash for brushing on top (one egg whisked with one tablespoon water)
Preheat oven to 500°F with a Cast Iron Pizza Pan or Pizza Stone on the bottom rack.
Dust a sheet of parchment with rice flour, dust the dough with flour as well. Press it into a disk. Make sure the dough is still able to move on the sheet. If it sticks, add more flour.
Roll the disk out to an 1/8-inch thick circle, making sure it isn't sticking. If a spot sticks, use a spatula or bench scraper to work flour under the stuck part.
Top half the dough with the sauce, cheese and basil. Sprinkle with salt and a drizzle of olive oil.
Use a Bench Scraper to lift the uncovered side of dough and fold it over the fillings.
Egg wash the edge with a Pastry Brush.
Fold the edge together to prevent the fillings from oozing out as it bakes.
Brush the top with egg wash and bake for about 20 minutes or until golden brown.
When it comes out of the oven drizzle with more olive oil.
Let the calzone sit for a few minutes to allow the filling to set slightly before cutting into it.
---
---