Olive Oil Flatbread with Asparagus and Caramelized Onion Spread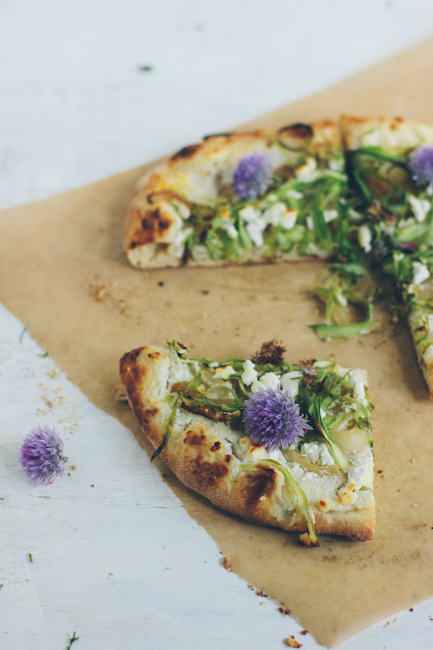 The asparagus season is short, and since we're on the very tail end of it, working it into a flatbread seemed like a good idea. Technically this might just as easily be a pizza, since there is sauce, some cheese, and a heaping of vegetables. Either way, it's a delicious dinner. The caramelized onion spread is sweet, and adds a nice backdrop of flavor. The asparagus is peeled into ribbons, and this technique helps them bake easily, leaving a tender bite and a subtle flavor. Goat cheese lends just a bit of tang, and if you happen to have chives growing in your garden, topping it all off with chive flowers makes a beautiful presentation.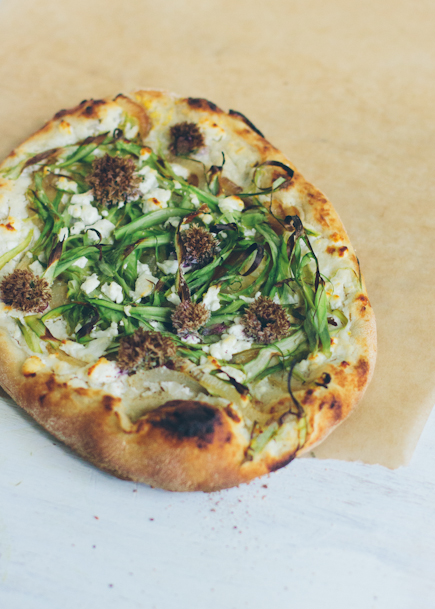 Our olive oil dough is a bit richer than the master recipe, and this also adds some good flavor to the flatbread (and, is also delicious in focaccia bread as well). 'Shaving' the asparagus take a bit of time, but the end results are worth it: there is no worry of biting into an undercooked piece of asparagus. Also, this should work well on the grill, if you'd like to move things outside (I use a Weber grill).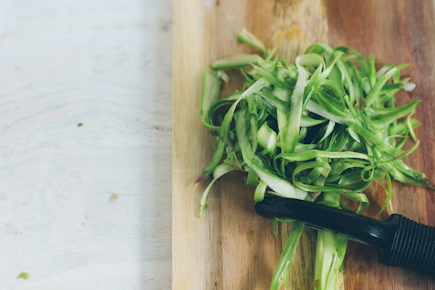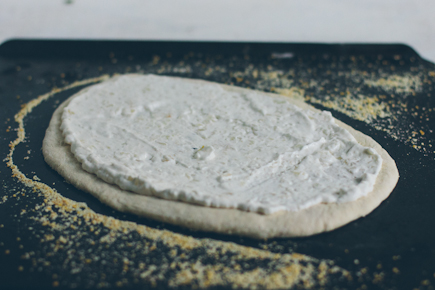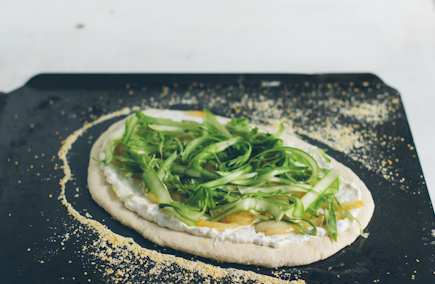 And, on a side note, if you don't have a pizza peel, a large cookie sheet with 3 sides works well, too!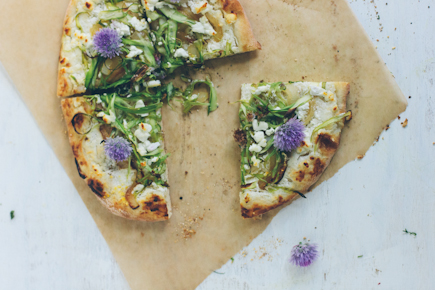 Olive Oil Flatbread with Asparagus and Caramelized Onion Spread
1/2 pound olive oil dough, from Artisan Pizza and Flatbread in Five Minutes A Day —page 61 (a similar dough appears in our 1st book, or use any of our basic doughs, like white, or whole grain). As mentioned above, you could also try this on the grill, with posts to reference here and here.
1/2 cup caramelized onion spread (recipe follows)
1/2 pound asparagus, trimmed and shaved with a vegetable peeler
1 ounce goat cheese, or more to taste
Chive flowers (optional)  Note: chive flowers have a very strong onion taste, so they may not be for everyone!
Preheat your oven as high as it can go (500 degrees or more), with a pizza stone near the bottom.
Roll dough into an oval about 1/8 inch thick right on a pizza peel. Spread the onion spread evenly over the top, leaving a 1-inch border. Add the asparagus evenly over the onion spread. Sprinkle with goat cheese. Check for good movement on the pizza peel, and if there's not, use a dough scraper to get some flour (or cornmeal) underneath it. Then quickly slide the flatbread onto the preheated pizza stone.
Let the flatbread bake for 8-10 minutes.
Caramelized Onion Spread
This recipe makes enough for two pizzas.
1 tablespoon unsalted butter
1 tablespoon olive oil
1 yellow onion, peeled and cut into 1/8-inch-thick slices
1 cup sour cream, yogurt, or crème fraîche
Salt and pepper, to taste
Heat the olive oil and butter in a medium skillet over medium heat. Then, add the onion, and follow Zoe's instructions for caramelizing onions. When the onions are finished cooking, set aside to cool. After they have cooled, add them to a food processor with the sour cream or yogurt, and pulse until the onions are broken down, but the spread still has some texture. Add salt and pepper to taste, if desired.
---
---