Beautiful Day, and a Pizza Recipe, at the 3rd Annual Minneapolis Bread Festival
This past Saturday, we had another opportunity to demo our pizzas and flatbreads at the 3rd-annual Minneapolis Bread Festival and Baking Contest at the historic Mill City Market in downtown Minneapolis. It was a beautiful day, and the pizzas came out great. Our request for the organizers: just get whatever's fresh and beautiful. Here's the result (most of these beautiful photographs are courtesy of the 
Mill City Times
)
. Read on for a pizza recipe, pizza tips, and some beautiful shots from a beautiful day, or check out our

entire

book on pizza, Artisan Pizza and Flatbread in Five Minutes a Day.
We've presented here for three years now, and part of the draw is getting to bake in one of Lorenzo Torregrossa's woodfired ovens. Neither of us have one of these at home. Yet. You don't need a pizza or baking stone in one of these, because the bottom (hearth) is ceramic:
Perfect weather for an outdoor pizza demo. These ovens can be used for loaf bread, but you need to let them cool down, for hours. We'd probably still be there if they'd let us.
If you have time to leave the dough balls at room temperature for 30 to 60 minutes, it'll be much easier to stretch them thin:
I asked for a volunteer to help me throw pizza dough (optional), and we actually did a cross-table toss to each other (not pictured here). Thanks for being a good sport.
Thanks for all of your help, Jillian:
No toppings? Pita bread works, same dough (try any of our lean doughs, like white, or whole grain. I've even made pizza from rye dough.
In these ovens, baking time is about 90 seconds, but they're at nearly 900 degrees F. At home, where 500 or 550 is the max, you'll go about 6 to 8 minutes for pita, longer for pizza. But we did have gorgeous farm-fresh toppings from the Mill City Market, vegetables and cheeses. The assortment let us be imaginative:
Mark Wheat, from 89.3 The Current was there to MC the event. Great job Mark, thank you.  
The bakers who entered the contest had fantastic wares to show off, by the way.  We will be back…
Next month, the new book is out, on October 22, 2013. Preorder here, or click on the photo. We had the cover, but no book to sell at the Market. Next time!
Our own pizza recipe's here:
Olive Oil Dough from Artisan Pizza and Flatbread in Five Minutes a Day:
3 1/4 cups lukewarm water
1/4 cup olive oil
1 tablespoon Red Star Yeast
1 to 1 1/2 tablespoons Kosher salt
2 tablespoons sugar
7 1/2 cups (scoop and sweep) all-purpose flour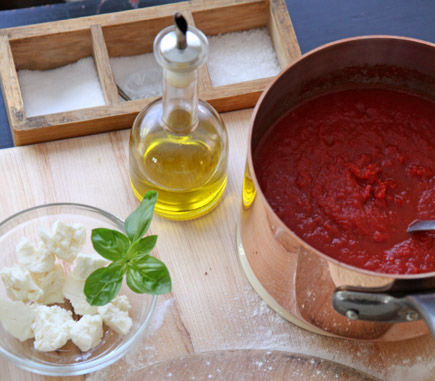 Toppings:
1/3 cup tomato (Sauce recipe p. 109 or drain diced tomato straight from the can)
3 ounces Fresh Mozzarella, cut into 1/2-inch chunks
Fresh Basil
Olive oil for drizzling over the top before baking
Pinch of salt
Flour, cornmeal or parchment for the pizza peel
To make the dough: Use our dump and stir method of mixing the dough in a 5-quart Container with Lid, using a Danish Dough Whisk or wooden spoon. Then cover the container, not airtight and let it rest for about 2 hours on the counter. The dough can then be used right away, but it is much easier to handle once it has been thoroughly chilled. The dough can be stored in the refrigerator for 2 weeks!
To make the pizza:
Preheat your oven to the highest setting, which will be 500 to 550°F, with a pizza stone in the bottom 1/3 of the oven. Depending on the thickness of your stone this can take between 20 and 40 minutes.
Pull out an 8-ounce piece of dough from your bucket and quickly form it into a ball, no more than 30 seconds of work. Let it sit on the counter while you gather your toppings.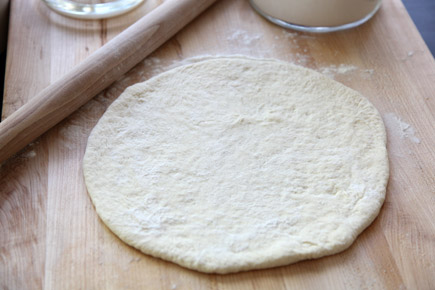 Roll the ball out into a 1/8-inch-thick round. If the ball is resisting just let it sit for about 5 minutes and it will relax and allow you to work with it.
Sprinkle a Pizza Peel with flour. Spread the tomato over the dough.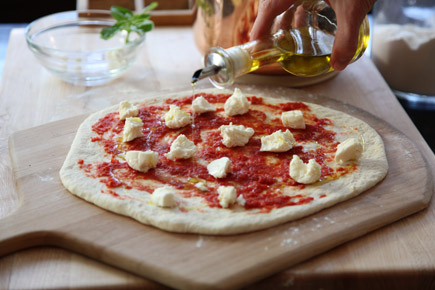 Place the chunks of cheese over the sauce and drizzle with the olive oil.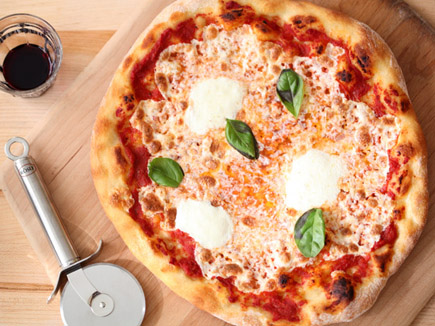 Check for doneness in about 8 to 10 minutes, turn the pizza around if it seems to be browning on one side more than the other. It may take up to 5 more minutes.
Let the pizza cool slightly, so the cheese can set a little before cutting with a Pizza Cutter. This is best done on a cooling rack if you want to keep a crisp bottom crust.
Note: Red Star Yeast is a sponsor of BreadIn5 LLC's promotional activities.
---
---