Pumpkin pie and brioche are two of my all time favorites, so why not combine the two. The result is a bread rich with butter, eggs and spiced pumpkin puree. Spreading the pumpkin onto the brioche dough and rolling it into a log creates the swirl pattern when you cut it. The bread is gorgeous and tasty, perfect for Thanksgiving or just a fall morning with a cup of coffee.
Next week is the official release of our book The New Artisan Bread in Five Minutes a Day. Woot! To celebrate we are doing a giveaway, before the book even hits the stands. It is a small token of our appreciation for all your help in creating this new edition. We've incorporated what we've learned from your comments, your questions and your suggestions. Please leave us a comment below about your favorite experience baking bread or what you are most eager to try. We will give away 5 copies of the new book to randomly picked winners next week.* Thank you! Our usual contest rules apply (click here for rules); you need to respond within 24 hours of notification or we have to pick someone else. CONTEST CLOSED, WINNERS CHOSEN AND NOTIFIED 10/22/13.

To make the Pumpkin Swirl Bread:
1 1/2 pounds brioche dough from The New ABin5 – (you can also do this with the Buttermilk dough, the European Peasant dough, or for an even more intense pumpkin flavor use the Oatmeal Pumpkn dough)
1/2 cup pumpkin puree
1/4 cup brown sugar
1 1/2 teaspoons pumpkin pie spice
Egg wash (1 egg whisked with 1 tablespoon water)
Grease a 8.5 x 4.5 Inch Loaf Pan.
Roll out the dough to 1/4-inch-thick rectangle. In a small bowl mix together the pumpkin puree, brown sugar and spices. Spread the pumpkin mixture over the dough.
Starting with the short end of the dough, roll the dough into a log.
Pinch the seam shut.
Use Kitchen Shears to cut the dough into 10 equal sized pieces.
Place 6 pieces of the dough in the prepared pan with the cut swirls facing out, so that when the bread is baked they will be visible. Place the remaining pieces with the swirl facing up. Cover loosely with plastic and allow to rest for 90 minutes.
Preheat oven to 350°F. When the dough has rested brush lightly with the egg wash.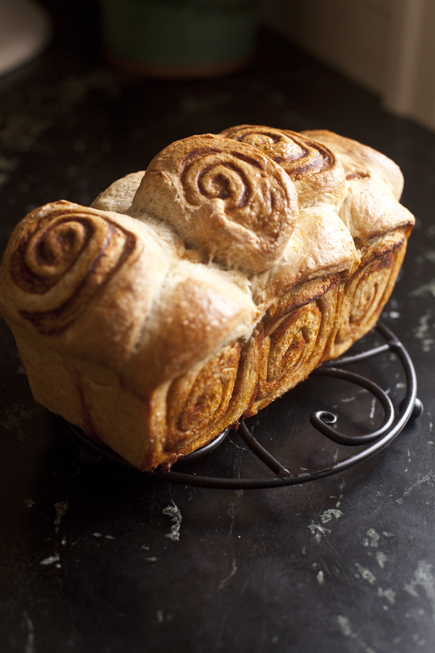 Bake for about 50 minutes or until the bread is golden brown and well set in the center.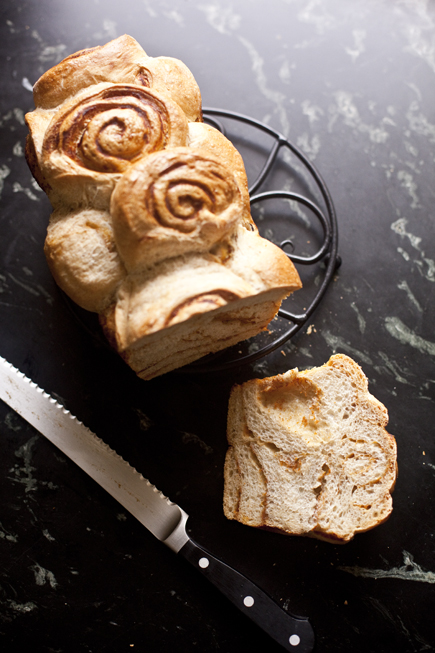 Allow to cool completely before cutting.
*Only open to those in the USA.
---
---