English Muffins On The Stove Top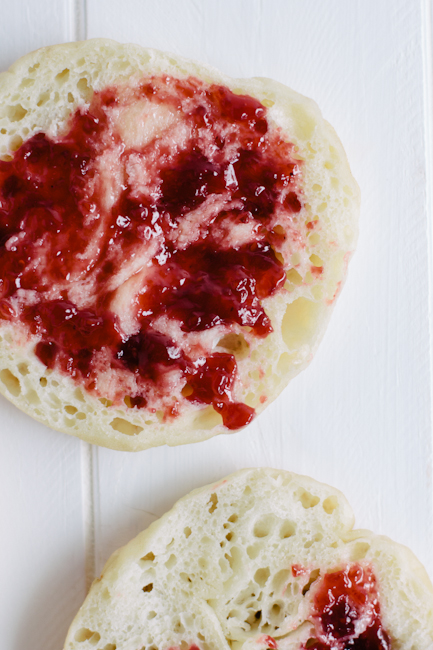 Breakfast has been said to be the most important meal of the day, but so often it is made up of coffee and not much else. I make a point to purchase store-bought bagels and English muffins to have on hand, but they lack flavor and I find myself skipping that first meal more often than not. I remembered back to a post on baked English Muffins, and decided to try the same technique on the stove top to save some time. Sure enough, they were amazing! Soaked in butter and a little jam, or filled with eggs and cheese, these biscuits were worth making every time. They also re-toasted well; I made a large batch Sunday morning and had a delicious breakfast the rest of the week.
If you have a digital scale, weigh out 3 1/2-ounce balls, otherwise estimate the size of a largish peach. Both the Master recipe and our Brioche dough work well here, but feel free to experiment with other dough!). Basically, the Master recipe is just…
–3 cups lukewarm water
–1 tablespoon (or 1 packet) of Red Star yeast (instant, Platinum, or active-dry)
–1 to 1 1/2 tablespoons of Morton Kosher salt (or other coarse salt)
–6 1/2 cups all-purpose flour
… mixed as in the Back to Basics post. Flatten the balls and place them on a flat surface (if you have English muffin molds, you can follow Zoe's instructions here for shaping). Cover with plastic wrap, and allow to rest for 30 minutes.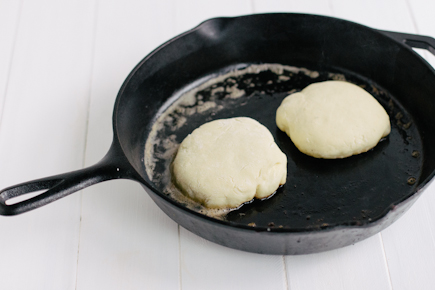 Heat up a large skillet (cast iron works well) and inside place 1 tablespoon of Ghee, clarified butter or European style butter (you can use regular butter, but you have to be careful of the butter burning. The ghee and clarified butter have a higher burning point and allow you to cook without worry of it burning).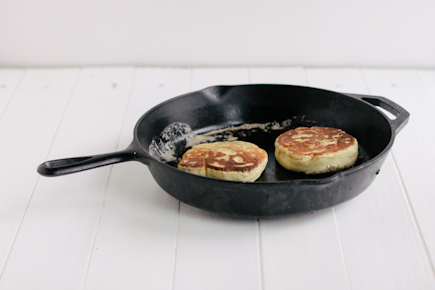 Cook for about 3 minutes. When the bottoms are golden brown and the muffins have puffed, flip them over and cook, until the muffins are cooked all the way through and are golden.
Let cool slightly and serve with butter and jam, or eggs, bacon, and cheese (the best breakfast sandwich you may ever have!) The English Muffins also taste delicious re-toasted the next day.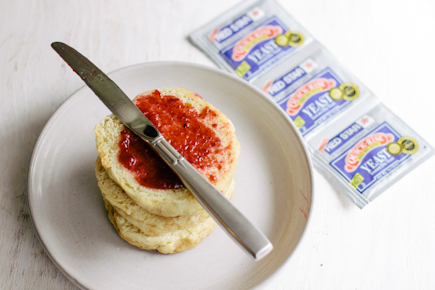 Note: Red Star Yeast sponsored this post. BreadIn5.com is reader supported. When you buy through links on the site, BreadIn5 LLC earns commissions.
---
---