The Refrigerator Rise Trick on a Busy Thanksgiving Morning: Fresh Rolls (Kürbiskernbrot) from the German Alps
Before we even start with this, you should know that this reprised Thanksgiving post is one of many– click here for all our Thanksgiving posts over the years.
Some people shy away from yeast breads and rolls at busy holidays because they think the proofing step (the rest after the loaves or rolls are shaped) is too time-consuming, even with our stored dough. Here's a great way to get around that–form rolls or loaves the night before, refrigerate overnight and they're ready for the oven in the morning.
I had these scrumptious pumpkin seed rolls in the summer of 2011, in the German (Bavarian) Alps south of Munich, in the town of Mittenwald, where a bakery near the bus station turns them out fresh every morning. Germany has a fantastic bread tradition that lives on, even in supermarkets, but this place was a cut above. The fourth morning I trooped in for my morning fix, the proprietor noticed my repeat business (they'd been breakfast every day that week). And I'm pretty sure that she said: "So, you like our pumpkin-seed rolls?" My German is weakly functional, though most of my vocabulary covers edibles. I stammered out (I think) "uh, yes, we like it so much, so… it good. Yes. Uh… yes." Or something to that effect; she seemed a bit confused. And amused.
The baker might be further amused to hear that pumpkins and squash are closely associated with fall in America, and with Thanksgiving. I loved these rolls, and there's a quick way to do them here–for Thanksgiving. I'm pretty sure that the Mittenwalder Kürbiskernbrot (literally, pumpkin-seed bread, pronounced kaw-bis-kern-brote) were actually boiled first like soft pretzels, in an alkaline solution (more on that in a future post), but the seeds are so flavorful that you can create a great version without pretzel-izing them. You can re-create kürbiskernbrot, but you can't re-create Mittenwald's Alpine setting here in Minnesota…
The town is famous for its Alpine valley location, its beautiful painted building facades…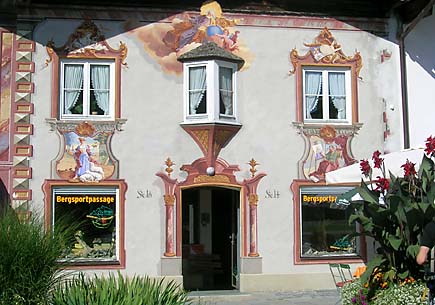 …its magnificent baroque church…
… and its chanterelle mushrooms (in German, pfifferlinge—pronounced p'fiffer-ling-eh). If you get there in-season (we did), they're fantastic cooked with anything…
… and I'm certain they will work in our Wild Rice and Mushroom Pilaf Bread. If I have anything to say about it, Mittenwald should also be famous for its Kürbiskernbrot. So here's a way to make Kürbiskernbrot, as a dinner roll, for Thanksgiving: prep the night before, rise in the fridge overnight and bake after a very short rest the next day: Start with any of our lean doughs that you've stored in the fridge (regular white Master Recipe (that one's from Artisan Bread in Five Minutes/Day) or our Whole Wheat dough (that one's from Healthy Bread in Five Minutes/Day). I think there was some rye in the Mittenwald version (click here for our rye dough). Actually, any of our doughs will work, but if you use our enriched doughs (challah or brioche), you need to lower the oven heat to 350F and increase the baking time beyond what we specify below. Another good option for tender rolls is the buttermilk dough on page 207 of Artisan Bread in Five. And if you love the seeds, consider adding a half-cup of them directly to the dough-batch as you mix it (it can go in with the water).
Cut off 3-ounce portions of dough—about the size of a small peach (smaller rolls are nice too, about 2 ounces—the size of a golf ball):
Form a ball from each piece of dough as we demonstrated on our YouTube channel, and drop them onto a heavy-duty baking sheet prepared with parchment, which will prevent sticking more effectively than anything else (given the overnight rest). Leave about 2 inches of space between rolls or they'll "grow" together (which can also be a nice effect).
Cover loosely with plastic wrap and refrigerate overnight or about 8 to 14 hours.
In the morning, preheat the oven to 375F, with an empty broiler tray on any other shelf that won't interfere with rising rolls (use 350F if you're using egg-enriched or sweetened dough). There's no need for a baking stone if you used the heavy-duty aluminum baking sheet, and if you skip it the preheat can be shorter. Take the baking sheet out of the fridge, where the rolls will have expanded but probably not noticeably risen. Discard the plastic wrap, and brush with water using a pastry brush…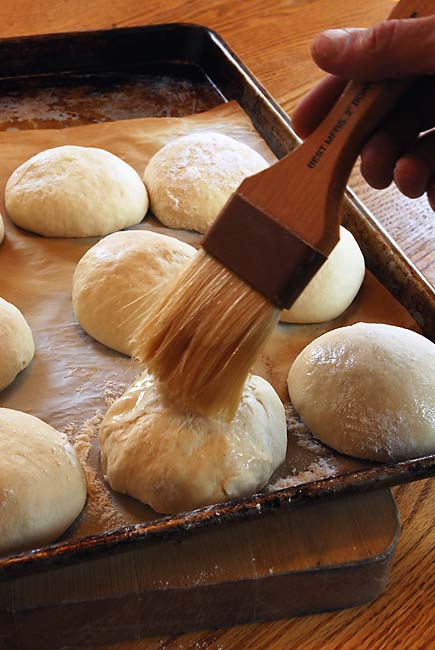 Sprinkle with hulled pumpkin seeds (raw or roasted), patting gently to set them in place without deflating the rolls.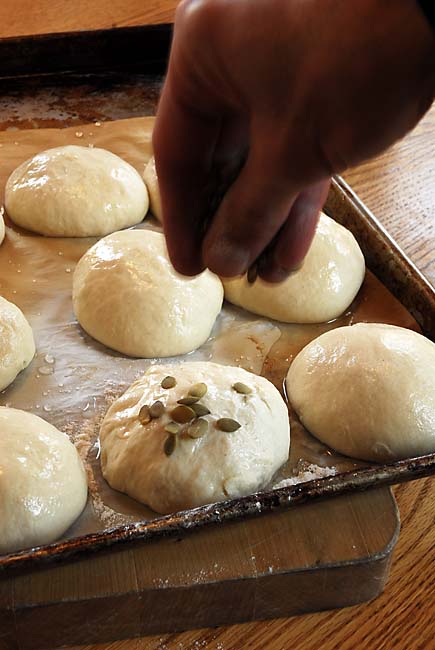 You can also sprinkle with some coarse salt to bring out the flavor of the seeds (though some pumpkin seeds are already salted, especially if they were sold as "pepitas" in Latin American groceries. Use a kitchen shears to cut a cross into the top of each roll: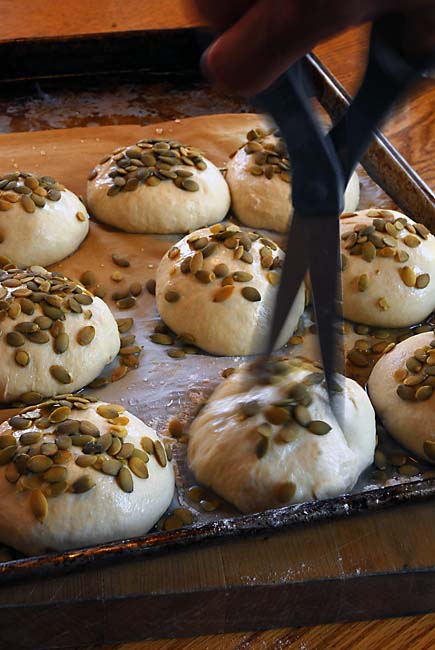 Because the Kürbiskernbrot rolls have been expanding in the fridge all night, they don't require extensive resting time now, and can go into the oven as soon as it's hot. Place the pan near the middle of the oven, and pour a cup of hot water into the broiler tray before closing the oven door. Bake for about 30 minutes, or until the rolls are nicely browned but the seeds aren't burned. If you want a softer roll, brush with oil or melted butter when they come out of the oven. Since they're so small, we ignore our usual cool-down rule– these can be eaten slightly warm.
Some people go to German museums and see 2,000 years of history. I see medieval art showing bakers at work (those are seeds on those rolls, aren't they?):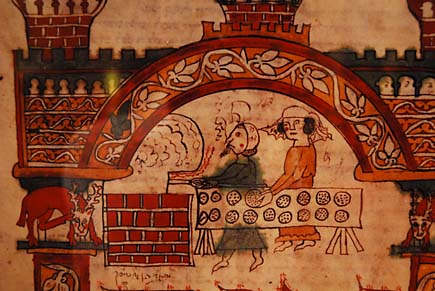 These guys probably weren't thinking of it, but Happy Thanksgiving! Be sure to check out our other Thanksgiving Recipes…
Note: BreadIn5.com is reader supported. When you buy through links on the site, BreadIn5 LLC earns commissions.
---
---