Savory Bread Pudding – how to use up leftover bread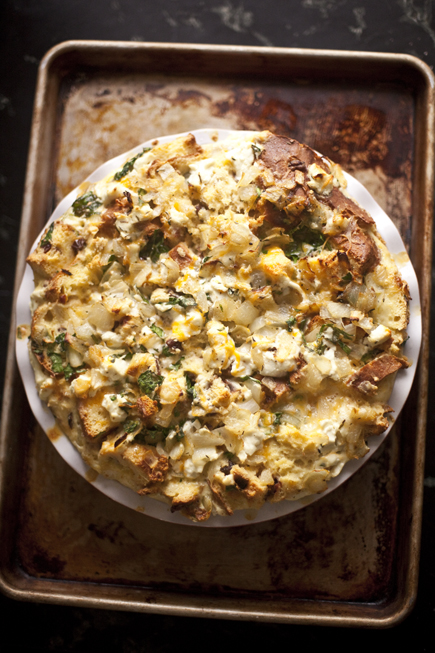 When we wrote our first book we were testing dozens of loaves a week, and despite our healthy appetites, we just couldn't consume all that we baked. Our neighbors were happy to take some of the bread, but there was more than a city block could consume, so we started making all kinds of recipes using up the leftovers. There are beautiful salads and puddings that are perfect for leftover (even stale) bread. In the New ABin5 we added this Savory Bread Pudding, which can be made with just about any loaf you bake. Well, I may have found the exception…I tried this recipe with some leftover Panettone and my very opinionated and vocal family requested that I not use that particular bread again for this. My husband described it as Thanksgiving stuffing, but richer. I liked it, but I was alone. The panettone does make exquisite sweet bread pudding however. They all agreed that peasant bread and/or challah is the way to go. The peasant and challah breads allow the flavors of the caramelized onions, spinach, spices and cheese to shine through. It is perfect for breakfast (a little bacon in the mix would be fabulous) or as a side dish with dinner.
This week I got a chance to bake with Elizabeth Ries and Chris Egert on KSTP-TV's show Twin Cities Live. They are great sports and we had fun tossing pizzas together, one of them is a bit more skilled at the toss, but I won't mention names.
Savory Bread Pudding
from The New Artisan Bread in Five Minutes a Day
1 pound day-old bread – Peasant Bread (page 94) or Challah Bread (page 296), cubed.
5 large eggs
4 cups whole milk
2 cups half-and-half
Pinch freshly grated nutmeg
1/2 teaspoon salt
Freshly ground pepper
1/2 teaspoon dried thyme
1/2 cup chevre or cream cheese, cut in small pieces
1/2 cup caramelized onions
3/4 cup chopped spinach, fresh or frozen (thawed and well drained)
1 cup shredded cheddar cheese
To make the savory pudding:
Preheat oven to 325°F.
Caramelize the onions and let them cool as you mix up the savory custard. Whisk the eggs, milk, half-and-half, nutmeg, salt, pepper and thyme in a bowl, set aside.
Layer the bread, chevre, onions, spinach and cheddar in a 3-Quart Baking Dish. (I used an extra deep Emile Henry 12-Inch Pie Dish.)
Pour the custard over the bread and other fillings.
Allow the custard to soak into the bread for about 15 minutes. Press the bread down into the custard to make sure it is all soaked well.
Place it on a baking sheet and bake for about an hour. Tent the pudding with foil if it seems to be browning too quickly.
Note: Red Star Yeast (Lesaffre Corp) is a sponsor of BreadIn5, LLC and its promotional activities, and supplied yeast for recipe testing.
---
---