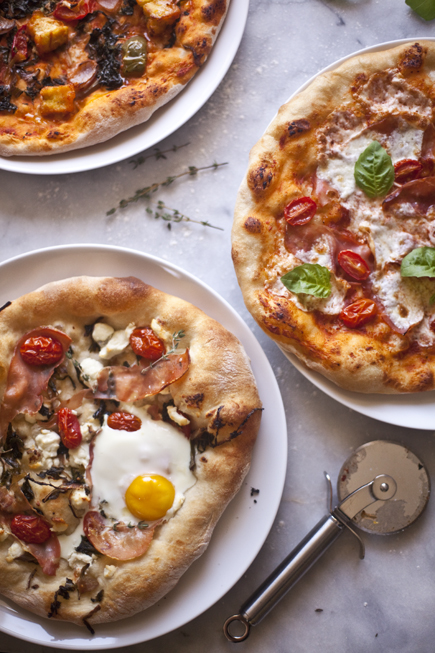 After a year of our readers recommending the Baking Steel, I've finally given it a try. It is a little surprizing that this hadn't happened earlier, since I have every other baking surface ever created. As you know, if you read my review of baking stones, I love my Lodge cast iron baking "stone," but it isn't perfect. The round shape makes it a bit hard to make baguettes and the lip around the edge makes it tough to clean. The handles on the Lodge are convenient for getting it in and out of the oven, but it means I can't lay a baking sheet on top of it, so I have to take it out of the oven before baking anything on a baking sheet. None of those things prevented me from using it constantly, until I got the Baking Steel. The shape of the steel is more conducive to baking beyond just pizza and there is no lip or handles to work around. Just like the cast iron, the Baking Steel is virtually indestructible, heats up a bit quicker and conducts heat really well. In fact, I think the steel is the best heat conductor of any of my "stones." The Baking Steel is a bit more expensive than my other stones. Is it worth it? For me, yes. The shape and heating properties make it worth the extra money, and I'll use it daily and so it's worth the investment. The fact that I don't have to worry about it ever breaking (even on the grill) is a comfort as well.
The dimensions of the baking steel 14×16 inches.
If you'd like a chance to win a Baking Steel with carrying case and a copy of our book, Artisan Pizza and Flatbread in Five Minutes a Day please leave a comment below about your favorite pizza. (The package is only available to be shipped in the USA and subject to all our regular contest rules.)This giveaway is over!
I made a breakfast pizza with prosciutto, cherry tomatoes, sautéed kale, soft goat cheese and fresh thyme, baked on our olive oil dough with an egg cracked on top.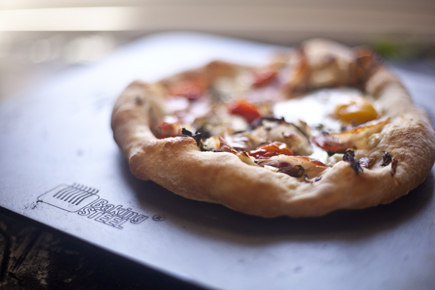 I rolled this one out a little thicker so that the crust would be nice and puffy.
This is our traditional Margherita pizza with our homemade tomato sauce, mozzarella and fresh basil.
Happy baking!
The good folks at Baking Steel sent this product for me to test and give away, but the opinions are all me!
---
---