Gluten-Free All-Purpose Flour (Mixture #1 from Gluten-Free Artisan Bread in Five Minutes a Day)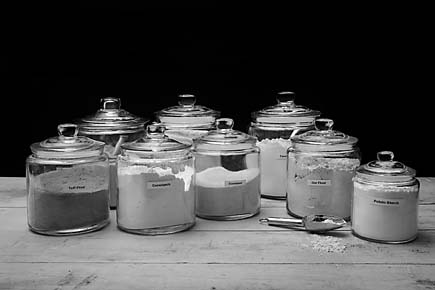 By keeping a supply of our two gluten-free flour mixtures in the house, you can make any of the recipes in Gluten-Free Artisan Bread in Five Minutes a Day. Flour Mixture #1, reprinted here from the book, is for a mostly white flour, though it becomes 75% whole-grain by weight if you swap brown rice flour (increase the liquids in the recipes by 2 tablespoons if you do this). It's the only flour you need for some of our on-line recipes, and for the basic white loaf. If you're sensitive to any of these ingredients, you'll find substitutions in the book. We tested this gluten-free all-purpose flour mixture with Bob's Red Mill products because they are available across the nation. If you use other brands you may find different results in the breads–especially in the amount of liquid they'll absorb.
If you're measuring by U.S. cup-measures (the first unit in each line), be sure to pack the flour tightly into the cup, as if you were measuring brown sugar.
Makes 4 1/4 pounds (2 kilograms) of gluten-free all-purpose flour mixture
White Rice Flour: 6 cups, or 36 ounces, or 1,020 grams
Sorghum flour: 3 1/4 cups, or 1 pound, or 455 grams
Tapioca Flour or Starch: 1 3/4 cups, or 8 ounces, or 225 grams
Potato Starch*: 1 1/4 cups, or 8 ounces, or 225 grams
Xanthan Gum or Ground Psyllium Husk: 1/4 cup, or 1.4 ounces, or 40 grams
*Don't substitute potato flour
The ingredients must be very well mixed, otherwise the xanthan gum or psyllium will not be evenly distributed and your loaves will be inconsistent. Whisk and mix the ingredients in a 5- to 6-quart lidded container. Finish by picking up the container and vigorously shaking until the flours are completely blended.
Substituting ingredients: If you don't eat one of the ingredients above, see our Substitutions Page. Other substitutions may be possible, but those are the ones we've tested and liked.
---
---