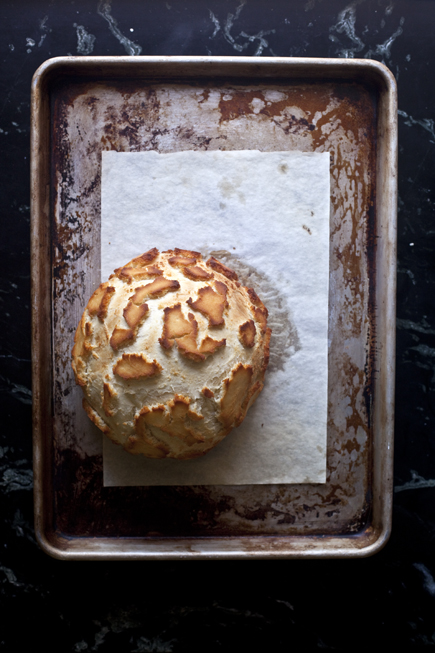 How is it that I'd never tried Dutch Crunch bread, never even heard of it? It's a loaf that seems to be ubiquitous in the San Francisco area, and it would seem that they have been keeping it all for themselves. Now that I've had it I can't blame them. Dutch Crunch gets its name from a similar bread found in the Netherlands, which is called Tiger Bread (tijgerbrood or tijgerbol). It's easy to see how it got that name. The tiger spots are created by covering the dough with a slurry of rice flour, sugar, yeast and toasted sesame oil. The fragrance of the sesame is fantastic and the slightly sweet crispy bits on the loaf are hard to resist picking off and snacking on before you ever cut into the bread. 
Dutch Crunch Bread
1 pound dough from any of our books – I actually made the loaf in the photo from our Brioche recipe in The New Artisan Bread in Five Minutes a Day, but I've also made them with our Master recipe, Peasant bread and Challah dough, pretty much any dough will work. 
Topping: 
1/2 cup warm water
1 tablespoon yeast – I used Red Star Platinum, but Quick Rise or Active Dry work too
2/3 cup rice flour
2 tablespoon sugar
1/4 teaspoon salt
1 tablespoon vegetable oil
1 teaspoon sesame oil
Shape the dough into a ball. Place the ball on a piece of Parchment Paper and cover loosely with plastic. If you are using brioche dough I recommend baking it on parchment placed on a baking sheet. If you using a dough that recommends baking on a stone, you will still want to use the parchment, since the sesame topping may drip down and make it difficult to get off the pizza peel if you don't have the parchment. Otherwise bake as directed.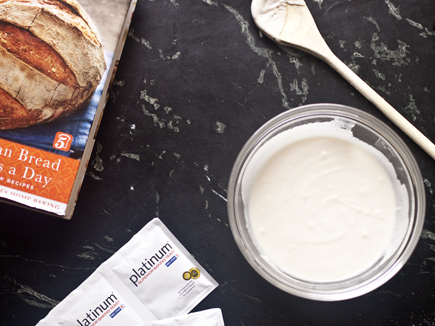 To make the topping: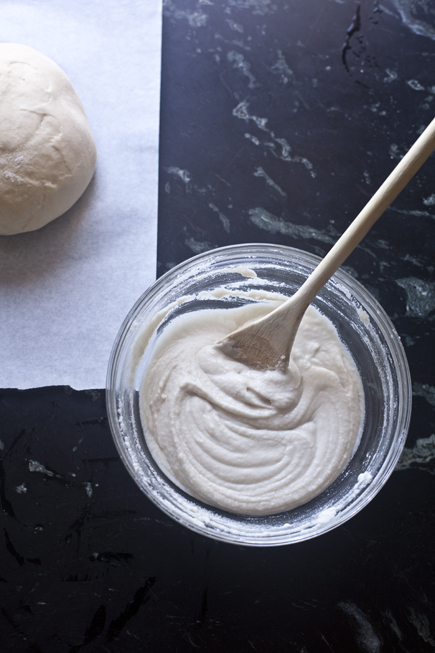 While the dough ball is resting mix all the topping ingredients in a large bowl and cover with plastic. The yeast will make the topping double in volume, so make sure it has enough room to grow.
Once the topping has doubled, which conveniently takes the same amount of time as it takes for the dough to rise. It will have double in size, but will collapse when you go to spread it on the loaf.
Put about a 1/2 cup of the mixture on the dough. You can store the remaining topping for a week, covered well (but vented to prevent pressure-buildup) and in the refrigerator.
With a Spatula, spread it to completely coat the loaf.
Bake as directed for the type of dough you have used. The crust should be golden brown on the brioche, but may be a darker caramel brown on the Master recipe or any baked at a higher temperature.
Red Star Yeast (Lesaffre Yeast Corp.) provided samples of Red Star PLATINUM Yeast for recipe testing, and sponsors BreadIn5's website and other promotional activities. 
---
---